West Hawai'i Regional Fishery Management Area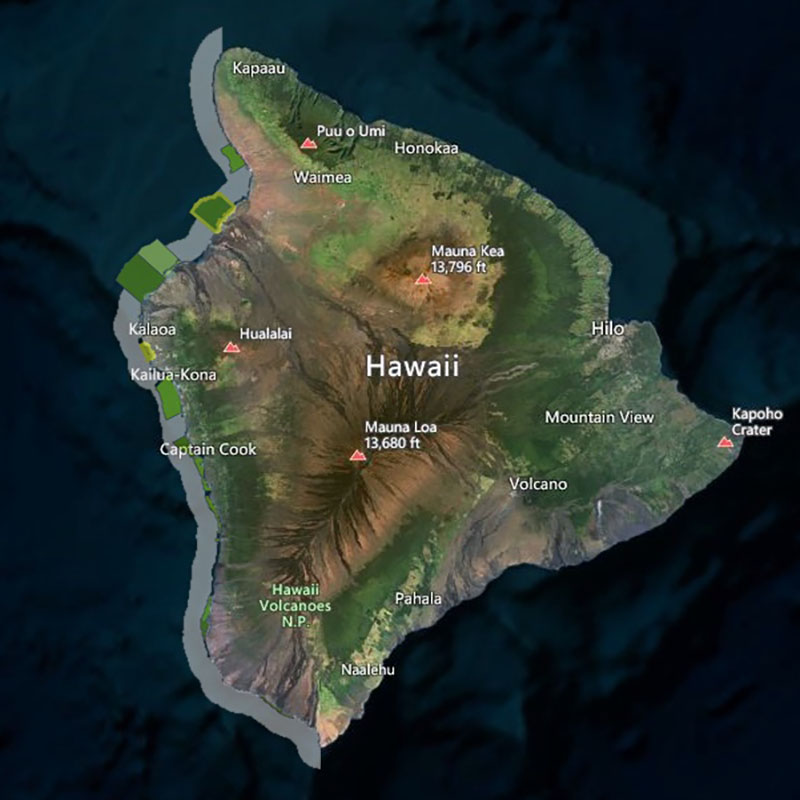 Location
The West Hawai'i Regional Fishery Management Area (FMA) extends along the west coast of the Island of Hawaii from Ka Lae, Ka'ū (South Point) to 'Upolu Point, North Kohala, and from the highwater mark on shore seaward to the limit of the State's management authority. It includes Fish Replenishment Areas and Netting Restricted Areas described fully in the administrative rule, as well as all other Marine Life Conservation Districts and Fisheries Management Areas along the West Hawai'i shoreline.
Permitted
All types of fishing, except as indicated in prohibited activities below.
Prohibited within the West Hawai'i Regional FMA
To take or possess any pāku'iku'i.
To take, kill, possess, sell, or offer for sale, any specimen of the following: Hawaiian stingray, broad stingray, pelagic stingray, spotted eagle ray, blacktip reef shark, gray reef shark, whitetip reef shark, tiger shark, whale shark, horned helmet, and Triton's trumpet. See administrative rule for species list.
To possess more than five yellow tang larger than 4.5 inches total length, or more than five yellow tang smaller than 2 inches total length.
To engage in SCUBA spearfishing, possess both SCUBA gear and a spear at the same time, or possess SCUBA gear and any specimen of speared aquatic life at the same time.
To possess aquarium collecting gear, or take or possess any specimen of aquatic life for aquarium purposes between sunset and sunrise, without a valid aquarium permit or in violation of its conditions, or while on a vessel that does not conform to registration requirements.
To possess or use any net or container underwater to capture or hold aquatic life alive for aquarium purposes, which is not labeled with the commercial marine license number(s) of the person(s) owning, possessing, or using the equipment.
Prohibited in selected areas
Fish feeding within any of the Fish Replenishment Areas (FRA), Netting Restricted Areas (NRA) or any other West Hawai'i Regional managed area.
While within any Fish Replenishment Area, Marine Life Conservation District, or Fisheries Management Area (other than Kiholo Bay FMA):
To collect aquatic life for aquarium purposes.
To possess aquarium collecting gear, or take or possess any aquatic life for aquarium purposes, except aboard a vessel in active transit through those areas, provided no collecting gear is in the water during transit. Boats adrift, anchored, or moored are not considered to be in transit.
Lay net fishing within the following Fish Replenishment Areas (FRA) and Netting Restricted Areas (NRA): Puakō-'Anaeho'omalu FRA, Ka'ūpūlehu FRA, Kikaua Point-Mākole'ā NRA (Kekaha Kai State Park); Nenue Point (Red Hill FRA)-Kealakekua Bay NRA, Hanamalo Point-Kanewa'a Point NRA, Kanonohe-Kalīpoa NRA, Kaloko-Honokōhau FRA. Exception: lay net fishing is allowed in Kaloko-Honokōhau FRA using a locally constructed, handmade lay net of natural fibers, which is used in accordance with other lay net restrictions (below).
Prohibited in Ka'ūpūlehu Marine Reserve
To take any aquatic life, except the following may be taken seaward of the 20-fathom depth contour: 'ōpakapaka, kalekale, lehi, gindai, onaga, ehu, hāpu'upu'u, uku, ta'ape, roi, toau, nabeta, aku, ahi and tombo, a'u, ono, and mahimahi by hook-and-line; also Kona crab by Kona crab net. See administrative rule for species names.
To possess any marine life except as indicated above.
Possess or use any fishing gear other than hook-and-line and/or Kona crab net.
Deploy any fishing gear shoreward of the 20 fathom depth contour.
Lay nets
Possession or use of the following is prohibited:
A lay net without first obtaining a lay net permit.
More than one lay net per person.
Lay nets exceeding 125 feet in length or seven feet in stretched height; with stretched mesh less than 2-3/4 inches (three inches in Kailua Bay FMA); two or more nets joined for combined total length exceeding 250 feet.
Multi-panel lay nets.
A lay net without at least four identification tags as specified by DLNR; tags must be attached at each end of float and lead lines and legibly display the permit number of the person possessing or using the net.
Lay net fishing
The following is prohibited:
Use of a lay net not marked by buoys as specified and legibly displaying the permit number of the person using the net.
Use of a lay net within 1,200 feet of another lay net (except two joined nets).
Use of a lay net in water more than 80 feet deep.
Use of a lay net for more than four hours during one set, or to set another lay net within 24 hours.
To leave a lay net unattended for any amount of time. A lay net is considered unattended if the net or surface buoys are not within eyesight of the person using the net.
Retrieval in a manner that causes coral breakage from its attachment or into smaller pieces.
Failure to inspect entire net within two hours after beginning of set.
To discard or leave any lay net or portion thereof in the water longer than four hours.
To falsely identify a lay net.
Persons using a vessel or float may use a total maximum of 250 feet of lay net, provided that at least two people are present and associated with the same vessel or float.
Further details regarding lay net fishing within the WHRFMA can be obtained from the Kona DAR office.
Aquarium collecting permits and vessel registration
A West Hawai'i aquarium permit is required to engage in aquarium collecting activities.
Holders of an aquarium permit may only take certain species, and there are daily bag limits for Achilles Tang and certain sized Kole. A copy of the "white list" and other restrictions may be obtained at the Kona DAR office or by downloading the administrative rule.
All aquarium-fishing vessels shall:
Be registered yearly with DLNR to take marine life for that purpose.
Permanently display the letters "AQ" on both sides as specified by rule.
Fly a stiffened flag or pennant with the letter "A" as specified.
Display a dive flag when divers are in the water.
In the event an aquarium collecting vessel becomes inoperable, the operator shall immediately notify DOCARE or the United States Coast Guard by VHF radio and/or cellular phone.Further details regarding aquarium collecting can be obtained from DAR at time of registration.
Note
Site descriptions and boundaries can be obtained from the administrative rule.