05/16/13 – Community's Help Sought To FInd Hooked Monk Seal
Posted on May 17, 2013 in News Releases
DEPARTMENT OF LAND AND NATURAL RESOURCES
News Release
NEIL ABERCROMBIE
GOVERNOR

WILLIAM J. AILA JR,
CHAIRPERSON
For Immediate Release May 16, 2013
COMMUNITY'S HELP SOUGHT TO FIND HOOKED MONK SEAL
Fisherman's Timely Reporting Triggers Cooperative Response Action
OLOWALU, MAUI – The timely reporting of a hooking by a local fisherman may help save the life of a highly endangered Hawaiian monk seal known as RL06 that frequents the Olowalu area on the island of Maui. A female, it was born last July at Kalaupapa.
"I would like to commend this fisherman for calling in the incident. This is exactly the type of cooperation we need from the community. I applaud his leadership," said William J. Aila, Jr., chairman of the Department of Land and Natural Resources.
While ulua fishing from shore in the early morning hours of Saturday, May 11, 2013, a local fisherman caught on his line what he believed to be a very large ulua. As the catch got closer to shore, a head popped out of the water and the fisherman realized he had unintentionally hooked a Hawaiian monk seal instead of the intended ulua.
Unfortunately, the line broke and the monk seal fled before the fisherman could call authorities to remove the hook.
The fisherman called in the incident on Monday to the Hawaiian Islands Humpback Whale National Marine Sanctuary office in Kihei. The Sanctuary is co-managed by the Department of Land and Natural Resources and the Office of National Marine Sanctuaries.
"In addition, several watchful tour boats were also extremely helpful in calling reports of this hooked seal. We now need the community to help us locate this seal so we can send a response team out to assess if the seal is still hooked. A quick report with its current location is the best thing that can happen at this point," said Aila.
Failure to report monk seal hookings or distressed seals have proven devastating for the endangered animals in past months. In January, delayed response to a hooking resulted in the death of a young seal on Hawaii Island. Last year, another seal was severely injured from a hooking; her injuries were exacerbated because her condition was not reported when she first became distressed.
"NOAA Fisheries has received reports of this seal being fed by humans and interacting with them. These interactions may have predisposed it to becoming hooked," explained David Schofield of NOAA Fisheries. "The public is encouraged not to feed or interact with monk seals to prevent situations like this one from happening."
"Community leadership is critical, not only for monk seal issues but for conservation issues in Hawaii," explains Trisha Kehaulani Watson of Honua Consulting who represents Marine Conservation Institute in Hawaii. "We want fishermen and ocean users to see that their fears about reporting interactions are unfounded. We hope that people hear about this fisherman stepping forward and realize that reporting hookings and other monk seal interactions is the best way to ensure that both monk seals and community livelihoods are protected."
From the fisherman's report, the seal was hooked with a 2.5-inch barbed circle hook, up to 5 feet of wire and some fishing line. A commercial scuba videographer took a photo of the seal and hook on Saturday at Olowalu and sent the photo (see link to image) to NMFS. Anyone spotting this seal should immediately contact Nicole Davis from the National Marine Fisheries Stranding Program at (808) 292-2372 or call the Monk Seal Hotline at 1-888-256-9840.
# # #
For more information news media may contact:
Deborah Ward
DLNR Public Information Specialist
Phone: (808) 587-0320
Links to:
1 Photo of hooked seal, RL06, taken on Saturday May 11 at Olowalu dive site by Harold Giger. Permission to use image NOAA permit # 932-1905.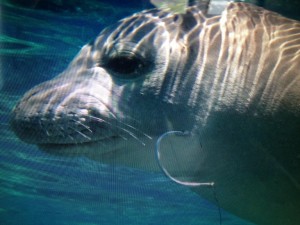 AND 2 Photos of emaciated seal on Molokai now being sought. Please call Monk Seal Hotline if you spot this animal. NOAA photo.