07/09/13 – DLNR Seeks Public Comment On Draft Forest Management Plan For Waimanalo Forest Reserve
Posted on Jul 9, 2013 in News Releases
DEPARTMENT OF LAND AND NATURAL RESOURCES
News Release
NEIL ABERCROMBIE
GOVERNOR

WILLIAM J. AILA JR,
CHAIRPERSON
For Immediate News Release July 9, 2013
DLNR SEEKS PUBLIC COMMENT ON DRAFT FOREST
MANAGEMENT PLAN FOR WAIMANALO FOREST RESERVE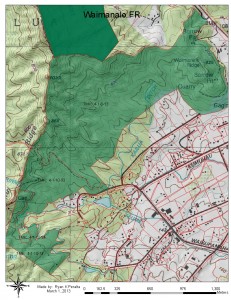 HONOLULU — The Department of Land and Natural Resources (DLNR) Division of Forestry and Wildlife (DOFAW) is now seeking public comment on a draft management plan for the Waimanalo forest reserve, which covers approximately 484 acres of conservation land to the northwest end of the Waimanalo valley.
State forest reserve management plans have four broad management objectives, including: watershed protection, maintenance of biological integrity of native ecosystems, provision for public recreational opportunities, and strengthening local economies via forest product extraction.
The Waimanalo forest reserve is almost completely forested, which helps retain soil, mitigate soil damage and improve downstream water quality. Two state hiking trails provide public cycling, hiking and equestrian access to the only publicly accessible horseback riding trail on Oahu.  However the forest contains very few native Hawaiian plant species and is mostly occupied by invasive tree species chiefly albizia, octopus tree and Formosan koa. These species are not economically desirable so they offer little value as forest products to benefit the local economy.
"This is an opportune time for the public to provide their input on a long term plan to conserve the watershed, ensure public access to authorized trails, and enhance biodiversity,"said William J. Aila, Jr., DLNR chairperson.
"During the writing of this plan various Waimanalo community stakeholders were consulted, including residents, agricultural, and recreational special interest groups such as equestrian riders,"he said.
The draft management plan proposes to protect the watershed and public recreational opportunity objectives, and improve native ecosystems and economic prospects through four management classes:
Watershed protection consisting of native Hawaiian tree and understory species planted on steep slopes to replace current invasive species.
Timber areas planted with high-value hardwood species like koa, mahogany, or teak.
Agroforestry for fruit and nut orchards located at lower elevations in the reserve, including Hawaiian cultural plantings. Agroforestry is a land management technique that uses forest canopy trees to produce timber, fruits, and nuts while providing shade for valuable understory crops. Well-designed agroforestry systems can be more productive than conventional orchards or forests and also produce value-enhanced products like honey, resins, or oils.
Unimproved buffer zones around public access trails maintained by DLNR NāAla Hele Trails and Access Program.
The plan would be implemented in two phases: the first involving site-specific research for species selection, soil testing and marketing; and the second involving an expansion of promising projects from the first phase. Depending on funding and community involvement, there are several possible formats for projects:
Timber sections would be established by state forestry and remain under state administration.
Agroforestry fields could be established by state forestry or by permitted users who could retain harvesting rights in proportion to investment.
Community orchards could be established by partnership between state forestry and Waimanalo community groups, with open access harvesting.
For more information, the Waimanalo Forest Reserve plan may be viewed online at: https://hawaii.gov/dlnr/dofaw/forestry/FRS/frplans
Comments are requested by August 9, 2013 and may be submitted via mail or dropped off at 2135 Makiki Heights Drive, Honolulu HI, 96822.  For questions regarding the plan, please contact Ryan Peralta at (808) 973-9784.
 
For more information, news media may contact:  
 
Deborah Ward, 
DLNR Public Information Specialist  
Phone: (808) 587-0320