DEPARTMENT OF LAND AND NATURAL RESOURCES
News Release
NEIL ABERCROMBIE
GOVERNOR

WILLIAM J. AILA JR,
CHAIRPERSON
For Immediate News Release July 29, 2013

Free Preparedness Guidebook For Boaters
Available Now 
Hawai'i Boater's Hurricane and Tsunami Safety Manual
to be distributed to thousands of boat owners throughout the state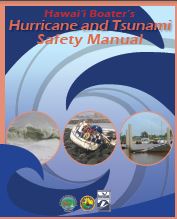 In Hawai'i, being the only island state completely surrounded by water and 2,500 miles from the nearest continental landmass, residents are keenly aware of the potential for widespread destruction caused by severe coastal storms. Ideally, we have prepared our homes and have our emergency preparedness kits ready. As a boat owner, do you know where to turn for up-to-date information on how to protect yourself and your vessel when a severe storm threatens?
The Hawai'i Boater's Hurricane and Tsunami Safety Manual is now available and provides this valuable information in a comprehensive, easy-to-read format. It was developed as a public service by the University of Hawai'i Sea Grant College Program and Hawai'i State Civil Defense, in cooperation with the State of Hawai'i Department of Land and Natural Resources (DLNR) Division of Boating and Ocean Recreation.
The guidebook provides a summary of the actions boaters and other members of Hawai'i's marine community can take before, during, and after a hurricane or tsunami. It includes information on the dangers associated with hurricanes and tsunamis, provides guidelines to develop a personal preparedness plan, includes emergency assistance information such as important phone numbers, radio frequencies, and hurricane evacuation shelter locations, and much more.
Dennis Hwang, UH Sea Grant Coastal Hazard Mitigation Specialist, explains "From past hurricanes from 'Iniki to Sandy, and from recent tsunami events in Hawai'i, Chile, and Japan, we know that boats and marinas are extremely vulnerable to inundation damage. It is essential that boaters have a plan for a hurricane, when the emphasis is on preparing the boat for high waves and wind, and a tsunami, when the plan is generally to move the boat to waters deeper than 300 feet. The manual provides vital tips to prepare boats before a watch and warning so that damage can be avoided and risk to life reduced."
"The entire boating community will greatly benefit from this updated publication and we greatly appreciate the efforts of many partners who collaborated on the project" said William J. Aila, Jr., DLNR Director. "DLNR encourages everyone who has a vessel moored in a harbor, or trailered and stored at home or elsewhere, to read this manual cover to cover and take steps to increase their state of readiness for such emergencies."
The Hawai'i Boater's Hurricane and Tsunami Safety Manual is available at the DOBOR administrative office in Honolulu, 333 Queen Street, Suite 300 as well as at DOBOR district and harbor offices statewide and all private marinas. A listing of DOBOR harbor facilities is accessible at https://hawaii.gov/dlnr/dbor/borfacilities.htm
For additional information on availability and distribution points please contact DLNR DOBOR on O'ahu at (808) 832-3520. A digital version of the manual is available at https://seagrant.soest.hawaii.edu/publications
# # #
The University of Hawai'i Sea Grant College Program is part of the University of Hawai'i at Mānoa's prestigious School of Ocean and Earth Science and Technology. It supports an innovative program of research, education and extension services directed to the improved understanding and stewardship of coastal and marine resources of the state, region and nation. Science serving Hawai'i and the Pacific for over 40 years.
DLNR's mission is to enhance, protect, conserve and manage Hawai'i's unique and limited natural, cultural and historic resources held in public trust for current and future generations of the people of Hawai'i nei, and its visitors, in partnership with others from the public and private sectors. Visit us at https://dlnr.hawaii.gov/ or on Facebook at www.facebook.com/HawaiiDLNR.
Hawai'i State Civil Defense, leading the State in prevention, protection, and rapid assistance during disasters with a full range of resources and effective partnerships. Visit us at https://scd.hawaii.gov/
For more information, news media may contact:
Laura Stevens
DLNR Education and Outreach Coordinator
Phone: (808) 587-0320
Cindy Knapman
UH Sea Grant College
Phone: (808) 956-7410