05/09/14 – DLNR Reminds Public Of Sacred Falls Park Closure, Acknowledges 15-Year Anniversary Of Tragedy
Posted on May 10, 2014 in News Releases, State Parks
DEPARTMENT OF LAND AND NATURAL RESOURCES
News Release
NEIL ABERCROMBIE
GOVERNOR

WILLIAM J. AILA JR,
CHAIRPERSON
For Immediate News Release May 09, 2014
DLNR REMINDS PUBLIC OF SACRED FALLS PARK CLOSURE,
ACKNOWLEDGES 15-YEAR ANNIVERSARY OF TRAGEDY
Number of citations for unauthorized entry increases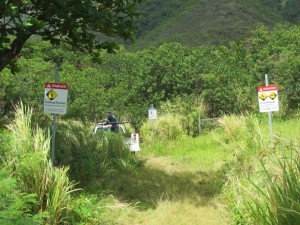 HONOLULU — Due to a recent rise in citations for unauthorized entry into Sacred Falls State Park, the Department of Land and Natural Resources (DLNR) announces and underscores that the park remains closed to the public due to danger from falling rocks.
Mother's Day marks the 15-year anniversary of tragedy at Sacred Falls State Park, where a massive rockslide on May 9, 1999, killed 8 and injured around 50 people. Following that incident, DLNR closed the park, locked the entrance, and posted and maintained numerous signs indicating the park's closure and hazardous conditions.
To address public safety concerns raised by this event, the state Legislature established a statewide warning signage system, through Act 82 SLH 2003, to protect the state and county governments from liability on certain parks and trails.
"So many of us remember the loss, pain, and suffering that ensued at Sacred Falls 15 years ago," said Board of Land and Natural Resources (BLNR) Chairperson William J. Aila, Jr. "Yet, people continue to illegally hike in the park, ignoring DLNR's clear signage and exposing themselves to possible injury or death, and criminal citation."
From March to April 2014, the DLNR Division of Conservation and Resources Enforcement (DOCARE) issued about 30 citations for prohibited entry into Sacred Falls State Park, many of which involved out-of-state residents or U.S. military personnel.
One incident in March 2014 necessitated search and rescue efforts by DOCARE and the Honolulu Fire Department (HFD). During the past two years, DOCARE and HFD have conducted four search and rescue operations in Sacred Falls State Park, some of which involved bodily injury.
"DOCARE takes prohibited entry violations seriously and will continue to monitor Sacred Falls State Park, issue citations, and protect public health and safety when necessary," said DOCARE Enforcement Chief Randy Awo. "But the reality is that these illegal entries divert time and attention from natural resource protection."
Entry into Sacred Falls State Park, and any other closed state park, is a petty misdemeanor crime, punishable in court with fines of a minimum $100 for a first offense; $200 for a second offense; and $500 for a third or subsequent offense. Moreover, The Board of Land and Natural Resources may also pursue civil administrative penalties of up to $2,500 for a first violation; $5,000 for a second violation; and $10,000 for a third or subsequent violation.
"We encourage people to enjoy the many other state parks and trails that are open and accessible to the public, such as the trails managed by the DLNR Division of Forestry and Wildlife under the Nā Ala Hele Trail Access system," said Dan Quinn, administrator for the DLNR Division of State Parks.
For more information about the Hawai'i State Park system, visit https://hawaiistateparks.org/ and https://hawaiitrails.org.
To report an incident, call 643-DLNR.
#
Example of warning signs posted at Sacred Falls State Park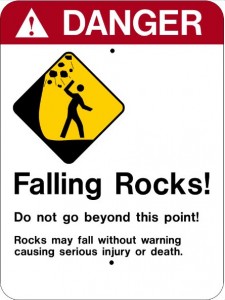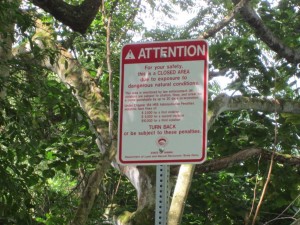 Media Contact:
Deborah Ward
Public Information Specialist
(808) 587-0320