DEPARTMENT OF LAND AND NATURAL RESOURCES
News Release
NEIL ABERCROMBIE
GOVERNOR

WILLIAM J. AILA JR,
CHAIRPERSON
For Immediate News Release May 29, 2014 
DLNR BEGINS REPAIRS TO KAILUA-KONA PIER, KEAUHOU HARBOR
FEMA, state share cost of addressing tsunami damages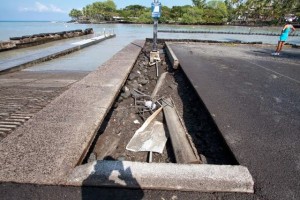 KAILUA-KONA, HI – The Department of Land and Natural Resources will begin two repair projects addressing tsunami damage at its West Hawaii boating facilities, starting May 27 at Kailua-Kona Pier and June 9 at Keauhou Small Boat Harbor. Both projects are expected to be completed by the end of 2014.
Funds for the estimated cost of tsunami damage repairs were appropriated by the 2011 State Legislature. FEMA will reimburse costs for up to 75 percent.
Work planned for the Kailua-Kona Pier will include paving of the entire hardtop or pier area, repair of the pump out station at the southwestern end of the pier, repair of the western and eastern revetment walls, and repair of the old U.S. Coast Guard office, which will be used for DLNR Division of Boating and Ocean Recreation staff upon completion. The launch ramp will need to be closed for two days during repair of the bottom or "toe" of the ramp. Ramp permittees who will be affected will be directly notified of the ramp closure.
Specific areas of the pier will be blocked off during the construction process using water-filled jersey barriers. Contractor Drayko Construction will begin work on the southwestern portion of pier and work its way toward the entry gate. The public is advised to use caution while in the pier area. Project cost is $1,626,000.
Work at Keauhou Small Boat Harbor will include repair of the bulkhead on the northern side of the bay, paving on a portion of the state property on the northern side parking lot, repair of the makai loading dock at the launch ramp area (the mauka side will remain open during construction), and repainting the interior of the comfort station.
The boat launch ramp and wash down area will need to be closed while it is being re-paved. This work is expected to completed by July 31, 2014. Project cost is $428,000.
# # #
Images of the project areas can be found on Google+
Media Contact:
Deborah Ward
Public Information Specialist
(808) 587-0320