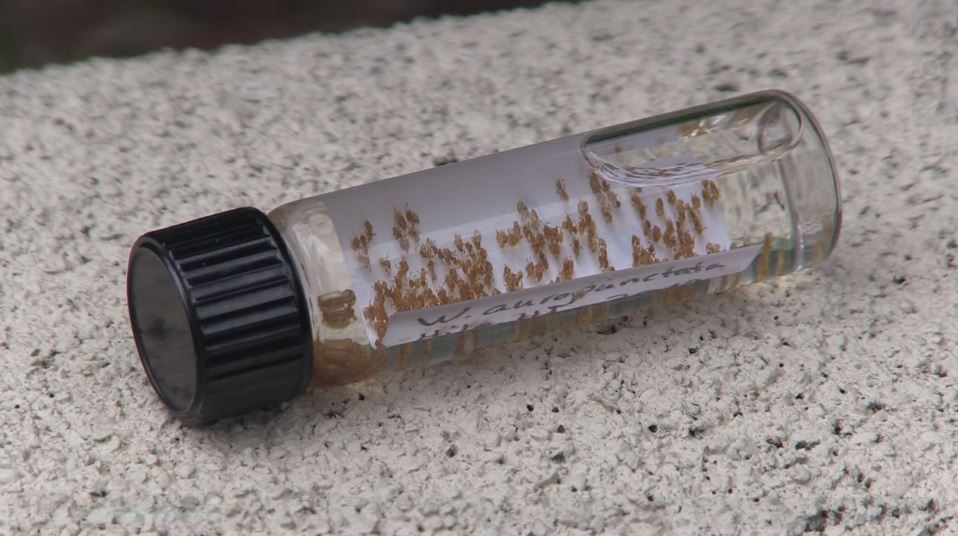 (Click on picture to watch video)
SMALL INFESTATION OF LITTLE FIRE ANTS AT MAUI HOTEL
New Video to Increase Awareness Shows How to Test for LFA
A small infestation of the invasive little fire ant (LFA) was confirmed in late May and has been undergoing treatment at a hotel in Wailea, Maui. The Maui Invasive Species Committee (MISC) detected the infestation, which was confirmed by the Hawaii Department of Agriculture (HDOA).
Upon confirmation of LFA, crews from MISC, the Hawaii Ant Lab (HAL) and HDOA immediately conducted a concentrated survey and determined that the infestation covered an area of about 400 square feet. The area was immediately treated with the pesticide, Siesta®, and the hotel will do follow-up treatments every six weeks under the direction of the HAL. MISC and the Oahu Invasive Species Committee (OISC) are continuing to survey areas for LFA.
"The area of infestation was caught early and crews are extremely confident that it can be eradicated," said Scott Enright, chairperson for the Hawaii Board of Agriculture. "We cannot express enough how important it is to find any infestation before it becomes widely established."
To aid in the effort, the Department of Land and Natural (DLNR) Resources has produced a three-minute video, "How to Test for LFA," which shows the step-by-step procedure for testing for LFA.
"LFA is a serious threat to plants, people, and property across Hawaii," said William Aila, Jr., chairperson of the Board of Land and Natural Resources. "This tiny ant can inflict painful stings to children, pets and adults, but fortunately, testing for its presence is easily done. The state has a well-established system in place for people to submit their surveys for further testing to determine whether LFA has spread to a particular property or plant material."
The video was produced by DLNR in cooperation with HDOA and other agencies that are jointly addressing the LFA issue. It features invasive species biologist Domingo Cravalho, Jr. of the U.S. Fish and Wildlife Service, one of the participating agencies. The video is also available on HDOA and DLNR websites, Facebook and YouTube pages.
LFA has been found on Hawaii Island since 1999. In late December 2013, LFA was detected on hapuu logs (Hawaiian fern) at retail stores on Maui and Oahu. Since its detection, Oahu and Maui nurseries have been surveyed. Five Oahu nurseries, three of which were in Waimanalo, were found to have small infestations of LFA, which were treated and are clear of the ants.
In late May, crews began treating a 6-acre area in Waimanalo, which included a 3.5- acre infestation area and buffer zone. Follow-up treatments are continuing.
Originally from South America, LFA is considered among the world's worst invasive species.
LFA are tiny ants, measuring 1/16th inch long, are pale orange in color and move slowly. LFA move slowly, unlike the Tropical Fire Ant, which is established in Hawaii, which move quickly, and are much larger with a larger head in proportion to its body. LFA can produce painful stings and large red welts and may cause blindness in pets. They can build up very large colonies on the ground, in trees and other vegetation, and buildings and homes and completely overrun a property.
Suspected invasive species should be reported to the state's toll-free PEST HOTLINE – 643-PEST (7378).
For updated information on LFA in Hawaii, go to the HDOA website at: https://hdoa.hawaii.gov/pi/main/lfainfo/