07/31/14 – Central Maui Regional Sports Complex Breaks Ground – Facility to Meet Community Need for Recreational Facilities
Posted on Jul 31, 2014 in News Releases, slider, State Parks
DEPARTMENT OF LAND AND NATURAL RESOURCES
News Release
NEIL ABERCROMBIE
GOVERNOR

WILLIAM J. AILA JR,
CHAIRPERSON
For Immediate News Release July 31, 2014
CENTRAL MAUI REGIONAL SPORTS COMPLEX BREAKS GROUND
Facility to Meet Community Need for Recreational Facilities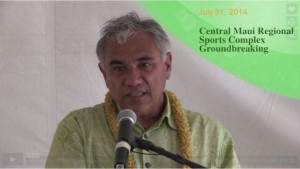 (Click on picture to watch video)
WAILUKU, Maui – Gov. Neil Abercrombie, Lt. Gov. Shan Tsutsui and Mayor Alan Arakawa today joined with Maui community leaders and sporting organizations to break ground for the new Central Maui Regional Sports Complex.
Located in the Wailuku-Waikapu region in Central Maui, the complex is designated in the master planned community of Waiale being developed by Alexander & Baldwin, Inc. The complex will encompass up to 65 acres of land and will be completed in phases, which will ultimately include a full-size baseball field, a quad of softball fields, a little league baseball quad, and an area for soccer fields. Comfort stations, concession buildings, and new infrastructure including a parking lot and utilities are also part of the project's scope. The project is being funded by $4.7 million in general obligation (G.O.) bond funds.
"The Central Maui Regional Sports Complex will benefit the entire Maui community to meet an overwhelming demand for active sports fields on the island," Gov. Abercrombie said. "Today's groundbreaking is the result of collaboration between the state and county along with the Maui community. In the truest sense, it is an investment in this community's future."
Lt. Gov. Shan Tsutsui added: "This long-awaited and much needed sports complex will be a gathering place for families and children to play and spend quality time together. Once completed, the park could serve as a venue to host local, statewide, national and international sporting events. It has the potential to be a revenue generator for Maui and the State."
Mayor Arakawa said: "It is clear that there is a growing need for more play fields now within Central Maui. Sometimes there are as many as five sports clubs using the same field. Central Maui sports groups that receive athletic field permits include: MGSA, Bronco League, Little League, American Youth Soccer Organization (AYSO), Hawaii Youth Soccer Association (HYSA), HSF, as well as adult leagues for soccer, softball, baseball and softball tournament."
The Department of Land and Natural Resources is the agency tasked with implementing this project. DLNR Chairperson William J. Aila, Jr. commented: "We understand that we must balance the positive benefits of this project with any impacts on adjacent communities. Therefore, to be good neighbors, we have conducted the necessary due diligence and believe we have provided adequate mitigation measures to address community concerns."
# # #
Project Information/Facts:
Project Managing Agency: Department of Land & Natural Resources, State Parks Division and Engineering Division.

Design Consultant: R.M. Towill Corporation.

Construction Contractor: Goodfellow Bros., Inc.

Full build-out of the complex will consists of one high school baseball field, four softball fields, four little league baseball fields, three soccer fields, comfort stations, concession stands, parking with 700+ stalls, landscaping, an irrigation well and storage tank.

Total park acreage: Approximately 65 acres

Project will be built out in phases
– Phase 1 of the project will construct a high school baseball field, two softball fields, two comfort stations, a concession stand, parking, landscaping, irrigation well and storage tank.
– Phase 1 construction cost is approximately $14.8 million.
– Phase 1 construction will start in August 2014 and will be completed in October 2015.
–

Phase I has been awarded to Goodfellow Bros, Inc

Future Phases
– $5 million in additional CIP funding has been appropriated in FY 2015
–

This $5 million will be used toward constructing two additional softball fields, four little league baseball fields, three soccer fields, an additional concession stand, additional comfort stations, parking and landscaping.
Still photographs of the event are available on Google
Media Contact:
Deborah Ward
Public Information Specialist
(808) 587-0320