11/07/14 – DLNR Releases A Quarter Million Sea Urchins In Kaneohe Bay To Control Invasive Seaweed
Posted on Nov 7, 2014 in Aquatic Resources, News Releases
DEPARTMENT OF LAND AND NATURAL RESOURCES
News Release
NEIL ABERCROMBIE
GOVERNOR

WILLIAM J. AILA JR,
CHAIRPERSON
For Immediate News Release November 07, 2014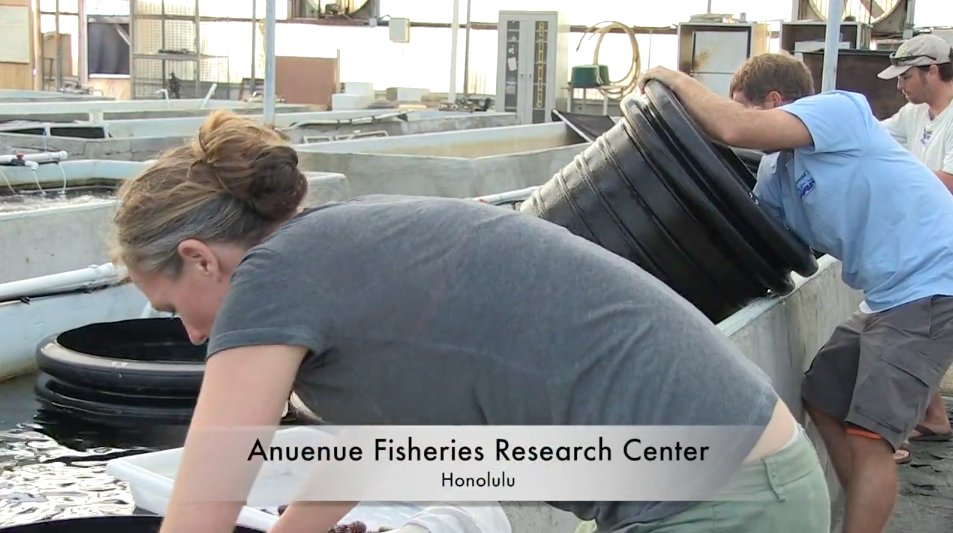 (Click on image to watch video)
DLNR RELEASES A QUARTER MILLION SEA URCHINS
IN KANEOHE BAY TO CONTROL INVASIVE SEAWEED
HONOLULU — On October 30, 2014, Department of Land and Natural Resources (DLNR) Aquatic Invasive Species (AIS) team divers placed another 6,000 hatchery raised sea urchins on selected reefs in Kaneohe Bay. This is another milestone in the battle against invasive seaweeds threatening to smother coral patch reefs in Kaneohe Bay.
"This batch brings our total to more than 250,000 hatchery reared urchins released so far," said Brian Neilson, DLNR aquatic invasive species coordinator. As a result of the urchins, "we are seeing
reduction of invasive alien seaweeds in the targeted areas."
Alien invasive seaweed has plagued Kaneohe Bay for more than 30 years. In 2005, DLNR, The Nature Conservancy, and the University of Hawaii developed a two-tier approach to the problem.

Second, strategically place native sea urchins on the cleared reef patches to eat and keep down the remaining seaweed. The urchins act as nature's control measure. DLNR raises the sea urchins in hatcheries at the Department's Anuenue Fisheries Research Center (AFRC) on Sand Island. "These native, herbivorous urchins maintain the areas like ocean gardeners or little goats of the sea. They keep the seaweed in check and give the corals a chance to recover," said David Cohen, DLNR sea urchin hatchery manager.
DLNR established the sea urchin hatchery at AFRC in 2009. The first release of urchins was conducted early in 2011. Urchins have been successfully released on a regular basis since then. As long as they are left alone to multiply and continue their important work munching on seaweed, the coral reefs of Kaneohe Bay can look forward to continued recovery and health.
# # #
Media Contact:
Deborah Ward
Public Information Specialist
(808) 587-0320