11/17/14 – Serious Natural Resource Damage Leads To Changes At Kaʻena Point
Posted on Nov 17, 2014 in News Releases, State Parks
DEPARTMENT OF LAND AND NATURAL RESOURCES
News Release
NEIL ABERCROMBIE
GOVERNOR

WILLIAM J. AILA JR,
CHAIRPERSON
For Immediate News Release November 17, 2014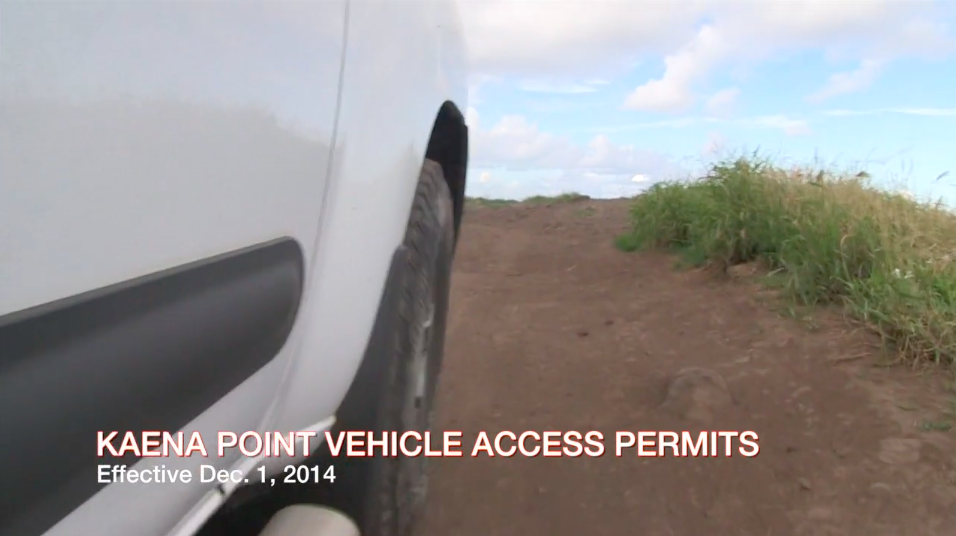 SERIOUS NATURAL RESOURCE DAMAGE LEADS TO CHANGES AT KAʻENA POINT
Off-Road Use Prompts Permit System
HONOLULU – Following close collaboration with a community advisory group and a voluntary compliance trial, the Department of Land and Natural Resources (DLNR) is implementing a vehicle access permit system for the heavily used roads at Kaʻena Point State Park Reserve, Mokulēʻia section.
In 2011 the Board of Land and Natural Resources (BLNR) approved an action plan that allowed DLNR and its divisions to implement a permit system at Kaʻena Point.  DLNR Chairperson William Aila elected to try voluntary compliance on the part of users prior to gating access. 
"DLNR installed signs designating the upper road and delineating shoreline access roads in the state park.  DLNR also conducted numerous outreach activities to inform users of the designations," said Aila. "Unfortunately off-road vehicle use has continued and are negatively impacting the park's natural resources."
Beginning Dec. 1, 2014 anyone wanting to drive a vehicle into the Mokulēʻia section (beyond the paved parking lot) of Kaʻena Point State Park Reserve will need to obtain a free permit.  This does not apply to users who hike or bike on the dirt road behind the locked gate.  Users who get a permit will be provided with the combination to the lock.  DLNR is hosting three informational meetings this month to explain the new process and to issue permits to drivers who meet all of the requirements.  After these meetings people can apply for permits at the state parks office during normal working hours. Permits may take up to five working days to be issued. 
 "This permitting system is a management tool that will assist us in enforcing the rules," said State Parks Administrator Dan Quinn. "If someone conducts illegal activities while in the area their permit may be revoked and additional penalties could be assessed."  
Officers from the DLNR Division of Conservation and Resources Enforcement (DOCARE) will be able to easily tell if someone has a valid permit, as they will be prominently displayed on vehicle bumpers. Permits are valid 24-hours a day, unless DLNR deems the area to be unsafe or declares an emergency condition.
Aila explained, "This system will increase accountability for behavior at Kaʻena Point and will make rules of where to drive clearer.  Permits do not restrict pedestrian access so it does not infringe on native Hawaiian gathering rights."
Public informational and permitting meetings for people who want to acquire a permit are as follows:

Thursday, Nov. 20, 2014; 6 – 9 p.m., 
Kalanimoku Building (DLNR Boardroom), 
1151 Punchbowl Street, Honolulu (free parking in the underground garage)
Saturday, Nov. 22, 2014; 9 a.m. – Noon, 
Waialua Elementary School Cafeteria
67-020 Waialua Beach Road, Waialua
Saturday, Nov. 22, 2014; 5:30 – 9 p.m.
Mililani High School Cafeteria
95-1200 Meheula Parkway, Mililani
This video explains the permit system and the reasons for it: https://vimeo.com/111943221
Dan Dennison 
Senior Communications Manager 
Office of the Chair
Hawaii Department of Land & Natural Resources
1151 Punchbowl Street, Room 130 
Honolulu, Hawaii 96813

Tel    808-587-0407
Cell   808-295-8749
Fax   808-587-0390 
[email protected]