01/16/15 – Sign Up Now For Project Learning Tree Workshop, Jan. 31 National Tropical Botanical Garden
Posted on Jan 16, 2015 in Forestry & Wildlife, News Releases
DEPARTMENT OF LAND AND NATURAL RESOURCES
News Release
DAVID Y. IGE
GOVERNOR

CARTY CHANG
ACTING CHAIRPERSON
For Immediate News Release January 16, 2015     
SIGN UP NOW FOR PROJECT LEARNING TREE WORKSHOP
JAN. 31 AT NATIONAL TROPICAL BOTANICAL GARDEN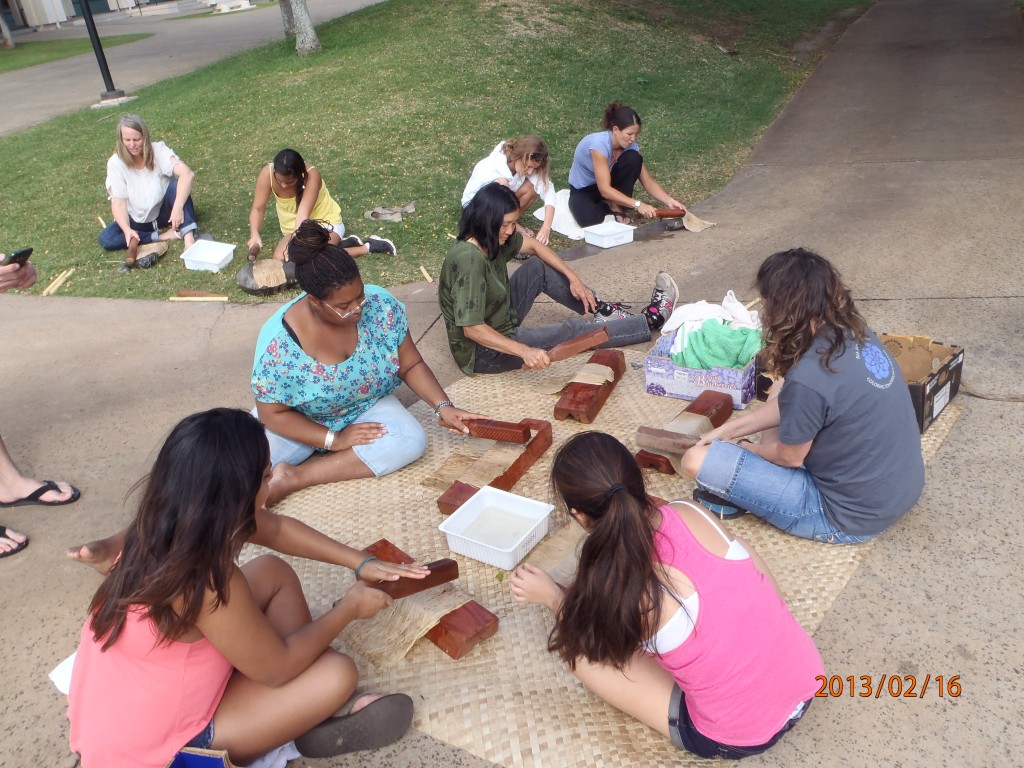 DOFAW photo: Educators learning about Limu and Kapa at
a 2013 PLT workshop on Maui hosted by volunteer facilitators
and the Division of Forestry and Wildlife.
LIHU'E, KAUA'I — Traditional and non-traditional educators are invited to join the Department of Land and Natural Resources (DLNR), Division of Forestry and Wildlife and the National Tropical Botanical Garden on Saturday, January 31, 2015 for a Project Learning Tree Pre-K to 8 workshop  on Kaua'i. This event will be held at the National Tropical Botanical Garden's education center from 9 a.m. to 3 p.m., at 3530 Papalina Rd. in Kalaheo. To register, call Malama Kaua'i at (808) 828-0685 by January 27, or visit the Project Learning Tree Hawai'i website to complete the online registration form:https://dlnr.hawaii.gov/dofaw/education/plt/  DLNR thanks our community partners at Malama Kaua'i for helping with registration! 
The workshop will focus on demonstrating creative, standards-based techniques educators can use to engage elementary and middle school students in multi-disciplinary environmental education.  Participants will meet community partners from collaborating agencies and have the opportunity to participate in a special guided hike of the grounds by nursery manager, Ashley Trask. 
FREE Project Learning Tree professional development opportunities are offered annually on Kaua'i by the Department of Land and Natural Resources (DLNR) Division of Forestry and Wildlife (DOFAW) in cooperation with: Tri-Isle RC&D, the US Forest Service, and the National Project Learning Tree office. 
At these workshops, participants have the opportunity to meet and share ideas with colleagues, learn about Hawaii's unique resources from local scientists and educators, and become eligible to apply for PLT's GreenSchools! and GreenWorks! grants. Participants receive a curriculum guide correlated to common core state standards as well as posters, snacks, and other local teaching resources. 
Project Learning Tree is an award-winning, multi-disciplinary environmental education program. It is easy to infuse the environmental lessons into other subject areas such as math, language arts, and social studies. The activities within the curricula feature extensions and can be adapted to various audiences including the Pre-K to 8 classroom, Boy Scout and Girl Scout troupes, special education cohorts, community groups and others.  People who lead these groups are all welcome to attend the workshop. 
For more information about Project Learning Tree, call Michelle Gorham Jones at (808) 265-3276 or email: [email protected]. 
Media Contact: 
Deborah Ward 
Public Information Specialist 
(808) 587-0320