DEPARTMENT OF LAND AND NATURAL RESOURCES
News Release
DAVID Y. IGE
GOVERNOR

CARTY CHANG
ACTING CHAIRPERSON
For Immediate News Release January 22, 2015      
HIGH SURF CLOSES STATE PARKS ON WEST HAWAII AND OAHU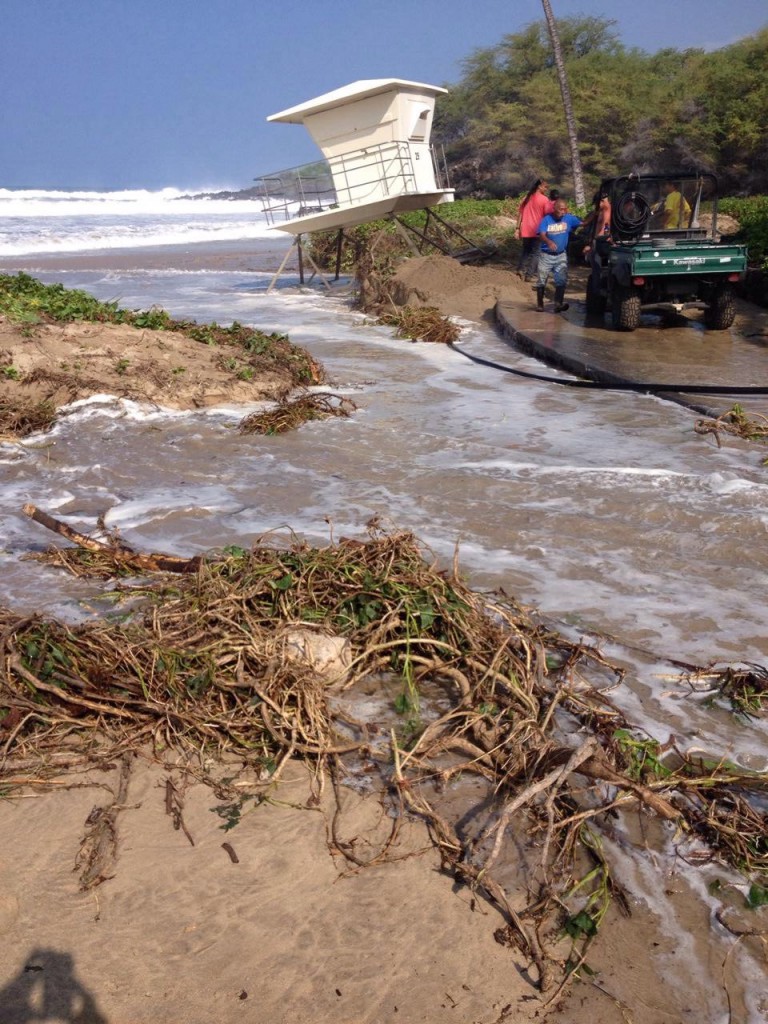 Photo by DLNR State Parks
HONOLULU —   Following the recommendation of Hawaii County Ocean Safety personnel, all West Hawaii state beach parks have been closed for public safety, by the Department of Land and Natural Resources' Division of State Parks. This includes Hapuna Beach State Recreation Area, and its Waialea section, Lapakahi State Historical Park and Kekaha Kai State Park (both the Maniniowali (Kua Bay) and Mahaiula sections).  All West Hawaii County beach parks have also been closed. 
Initial assessment of wave impacts at Hapuna Beach includes damage to the North side lifeguard tower.  The water line is also damaged and will need to be repaired before water service can be restored to the comfort stations.  The naupaka hedges in the park are covered with sand as well as the walkways and showers near the beach. 
Assessments of surf conditions will be done throughout the day.  Prior to opening the parks tomorrow, another assessment will be done to make sure the conditions are safe for public use.   
There has been some damage at some of the parks but the extent has not been determined as of yet.   
The Keawaula section of Kaena Point State park in Leeward Oahu remains closed today due to high surf.  The park gate is closed and hikers are being warned to keep out because high waves may wash across the road and be a safety hazard.   
Media Contact: 
Deborah Ward 
Public Information Specialist 
(808) 587-0320