DEPARTMENT OF LAND AND NATURAL RESOURCES
News Release
DAVID Y. IGE
GOVERNOR

CARTY CHANG
ACTING CHAIRPERSON
For Immediate News Release January 22, 2015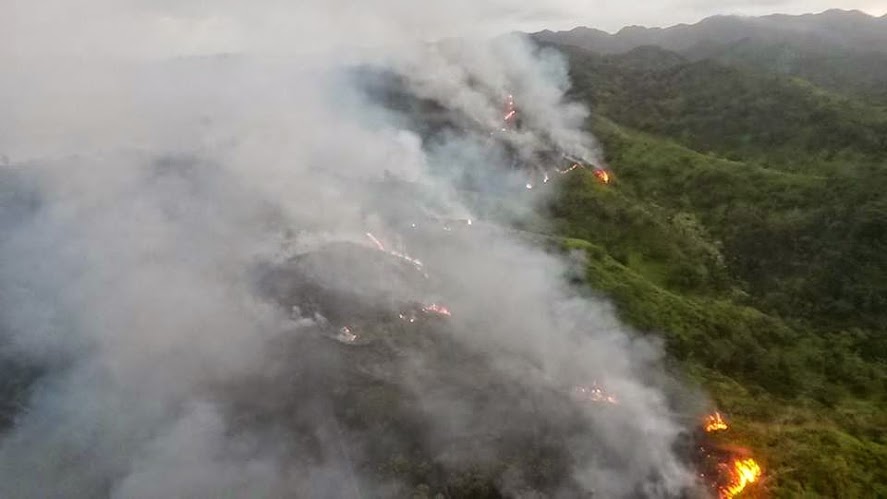 FIREFIGHTING EFFORTS CONTINUE 2ND DAY ABOVE MILILANI MAUKA
MILILANI, OAHU —   Fire responders from the U.S. Fish and Wildlife Service, Department of Land and Natural Resources' Division of Forestry and Wildfire, and Honolulu Fire Department (HFD) are continuing to fight the wildland fire located in the Kipapa drainage above Mililani Mauka, including parts of the Oahu Forest National Wildlife Refuge. 
Approximately 350 acres of mostly intact native forest has burned as of 12:00 p.m. Six DLNR firefighters and eight HFD personnel are trying to contain the fire using aerial drops of water by helicopter. 
Due to the lack of road access and steep terrain, responders are relying on costly air support to contain the fire. Four contracted helicopters and HFD's Air One helicopter are currently battling the flames. No structures are currently threatened. 
As of Thursday morning the fire is 30% contained and there is no prediction for full containment. 
The 4,775 acre refuge is managed by U.S. Fish and Wildlife and protects habitat for several native bird species such as the 'elepaio, threatened and endangered plants, and endangered tree snails. The area burning is a mixed 'ohia koa forest with other native species present such as 'uluhe fern, loulu, iliahi (sandalwood), and halapepe. 
This native forest cover protects Hawaii's watersheds and allows rainfall to slowly recharge the aquifer. When native forests burns in a wildland fire, the soil erodes into streams and out onto reefs, causing damage far beyond the burn site. Recovering native vegetation is hindered by invasive plant species which quickly recolonize the site and often are both more prone to burning and better adapted to survive fire, resulting in a destructive cycle of wildland fires. 
Media Contact: 
Deborah Ward 
DLNR Public Information Specialist 
(808) 587-0320 
FF3 Kendall Ching 
Honolulu Fire Department 
(808) 723-7164