DEPARTMENT OF LAND AND NATURAL RESOURCES
News Release
DAVID Y. IGE
GOVERNOR

CARTY CHANG
ACTING CHAIRPERSON
For Immediate News Release January 23, 2015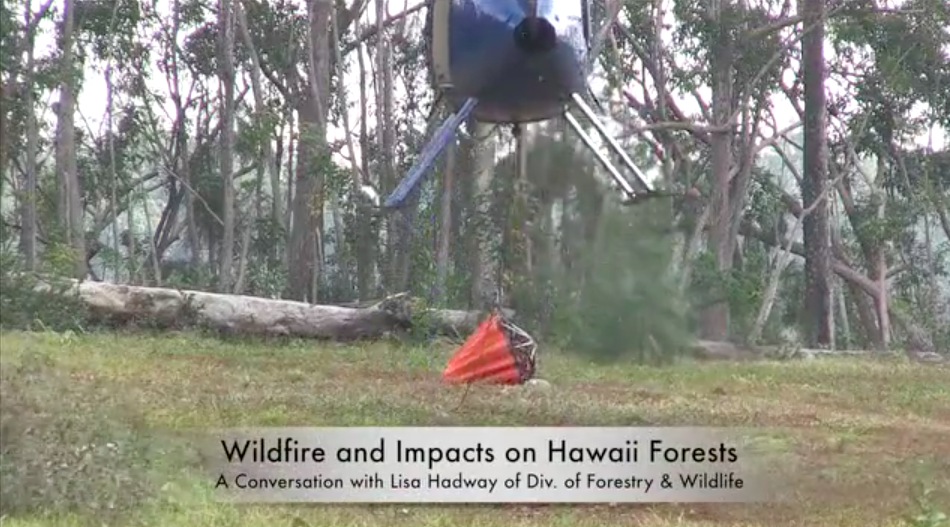 See also   "Wildfires, Watersheds & Hawaii Forests"
A conversation with Lisa Hadway-Administrator DLNR Division of Forestry and Wildlife
(click on image to watch video)
KIPAPA FOREST WILDLAND FIRE NOW 460 ACRES, 40% CONTAINED
HONOLULU —   Fire responders from the federal government and DLNR Division of Forestry and Wildfire today continued fighting a persistent wildland fire located in the Kipapa drainage above Mililani Mauka, including parts of the Oahu Forest National Wildlife Refuge on Friday. 
Approximately 460 acres of mostly intact native forest had burned as of 1 p.m. Friday afternoon, with no increase of fire size overnight Thursday. 
Due to the lack of vehicular or trail access and steep terrain, responders are relying on air support to contain the fire with aerial drops of water. Three contracted helicopters are currently battling the flames.   
Several federal firefighters flew in from the Big Island to assist in the management of the fire on Friday.  These firefighters have specialized training in wildland fire suppression.  No structures or human habitations are currently threatened. As of Friday afternoon the fire is 40% contained. 
It has been demonstrated that the cost to replant native forests, eradicate invasive weeds and install erosion mitigation measures far exceed the costs to suppress the fire.   
Often times, the same barriers to rehabilitate the forest after fires are the same barriers for fire suppression.  These barriers include but are not limited to:  obtainability of funds, lack of access, steep terrain, insufficient man power, availability of plants and erosion mitigation measures. 


Media Contact: 
Deborah Ward 
Public Information Specialist 
(808) 587-0320