DEPARTMENT OF LAND AND NATURAL RESOURCES
News Release
DAVID Y. IGE
GOVERNOR

CARTY CHANG
ACTING CHAIRPERSON
For Immediate News Release February 12, 2015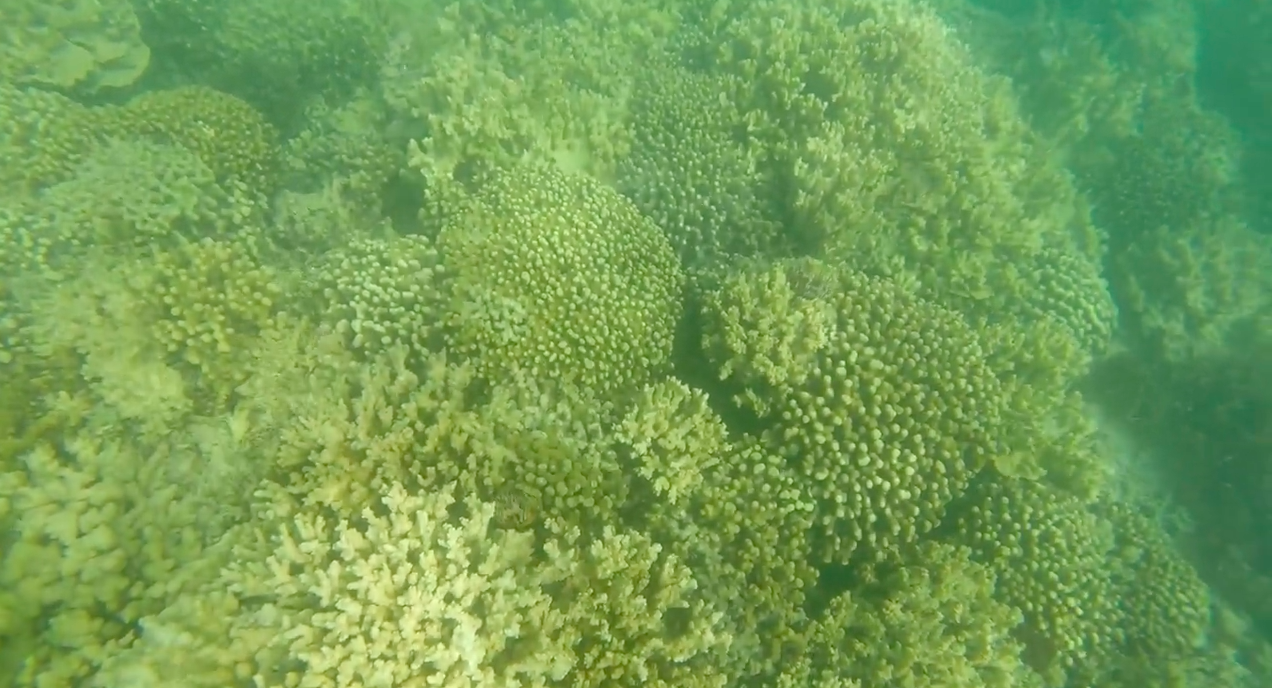 CORALS AT KANEOHE BAY NOW IMPACTED BY DISEASE 
Scientists Researching Cause and Extent 
HONOLULU – Two weeks after scientists announced that many coral colonies in Kaneohe Bay were showing signs of recovery from a fall 2014 bleaching event, reefs there are now facing a new threat.  The Department of Land and Natural Resources (DLNR) the Hawaii Institute of Marine Biology (HIMB) and the US Geological Survey (USGS) are investigating the presence of a disease called Acute Montipora White Syndrome (aMWS).  It was first detected on patch reefs in the bay within the past few weeks. 
"We don't know precisely what causes this disease which causes corals to lose their tissue and ultimately kills them," according to Dr. Greta Aeby of HIMB. She went on to explain, "aMWS only impacts one species of Montipora or rice coral; one of the most predominate species in the bay.  We're working on a number of hypotheses as to the cause, including the influx of organic carbon." 
A Rapid Response assessment team from the DLNR Division of Aquatic Resources (DAR), along with HIMB and USGS researchers, have been in the bay over the past week and a half documenting the extent of this disease, which can kill a coral colony quite rapidly.  Anne Rosinski, a Marine Resource Specialist with DAR said, "This disease can spread fast and has the ability to kill a small coral colony within one week.  On some Kaneohe Bay patch reefs we've observed up to 90% ofMontipora capitata corals affected and the majority of these are likely to die.  However, the percentages vary greatly and not all of the reefs in Kaneohe Bay show elevated levels of this disease." 
aMWS was also detected in the bay in 2010 and 2012.  It is unknown if there is a direct connection between the disease and the recent bleaching event, though bleached coral is generally more susceptible to diseases.  In addition to surveys, USGS researchers will be examining tissues microscopically to see if infectious agents are associated with disease.  HIMB is continuing to check affected patch reefs, as well as continuing experiments on disease pathology and possible environmental drivers of aMWS.  The DAR Rapid Response assessment teams will be back in the water conducting a second round of photographic surveys to further quantify the how much coral has been killed by the disease.
Dan Dennison                                 
Senior Communications Manager                 
Office of the Chair
Hawaii Department of Land & Natural Resources
1151 Punchbowl Street, Room 130 
Honolulu, Hawaii 96813 

Tel    808-587-0407 
Cell   808-295-8749 
Fax   808-587-0390 
[email protected]