03/02/15 – Celebrate Native Species, Culture And Sustainable Practices In Kauluwehi 2015 Juried Lei Art Contest And Exhibition – May 1 TO 8
Posted on Mar 2, 2015 in Forestry & Wildlife, News Releases, slider
DEPARTMENT OF LAND AND NATURAL RESOURCES
News Release
DAVID Y. IGE
GOVERNOR

CARTY CHANG
INTERIM CHAIRPERSON
For Immediate News Release March 2, 2015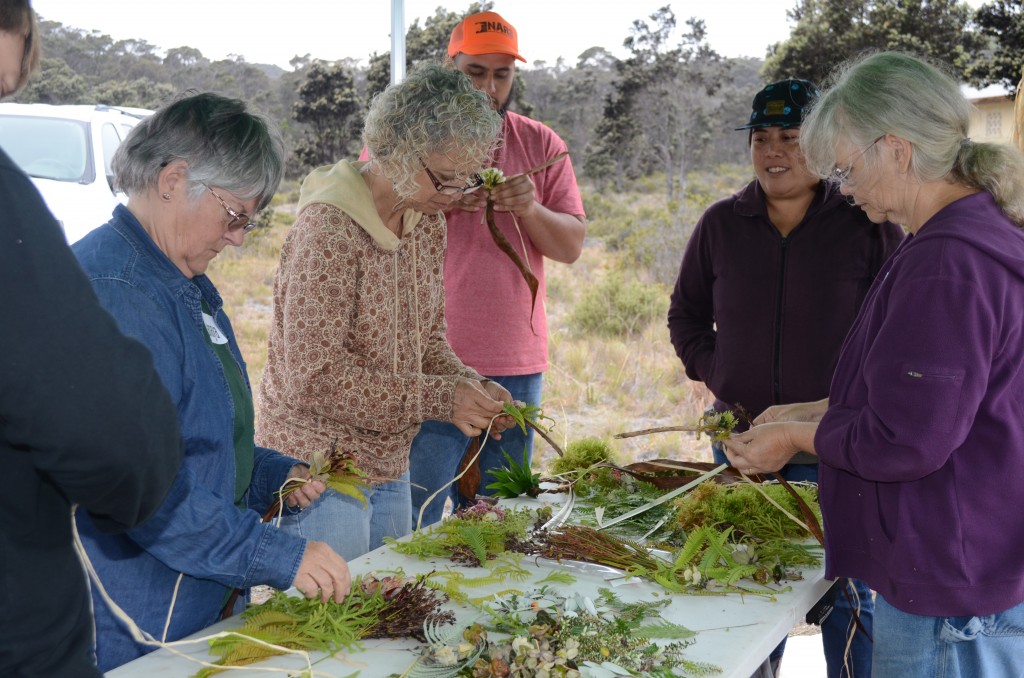 CELEBRATE NATIVE SPECIES, CULTURE AND SUSTAINABLE PRACTICES IN KAULUWEHI
2015 JURIED LEI ART CONTEST AND EXHIBITION – MAY 1 TO 8 
Contest entries must be submitted on April 30
HILO — Amateurs and professional lei artists of all ages are invited to demonstrate their lei-making skills in the second annual Kauluwehi Lei Contest 2015, from May 1 to 8. This is a juried lei art contest, award ceremony and exhibition celebrating the native plant species, Hawaiian culture and sustainable picking practices on Hawaii Island. The event at the Wailoa Center in Hilo, will also feature refreshments, live music, keiki and adult crafts.
The Department of Land and Natural Resources (DLNR), Division of Forestry and Wildlife (DOFAW)/Hawaii Island Natural Area Reserves Program (NARS), the Three Mountain Alliance (TMA) and the Wailoa Arts and Cultural Center are sponsors. 
The contest and preceding lei workshops encourage lei makers and non-lei makers alike to explore the rich assemblage of extraordinary native plants and animals unique to Hawai'i. The practice of lei making provides an opportunity to strengthen our relationship with the native ecosystems and build connections to our 'âina. 
There are three main categories for entries: kahiko (traditional style lei), 'auana (contemporary lei) and lei hulu (feather lei). 
The kahiko category features several subcategories, each showcasing a particular material such as the leaves, flowers, or the fruit and seed of a plant. 
The 'auana category moves away from the traditional style of lei making by incorporating recycled materials, synthetic materials and exotic plant materials. Lei will be judged on craftsmanship, creativeness of design, uniqueness of material and the complexity or effort applied.   
All lei entries, accompanying entry form and a $5 fee for each entry must be submitted on Thursday, April 30, at the Division of Forestry and Wildlife office in Hilo at 19 E. Kawili St., between 3 to 6 p.m. 
The Kauluwehi opening reception is set take place on Friday, May 1, May Day at the Wailoa Center in Hilo between 5 and 7 p.m. Everyone is invited to come down to witness the craftsmanship and artistry that Hawai'i Island's lei makers have put forth in a display of intricate beauty and color that can be found nowhere else. Winners will be announced at 6 p.m. Lei will be displayed during the opening reception through Friday May 8. 
For more contest rules, information and entry form for Kauluwehi Lei Contest go to https://dlnr.hawaii.gov/dofaw/education/kauluwehi, or contact Anya Tagawa, outreach and education specialist of the DLNR Hawaii Island NARS at [email protected] or (808) 443-4245. 
# # # 
Media Contact: 
Deborah Ward 
Public Information Specialist 
(808) 587-0320