03/10/15 – Maui's Kula Forest Reserve And Polipoli Springs Recreation Area Scheduled To Reopen On April 3
Posted on Mar 10, 2015 in News Releases, slider, State Parks
DEPARTMENT OF LAND AND NATURAL RESOURCES
News Release
DAVID Y. IGE
GOVERNOR

CARTY CHANG
INTERIM CHAIRPERSON
For Immediate News Release March 10, 2015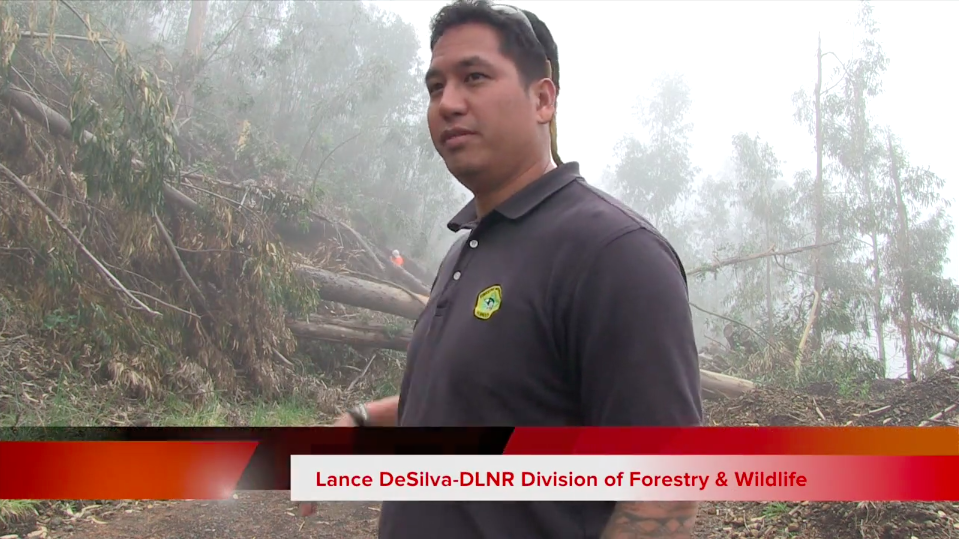 (Click on image to watch video)
MAUI'S KULA FOREST RESERVE AND POLIPOLI SPRINGS
RECREATION AREA SCHEDULED TO REOPEN ON APRIL 3
HurricaneIselle Damage and Danger Now Mitigated
Kahului, Maui– When Hurricane Iselle stormed through the Hawaiian Islands in August 2014, it left a wide path of destruction in forests from the Big Island of Hawaii to Maui and all the way up the chain to Kauai. Hurricane force winds toppled trees in state forest and natural reserves and in some state Parks. Most of the damage was to stands planted forplantation/timbering purposes and were not native trees.
On April 3,2015 the DLNR Divisions of Forestry and Wildlife (DOFAW) and State Parks plans to reopen access to the heavily used Kula Forest Reserve in upcountry Maui and the popular Polipoli Springs State Recreation Area (SRA).   Both have been closed since Hurricane Iselle.In some areas, large stands of Eucalyptus trees fell to the ground in the 50-80 mile per hour winds. One stand within view of the Polipoli Springs cabin and campground was completely flattened.   DLNRmanagers closed the reserve and park before the storm, which was a prudent decision since picnic tables and other structures were destroyed by falling trees.
Roughly sevenmiles of the Na Ala Hele trail system experienced damage during the storm. Two and a half miles of trail in the forest reserve had concentrated or heavy damage and these sections of trail have been repaired.   The makai boundary fence, adjacent to severalranches sustained about three miles of damage from large wind-thrown trees.   Repairs are ongoing.
Lance DeSilva,DOFAW's Maui Forestry Manager explains, "We appreciate everyone's patience as we took steps over the past few months to make repairs to public facilities and to remove any hazards that could have created safety issues for visitors."   During the past few weeks a logging crew hasbeen cutting leaning or snagged trees adjacent to forest roads, to remove hazards and debris to prepare for the reopening. "The closure of the forest reserve and the state park also gave us an opportunity to make some other needed improvements to create a better and safer user experience in this very popular area," DeSilva said.
State Parks   Assistant   Administrator   Curt Cottrell   reminds people using the recreationarea and the forest reserve to   bealert and   still exercise cautionwhen traveling off-road into the backcountry.  "We want   our park and forest users   to be aware that away fromthe managed   roads there   are likely   trees that were compromised during thestorm and to look up often,   listen,if there is wind for potential limbs breaking, and   avoid walking under a   potentially   hazardous tree,"  Cottrell said.
PolipoliSprings SRA camping and cabin reservations resume April 3 at:   https://camping.ehawaii.gov/camping/welcome.html
MediaContact:
Dan Dennison
Senior Communications Manager
(808) 587-0407