DEPARTMENT OF LAND AND NATURAL RESOURCES
News Release
DAVID Y. IGE
GOVERNOR

CARTY CHANG
INTERIM CHAIRPERSON
For Immediate News Release April 07, 2015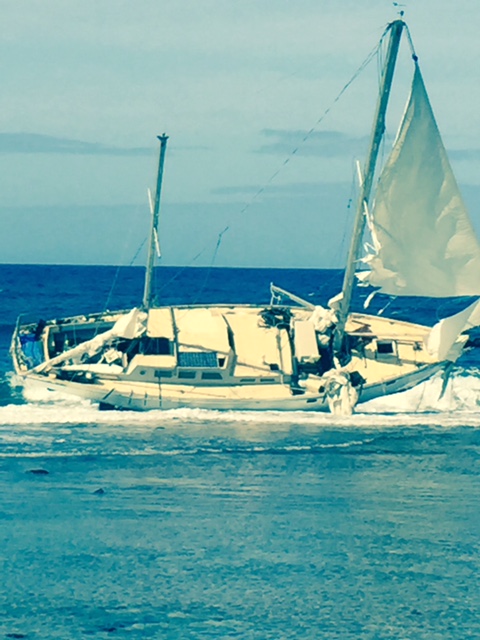 VESSEL AGROUND AT MOLOAA BAY TO BE REMOVED
LIHUE, KAUAI – The Department of Land and Natural Resources (DLNR) has hired a contractor to remove a 55′ ketch, Kikimo, which ran aground in a secluded area on the reef at Moloaa Bay on Kauai on April 1.
DLNR boating division staff were able to remove the hazmat from the vessel. Division of Aquatic Resources staff also went out to assess any damage to the reef.
"We appreciate the help of community members to remove items that were in the water and bring them to shore," said Joe Borden, DOBOR Kauai district manager.
Marine salvage contractor Sea Engineering assessed the situation at Moloaa on Saturday. The plan was to pull it off the reef and tow it to safe harbor. However, after their inspection of the vessel, boating officials were concerned it would break up just makai of the reef, causing even more damage, and spreading debris all along the shoreline and reef. The contractor will instead cut up the boat into pieces for removal by helicopter and disposal. Work with the helicopter should start on Wednesday. Due to the ferrocement construction, cost of the removal is estimated at $185,600.
The mooring permit of the last known registered owner, Paul Wild, expired January 31, 2015. The vessel was then illegally moored at the Keehi small boat harbor and left Keehi around mid-March. It later experienced difficulties with the new rigging, and the motor, which eventually ran out of fuel. The vessel was able to sail to a few miles east of Hale O Lono harbor on Molokai, where it was anchored and left unattended for a few days. When the owner returned to the anchor site with fuel, it had apparently broken free or dragged its anchor. It's believed the vessel drifted for about a week towards Kauai until it ran aground.
Since 2002, DLNR/DOBOR has paid in excess of $1.3 million from the boating special fund (derived from boater user fees, permits, etc.) to remove grounded, abandoned and derelict boat from Hawaii's nearshore waters. DLNR encourages all boaters to insure their vessels to protect our marine resources and protect themselves. If a balance is owed to the department, the responsible party may not register a vessel in the State and may not apply for a mooring permit in a DLNR facility.
If a boater observes a drifting vessel offshore but cannot recover it, DLNR recommends that the individual or group sighting the vessel call the U.S. Coast Guard (USCG), Sector Honolulu at (808) 842-2600 and report the last approximate location or GPS point. This allows the USCG to put out a notice to mariners to identify and provide the vicinity of a possible hazard to navigation.
# # #
Media Contact:
Deborah Ward
DLNR Public Information Specialist
Phone: (808) 587-0320