DEPARTMENT OF LAND AND NATURAL RESOURCES
News Release
DAVID Y. IGE
GOVERNOR

CARTY CHANG
INTERIM CHAIRPERSON
For Immediate News Release April 21, 2015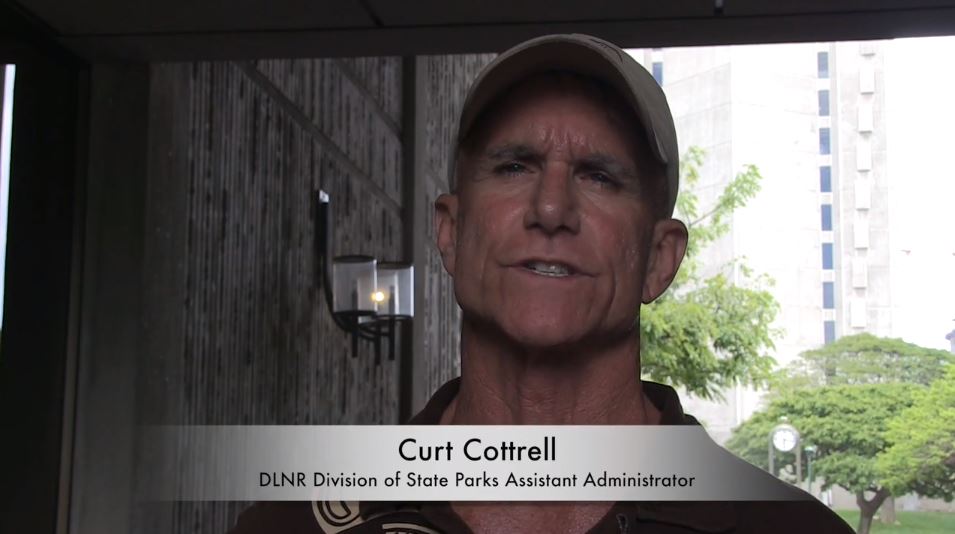 (Click on image to watch video)
STATE PARKS SECURES PARKING OPERATOR FOR DIAMOND HEAD
Similar arrangements expected soon for Nu'uanu Pali, Akaka Falls
HONOLULU — Today the Department of Land and Natural Resources, Division of State Parks (DSP), reached an interim revocable permit agreement with Pro Park, Inc. for a parking operation at Diamond Head State Monument. Pro Park will begin operating and collecting entrance fees effective tomorrow (Wed., April 22, 2015) and the park will operate as normal.
Pro Park was the successful bidder for a previous parking management contract at Diamond Head that ended in 2014. Its familiarity with parking at this location allowed it to begin work on short notice.
The agreement provides for both parking control necessary for public safety and critically needed special fund revenue for State Parks.
State Parks expects similar agreements for the Nu'uanu Pali State Wayside on O'ahu and Akaka Falls State Park on Hawai'i Island shortly.
State Parks plans to seek Board of Land and Natural Resources (BLNR) approval of a more formal agreement at its meeting on May 8, 2015 and will seek approval for a new, longer term competitive bidding process.
Under the current agreement, Pro Park will pay the state a percentage of fees collected under similar terms approved by the BLNR for Moana Parking Management, LLC which filed for Chapter 7 bankruptcy protection last Friday.
# # #
Media Contact:
Deborah Ward
DLNR Public information specialist
Phone: (808) 587-0320