DEPARTMENT OF LAND AND NATURAL RESOURCES
News Release
DAVID Y. IGE
GOVERNOR

CARTY CHANG
INTERIM CHAIRPERSON
For Immediate News Release April 23, 2015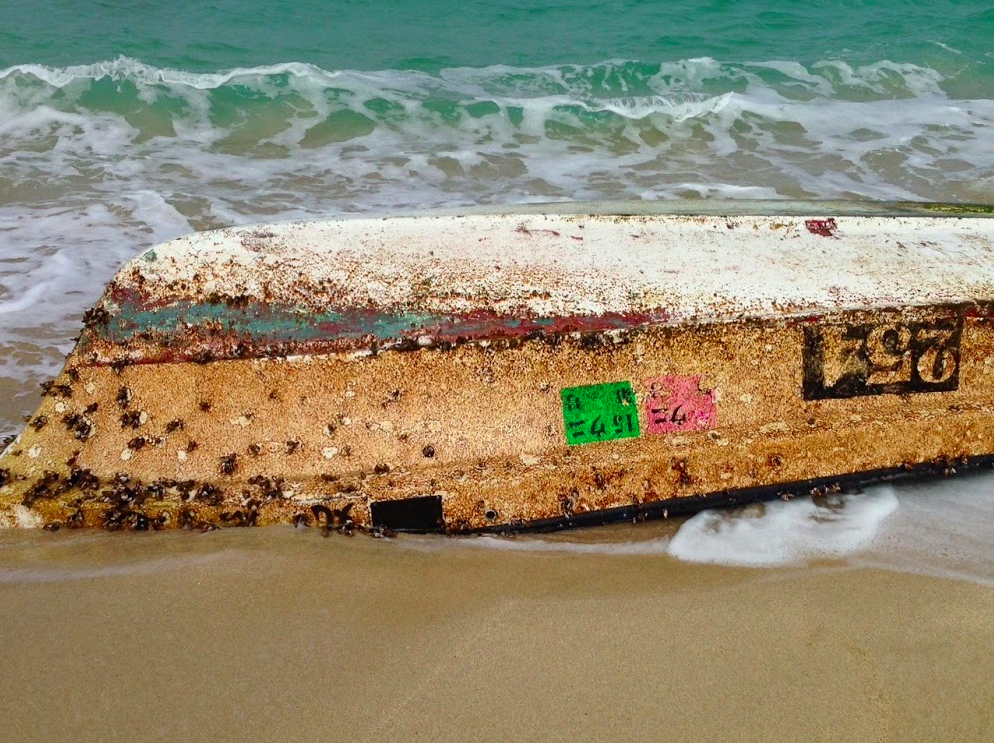 Overturned 20′ skiff at Alan Davis shore, Oahu, reported 4-22-15.
Photo courtesy Nicole Woolsey and Ryan Tani
DLNR REMOVES BEACHED BOAT, PLASTIC BINS – 
POSSIBLE JAPAN TSUNAMI MARINE DEBRIS
HONOLULU — The Department of Land and Natural Resources (DLNR) continues to respond to reports of possible Japan Tsunami Marine Debris items that arrive on island reefs and beaches. Today, a DLNR crew retrieved a reported 20' skiff at Sandy Beach area, bearing Japanese characters and vessel registration numbers. It is the seventh boat reported since February this year, following six others that arrived on Hawaii shores. Three were on the Big Island, at Kohanaiki, Kawaihae and Kawa Bay. One was overturned on Maui near the Aston Mahana, and two on Oahu were reported, at Kahuku and Punaluu.
Two large plastic bins were also reported this week, which bore identification marks that may be traceable to Japan. One was located at Kamilo Beach, Hawaii and removed by volunteers of the Hawaii Wildlife Fund. The other was located on Kauai at Larsen's beach. Items with identification numbers, Japanese characters, are reported to NOAA which works with the Japan Consulate in Hawaii to confirm provenance with the Government of Japan. Items not claimed by the original owner may then be disposed of.
To report large or unusual marine debris items, especially those that may have attached marine organisms, please email [email protected] and [email protected]. Calls may also be made to DLNR at 587-0400.
# # #
Photos of these recently reported items can be found online at https://plus.google.com/u/0/101613020396360217549/posts
Media Contact:
Deborah Ward
DLNR Public information office
Phone: (808) 587-0320