DEPARTMENT OF LAND AND NATURAL RESOURCES
News Release
DAVID Y. IGE
GOVERNOR

SUZANNE D. CASE
CHAIRPERSON
For Immediate News Release June 16, 2015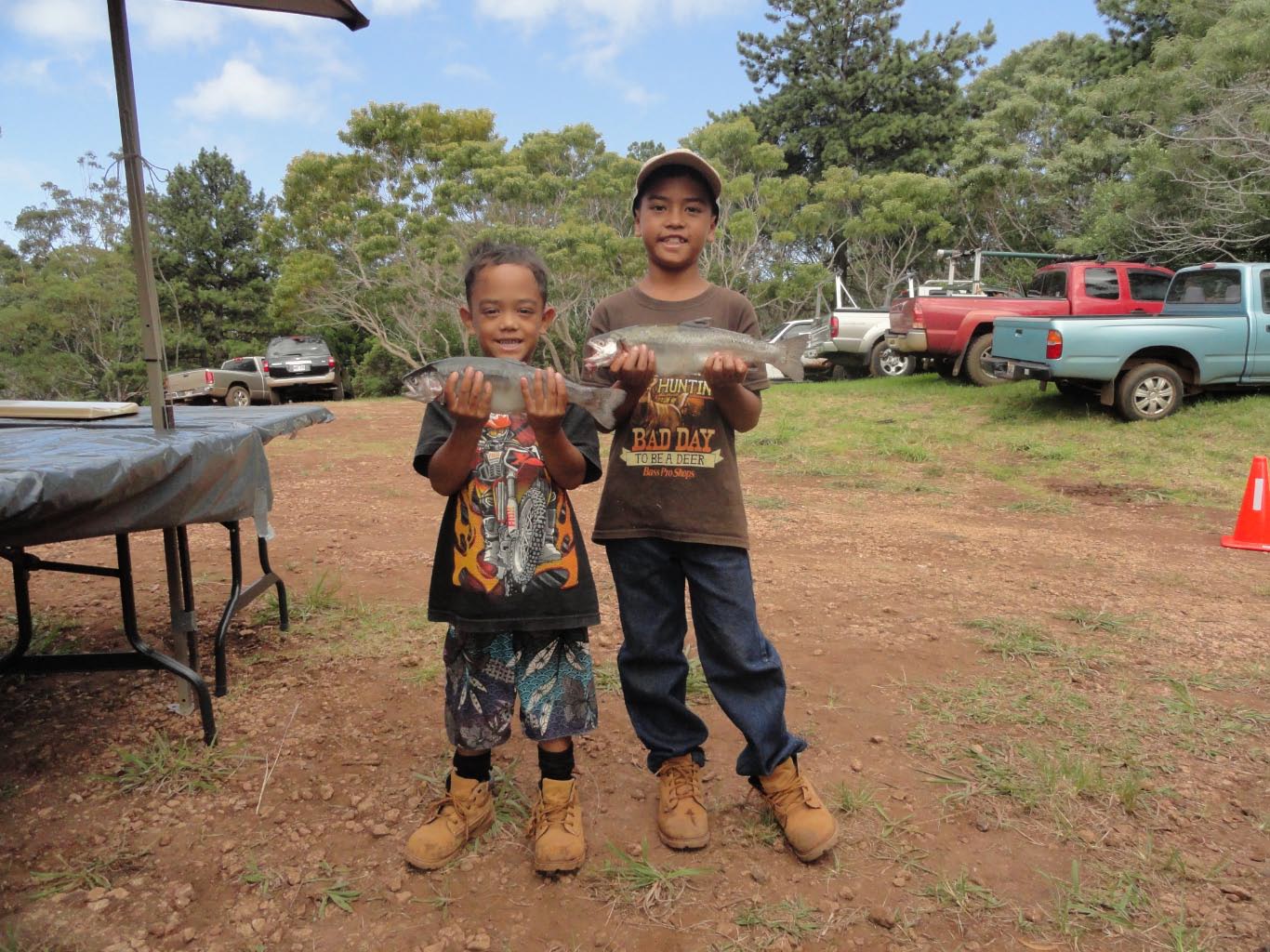 Photos by Division of Aquatic Resources 
(2014 Puu Lua fishing) 
TROUT FISHING SEASON BEGINS JUNE 20 AT KOKE'E PUBLIC FISHING AREA 
LIHU'E, KAUA'I  —  June is National Great Outdoors Month! Started in 1998 by President Bill Clinton, it is a month for people around the country to get outside and enjoy the natural beauty around us. Surrounded by ocean and full of freshwater rivers and streams, fishing is one of the best ways to enjoy the natural resources of Kaua'i. 
Not only does fishing providing a great way to enjoy the outdoors, but it has many other benefits as well. Fishing is a great way to stay FIT. It is an activity that can be enjoyed by the whole FAMILY. It provides a nutritious and ono source of FOOD, and it is FUN. 
This Saturday, June 20, the Department of Land and Natural Resources (DLNR) will open trout season in Koke'e public fishing area. "Trout fishing at Pu'u Lua Reservoir in Koke'e has always been a popular family activity, and anglers will have a chance to catch trout from last year's stocking," said Suzanne Case, DLNR Chairperson.
Last year 3,720 anglers fished in Koke'e public fishing area, catching a total of 28,364 trout. This year a total of 39,000 trout have been stocked for anglers of all ages to catch and enjoy. 
This is just one of many fishing opportunities on island. If you are looking for marine fishing opportunities DLNR also has other public fishing areas around the island, including Ahukini recreational pier, Nawiliwili harbor fisheries management area, Port Allen fisheries management area, Kapa'a and Waikaea canals, and Waimea recreational pier. 
Please remember while we are lucky to enjoy these resources it is also our responsibility to care for them. While fishing please follow these Ethical Angler Guidelines:
Take only what you need.
Don't pollute.
Improve fishing and boating skills.
Know and observe fishing and boating safety regulations.
Respect other anglers' rights.
Respect property owners' rights.
Pass on knowledge and angling skills.
Support local conservation efforts.
Don't release live bait into freshwater systems.
Promote the sport of fishing.
For more information about trout fishing times and dates, fishing regulations and fishing areas visit our website at https://dlnr.hawaii.gov/dar/fishing/fishing-regulations/regulated-areas/regulated-fishing-areas-on-kauai/#kokee-public-fishing-area 
Now get outside and get fishing! 
# # #
Media Contact:
Deborah Ward
DLNR Communications specialist
Phone: (808) 587-0320