DEPARTMENT OF LAND AND NATURAL RESOURCES
News Release
DAVID Y. IGE
GOVERNOR

SUZANNE D. CASE
CHAIRPERSON
For Immediate News Release August 4, 2015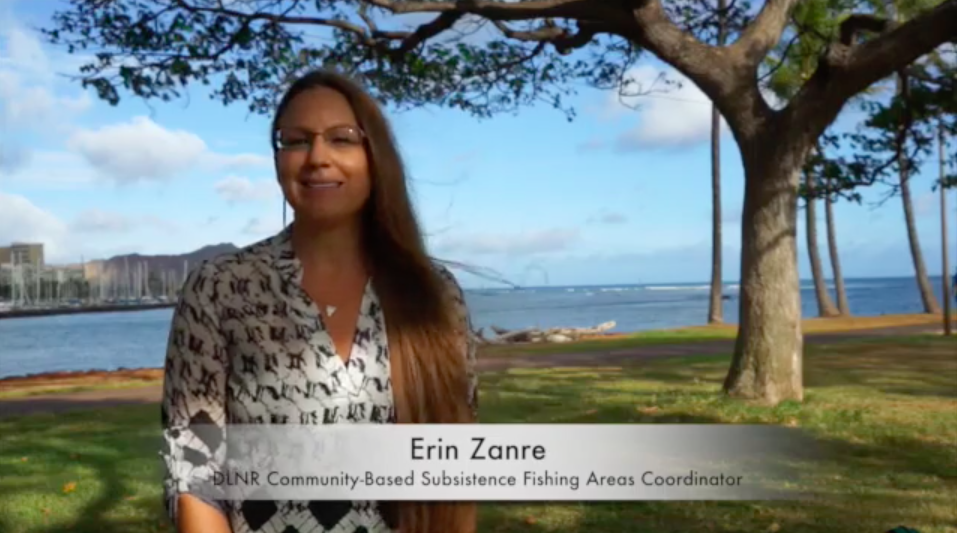 (Click on image to watch video)
HAWAII'S FIRST COMMUNITY FISHING AREA SIGNED INTO LAW BY GOVERNOR IGE
Historic Pact Heralds Collaboration Between Haena Community Stakeholders
(HONOLULU) – Governor David Ige has signed into law, the first ever Community-Based Subsistence Fishing Area (CBSFA) for Haena, Kauai. It was filed today. The result of years of discussions and collaboration between the Haena community and various stakeholders, this historic rules package gives the Haena hui an opportunity to protect its ocean resources, based on traditional fisheries management practices.
Governor Ige said, "The Haena CBSFA is an outstanding example of self-determination and governance for a local community, which wants to not only preserve but enhance its local fishery for sustainability. I personally want to thank everyone involved for their patience and kokua in bringing this long process to a great conclusion."
The rules for the Haena CBSFA were approved by the state Board of Land and Natural Resources (BLNR) in October 2014. DLNR will hold a public hearing on the Haena CBSFA Management Plan at a later date.
DLNR Chair Suzanne Case said, "Community based management of this nature isn't only the past, but is now the future. This CBSFA reflects the hard work and commitment of the greater Haena community and provides a great example of how other communities and the state can collaborate to manage precious natural resources."
The Haena CBSFA is the result of more than a decade of work, overwhelming support from the local community and strong recognition that government cannot do it alone and community-based management and buy-in is critical to sustaining natural resources now and for future generations.
Thomas Hashimoto, a respected master in fishing and agriculture practices was born and raised in Haena. He is also a founding member of Hui Makaainana o Makana, a nonprofit formed in 1999 which advocated for the creation of the Haena CBSFA. Hashimoto said, "The land and the ocean are life for the people. In Haena, from my great-grandparents time, we were taught to malama Haena, its lands, and especially its ocean areas. I have been honored and humbled to share knowledge I received from my kupuna from past generations with all who live in Haena, so these same places that I have fished and gathered my whole life will continue to be here for my great-grandchildren and all future generations."
# # #
Check for the latest on the Division of Aquatic Resources announcements page:
https://dlnr.hawaii.gov/dar
Media Contact:
Dan Dennison
Senior Communications Manager
Office of the Chair
Hawaii Department of Land & Natural Resources
1151 Punchbowl Street, Room 130
Honolulu, Hawaii 96813
Tel 808-587-0407
Cell 808-295-8749
Fax 808-587-0390
[email protected]