DEPARTMENT OF LAND AND NATURAL RESOURCES
News Release
DAVID Y. IGE
GOVERNOR

SUZANNE D. CASE
CHAIRPERSON
For Immediate News Release October 2, 2015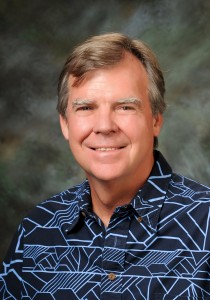 DR. BRUCE ANDERSON PICKED AS DLNR/DIVISION OF AQUATIC RESOURCES CHIEF
Expert on Environmental & Health Issues to Lead DAR
(HONOLULU) – Dr. Bruce Anderson, a well-known Hawaiʻi leader in environmental protection, has been selected to be the Administrator of the DLNR Division of Aquatic Resources (DAR).
Anderson has more than 20 years of experience in managing health, environmental protection and marine resource programs, policy and issues in Hawai`i.  DLNR Chair Suzanne Case said, "What particularly impresses me is Bruce's ability to consistently find solutions to complex problems where conflicting and divergent interests are at stake.  He's is a hands-on leader who works collaboratively with others internally and externally. He is well known to many DLNR staff, legislators, stakeholders and others." 
Dr. Anderson began his career as State Environmental Epidemiologist at the Hawaii Department of Health focusing his research and interests on ciguatera fish poisoning and other aquatic marine toxins.  As Deputy Director for Environmental Health for 12 years, he worked closely with the DAR staff in addressing problems associated with sewage spills and other pollution threats.  When appointed by Governor Ben Cayetano as Director of the Department of Health, he served on the State Water Commission.  As President of Oceanic Institute, he led a team of over 70 scientists, researchers and support staff in developing and transferring new aquaculture technologies to the private sector to produce shrimp, fish and other seafood in an environmentally sustainable manner.  Most recently, he served as President and CEO of Hawaii Health Systems Corporation.
"Bruce obviously loves the ocean.  In addition to growing up here fishing, diving and surfing, he organized and led the ʻOʻio Tagging Project, a project modelled after DAR's Ulua Tagging Project, in his free time," Case added.  "Recently, he worked with John Morgan and staff at Kualoa Ranch to develop a method to successfully grow oysters in a Hawaiian fishpond.  It is a thriving new business now."
Anderson was born and raised in Hawai`i.  He attended Punahou School, Colorado College and received his Master's in Public Health from Yale University and a Ph.D. in biomedical sciences from the University of Hawai`i.
He has a passion for saltwater fly fishing.   He also enjoys hiking, riding horses and gardening with his wife, Debbie.
Dr. Anderson said, "I am looking forward to this opportunity, and working with the Division of Aquatic Resources team, Chair Case and First Deputy Kaluhiwa, the DLNR staff, and all the stakeholders to better manage our marine resources and freshwater fisheries.   I have a lot to learn and expect to spend the next month or two doing a lot of listening."
# # #
Media Contact:
Dan Dennison
Senior Communications Manager
(808) 587-0407