DEPARTMENT OF LAND AND NATURAL RESOURCES
News Release
DAVID Y. IGE
GOVERNOR

SUZANNE D. CASE
CHAIRPERSON
For Immediate News Release October 7, 2015  
LONG-TIME DLNR MANAGER PICKED TO LEAD DIVISION OF STATE PARKS
Curt Cottrell Promoted From Assistant Administrator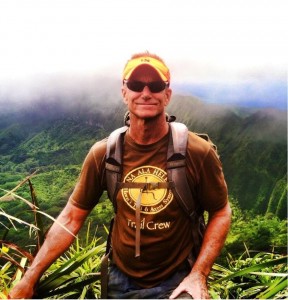 (HONOLULU) – Curt Cottrell, a 25-year-long employee of the Department of Land and Natural Resources, has been chosen as the next Administrator for the DLNR Division of State Parks.  He replaces Dan Quinn, another veteran manager, who recently retired.
DLNR Chairperson Suzanne Case said, "Curt's selection to lead State Parks capitalizes on a long list of accomplishments and experience, as he has worked in a variety of capacities since joining DLNR in 1991.  He has developed a deep understanding of policy, regulation, and  community engagement through the years. I'm delighted Curt will build on the leadership   created by his mentor, former State Parks Administrator Dan Quinn."
Cottrell started as the Oʻahu trails and access specialist in the Division of Forestry and Wildlife's (DOFAW) Nā Ala Hele Trails and Access Program.  In 1995, Cottrell was promoted to become the Statewide Nā Ala Hele trails and access program manager in DOFAW's Outdoor Recreation Section.  Then in 2009 he took on the job of Assistant Administrator for the Division of State Parks.  In that role he launched a series of initiatives to increase Division of State Parks revenue from a variety of new and existing sources, such as the new interpretive and merchandising kiosk at Diamond Head State Monument. Cottrell was involved in numerous and often complex policy and legal matters aimed at protecting and preserving park resources around Hawaiʻi.  In 2010 Cottrell was recognized as the DLNR Departmental Manager of the Year.
Cottrell's work mirrors his personal avocations.  Cottrell said, "My leisure activities keep me  centered and connected to Hawaii's unique and diverse outdoor environment, and include   cycling, kayaking, trail running and outrigger canoe paddling.  
I am passionate about fostering in my kids (two daughters) and future generations, a sense of appreciation for Hawaii's natural and cultural resources that are really exemplified in Hawaii's state trails and parks.   It is a rare  privilege to now be in a leading stewardship position to care for parklands that encompass Hawaii's most unique and precious natural and cultural resources." 
Cottrell first came to Hawaiʻi in 1983 immediately after college, to backpack in Hawaii's national and state parks.  He then settled in Hāna, Maui, where he  worked as a private estate caretaker, export nursery foreman, construction worker and cross country coach for Hāna High School.  Before joining DLNR he worked at the Hawaiʻi State Legislature as the clerk for the Committee on Planning, Energy and Environmental Protection.  
Cottrell has a Bachelor of Arts degree in Geography with a minor in Planning from California State   University at Chico.
# # #
Media Contact:
Dan Dennison
Senior Communications Manager
(808) 587-0407
[email protected]