DEPARTMENT OF LAND AND NATURAL RESOURCES
News Release
DAVID Y. IGE
GOVERNOR

SUZANNE D. CASE
CHAIRPERSON
For Immediate News Release February 26, 2016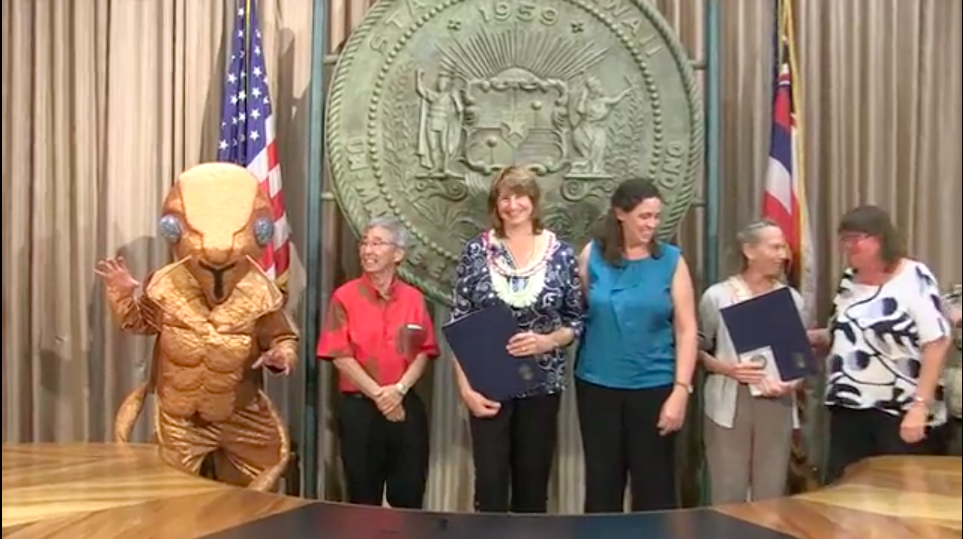 (Click on image to watch video)
HEROES IN THE FIGHT AGAINST INVASIVE SPECIES HONORED
State Capitol Ceremony Recognizes Extraordinary Efforts
(HONOLULU) –  Hawaii's 4th annual Hawaii Invasive Species Awareness Week (HISAW) wrapped up today with a ceremony in Governor David Ige's office to recognize people and organizations who've been instrumental in the fight against invasive species.  HISAW is organized in coordination with the U.S. National Invasive Species Awareness Week (NISAW) and regional Pacific Invasive Species Awareness efforts. The event promotes information sharing and public engagement in what the Hawaii State Legislature has declared "the single greatest threat to Hawaii's economy and natural environment and to the health and lifestyle of Hawaii's people." Events included a proclamation from Governor Ige, an awards ceremony, a student video contest, community presentations, and numerous volunteer opportunities throughout the state.
2016 HISAW Awards
COMMUNITY HERO
The Hawaii Invasive Species Council recognizes Kay Howe for her dedication to increase public awareness and education on the dangers of rat lungworm disease. Kay has worked tirelessly to research rat lungworm disease and educate the community about the perils of this disease and the invasive nematodes that cause it. She demonstrated that nematodes can survive for a long time in water, as in catchment tanks, and that they can pass through 2 micron filters, alerting the community to the risk of contracting it from water. Through a recent Go Fund Me campaign "Help Stamp Out Rat Lungworm", Kay began a program to educate students at five K-12 schools on Hawaii Island. Through education, students can learn how to avoid and prevent rat lungworm disease. The students then become educators for their families and communities on the dangers and prevention of rat lungworm disease.
BUSINESS LEADER
The Hawaii Invasive Species Council recognizes Young Brothers, LTD. for their Initiative and response to stopping the spread of Rapid 'Ōhi'a Death.
In response to Rapid 'Ōhi'a Death (ROD), Young Brothers showed great initiative by stopping shipments of 'ōhi'a products from Hawaii Island. These actions showed foresight and understanding to the implications of the statewide spread of ROD. The full affect and extent of their actions may not be known, but in any "outbreak" scenario, rapid response and containment are known to be of extreme importance.
GREATEST HIT
The Hawaii Invasive Species Council recognizes J.B. Friday, Flint Hughes, and Lisa Keith for their efforts regarding the combat and research of Rapid 'Ōhi'a Death.
This dedicated team of individuals has been working diligently to address Rapid 'Ōhi'a Death (ROD), have made great efforts to explain and update conservation professionals and the community about this serious issue. Their research of ROD continues to yield more information and identify management challenges that the team is meeting head-on.
HOTTEST PEST REPORT
The Hawaii Invasive Species Council recognizes Laura Hew for her efforts relating to reporting and stopping the spread of the Giant Day Gecko.
As a proactive community member, Laura promptly reported sightings of the giant day gecko to the Hawaii Department of Agriculture (HDOA). Her diligent reporting of an invasive pest species clearly demonstrates the success of the 643PEST reporting system, and highlights how the community can personally take actions to protect Hawai'i.
HAWAII COUNTY MVP
The Hawaii Invasive Species Council recognizes Judith Houle for her outstanding community efforts and her work controlling invasive species on Hawaii Island.
Judi has worked tirelessly to address invasive species issues plaguing residents of Hawaiian Paradise Park (HPP). Hit hard by fallen Albizia, HPP also suffers from infestations of coqui frogs and little fire ants, impacting the lives of its 12,000 residents. Judi was the first to bring BIISC's community empowerment program for Albizia control to HPP by working to promote training workshops and support residents in getting the resources they need to address problem trees in their neighborhoods. Judi works on these issues as a volunteer, and commits her own time and money to supporting her community and addressing invasive species that threaten the health and well-being of her neighbors. 
MAUI COUNTY MVP
The Hawaii Invasive Species Council recognizes Dr. James Leary for his efforts relating to controlling the spread and impact of invasive species in Hawai'i.
James Leary is a leader in innovative methods for weed control. Best known for his development of Herbicide Ballistic Technology (HBT) he continues to seek improvements and expand the list of species for which it can be used. In 2015, James organized a county-wide weed workshop on Maui, bringing together more than 50 field staff from conservation organizations to share their successes and offer solutions to identified problems. He supports professional development of staff in conservation organizations and willingly shares his knowledge and expertise with key conservation funders and elected officials. His efforts to streamline and improve HBT application methods resulted in the control of over 3000 Miconia plants in difficult to access areas of East Maui. 
OAHU MVP 
The Hawaii Invasive Species Council recognizes Paul Zweng for his outstanding leadership and cooperation in regards to controlling invasive species on the Island of Oahu.
Paul Zweng has been controlling invasive plant species and restoring native forest at his 1,440-acre property at Waikāne Valley since 2010. Paul has an infectious enthusiasm for habitat restoration; and freely shares his passion with the many volunteers that he coordinates. The Ōhulehule Forest Conservancy, which Paul founded, is an active member of the Ko'olau Mountains Watershed Partnership. Paul is also a founding member of the O'ahu Weed Working Group, an alliance of land management agencies, which aims to increase greater continuity of invasive weed control on the Island of O'ahu. Paul sets a wonderful example for other landowners to be actively engaged in invasive species control. 
KAUAI COUNTY MVP
The Hawaii Invasive Species Council recognizes Trae Menard for his efforts to protect watershed areas and control the spread of invasive species on the island of Kauai.
As part of his role as the Director for Forest Conservation with the Hawaii Nature Conservancy, Trae plays an extremely active role in controlling invasive species in the upper watersheds of Kauai. He also coordinates the Kauai Watershed Alliance and has a successful record of partnering with public and private landowners to achieve large-scale conservation actions. In 2015, Trae utilized new technology from high-resolution imaging and helicopter based plant control to combat the spread of Australian tree fern in the Wainiha Preserve and further protect and restore the Alakai region on Kauai.
#     
Media Contact:
Dan Dennison
Hawaii Dept. of Land and Natural Resources
Senior Communications Manager
Office of the Chairperson-Communications Office
1151 Punchbowl Street, Room 131
Honolulu, HI 96813
(808) 587-0407