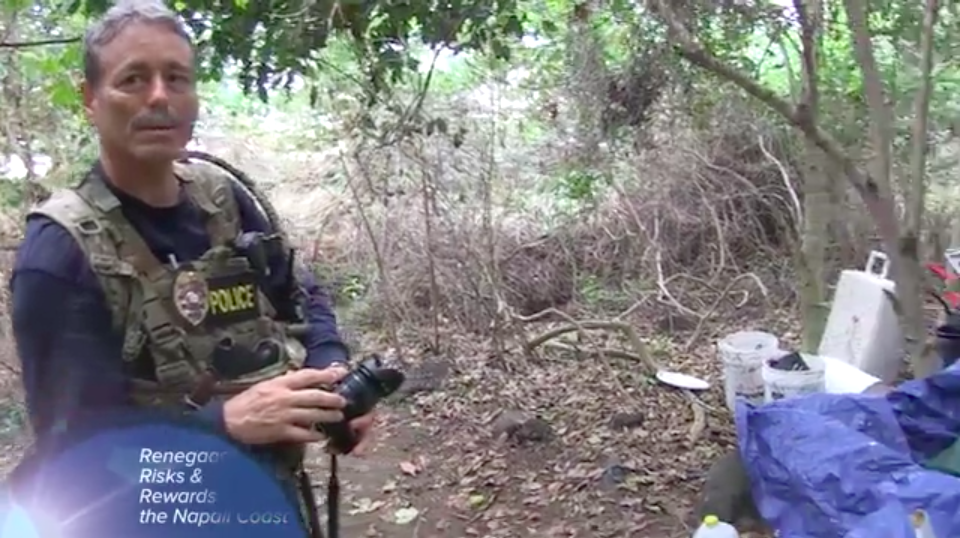 (Click on image to watch video)
This is what the Honolulu Star Advertiser had to say about the new film that depicts clean-up and law enforcement efforts in the Napali Coast State Wilderness Park:
Environmentalism must be learned
April 29, 2016
A new documentary by the state Department of Land and Natural Resources will show the damage caused by illegal camping on Kauai's lovely Na Pali coast — trampled wilderness and huge piles of garbage.
Unfortunately, it also will demonstrate, in a vivid way, the apparent contempt these illegal campers hold for Hawaii's fragile natural beauty.
It's hoped that the documentary will do more than spark concern. It should remind us that respect for Hawaii's environment must be learned from an early age. It's a simple lesson, one taught to every Boy and Girl Scout about camping: Leave no trace.
The documentary is scheduled to air at 6:30 p.m. Saturday and 7 p.m. Sunday on KFVE, and then on DLNR's website.
And this is additional coverage of Renegades, Risks, and Rewards of the Napali Coast in the Star Advertiser:
www.staradvertiser.com/…/movie-decrying-illegal-camping-cre…
If you'd rather watch in segments here are the three individual parts:
RENEGADES  www.vimeo.com/159262688
RISKS  www.vimeo.com/159292495
REWARDS  www.vimeo.com/159297634