05/12/16 – State Parks Completes Repair and Restoration of 'Iolani Palace, State Monument Perimeter Fence, Gates, and Wall
Posted on May 12, 2016 in News Releases, State Parks
DEPARTMENT OF LAND AND NATURAL RESOURCES
News Release
DAVID Y. IGE
GOVERNOR

SUZANNE D. CASE
CHAIRPERSON
For Immediate News Release May 12, 2016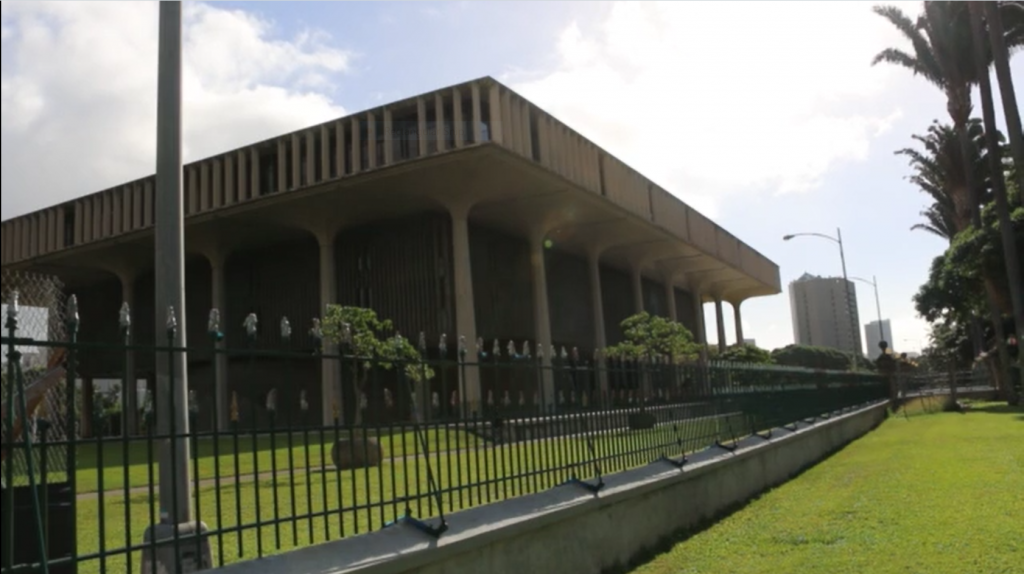 (click on image to watch video)
STATE PARKS COMPLETES REPAIR AND RESTORATION OF ʻIolani Palace
State Monument Perimeter Fence, Gates, and Wall 
HONOLULU – A year-long project to renovate and repair the more than a century-old ironwork fence and plastered wall, that bounds the four sides of the ʻIolani Palace State Monument grounds, has been completed by the Department of Land and Natural Resources, Division of State Parks. Gates at the ground's multiple entrances were also included in the renovation project as were the ironwork fence and brick wall enclosing the Royal Tomb Site on the palace grounds.
Work begin in April 2015. Kaikor Construction Company, Inc. was the contractor for this project. Mason Architects, Inc. prepared the project plans and specifications and provided oversight of the historic preservation aspects of the project. The total project construction cost was $1.5 million.
The renovation work involved stripping all rust and paint from the more than half-mile long fence and gates and incrementally removing them to an off-site location, where the individual segments received a hot-dip galvanizing treatment and repainting that should protect them more thoroughly and for much longer.
The project also required fabricating and installing missing or broken ironwork components of the fence, welding where needed, and plastering portions of wall and wall cap that were cracked or chipped. A portion of the mauka/ewa perimeter wall was rebuilt because it was tilted inward towards the palace grounds. The reconstruction work revealed that the wall segment was riddled with roots from neighboring trees, some of which probably contributed to the wall's tilting. A root barrier has been installed to prevent this in the future.
HISTORY — The ironwork fence was installed in 1892 after the 8-foot high wall that originally surrounded the palace grounds was reduced in height to increase visibility from the grounds. The fence was mounted on the lowered and capped wall. The protective fence enclosing the Royal Tomb Site was installed in the early 1930s as part of a larger landscaping effort. The Royal Tomb Site is marked by a low, grassed mound created by King David Kalākaua in the 1880s to memorialize the site of the first mausoleum on the grounds. Some of the Hawaiian Royalty were laid to rest in this mausoleum from 1825 to 1865 after which most were removed to the newly constructed Royal Mausoleum at Mauna 'Ala in Nuʻuanu.
ʻIolani Palace and its grounds, including the perimeter fence and Royal Tomb Site, were designated a National Historic Landmark in 1962 and listed in the National Register of Historic Places in 1978 as part of the Hawai'i Capitol Historic District. The fence was last painted in the 1970s after which it began to rust relatively quickly. Hot dip galvanizing should protect it more thoroughly and for much longer.
# # #
Media Contact:
Deborah Ward
Public Information Specialist
(808) 587-0320