DEPARTMENT OF LAND AND NATURAL RESOURCES
News Release
DAVID Y. IGE
GOVERNOR

SUZANNE D. CASE
CHAIRPERSON
For Immediate News Release June 4, 2016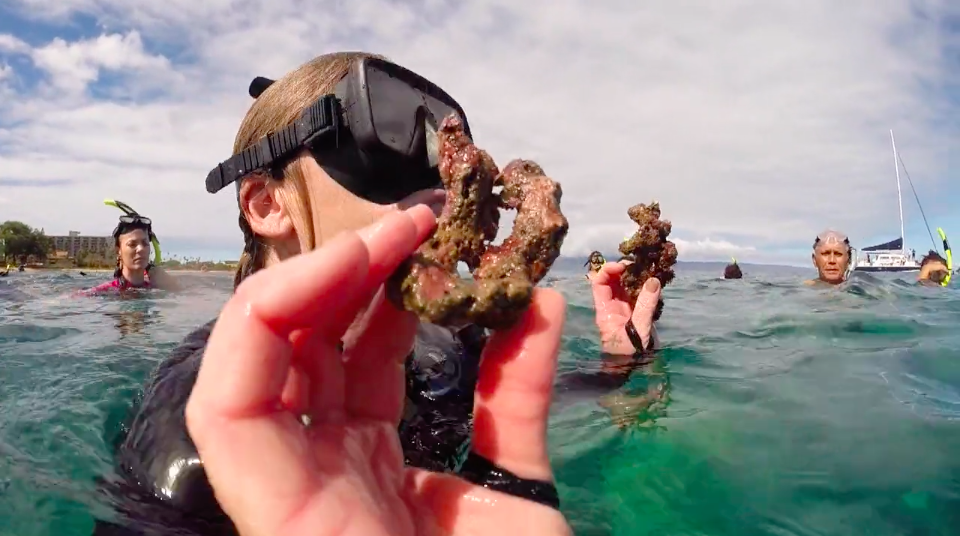 (Click on image to watch video)
"BOATLOAD OF DECISION MAKERS" REVEALS PLIGHT OF WEST MAUI REEFS
Top Lawmakers Encourage More Attention to Dying & Degraded Coral Reefs 
(LAHAINA) – The chairmen of the senate and house legislative committees, that deal with environmental and conservation issues, encouraged their colleagues to become better educated about the degradation of Hawaii's coral reefs. They made their comments during a special charter tour of West Maui Reefs on Friday.  During the event, hosted by Trilogy Excursions and dubbed the "Boatload of Decision Makers,"  Senate Land, Water, and Agriculture Chair Mike Gabbard and House Water and Land Chair Ryan Yamane said it's important for lawmakers to take the time to get away from the Capitol, to see first-hand, how land-based pollutants and unsustainable fishing practices are killing coral reefs.
Guests on the tour included local business leaders, State and County officials, nonprofit representatives, community resource managers, and cultural practitioners. They were all brought together by partners within the West Maui Ridge to Reef Initiative, with the goal of providing a unique experiential education platform and the opportunity to experience Maui's reefs firsthand with experts. While learning occurred onboard the catamaran through presentations and interpretive materials, the highlight of the day was snorkeling on two reefs, Kahekili and Olowalu in West Maui. These reefs were chosen because of the differing stories they tell, both cautionary and hopeful.
According to Darla White, a DLNR Division of Aquatic Resources Special Projects Coordinator, "When you get in the water and really look at the reef up close and learn about the habitat health and threats to these precious ecosystems, it is an opportunity to truly understand what it takes to ensure that they are thriving for generations to come.  We chose the reefs at Kahekili Beach Park in Kā'anapali and Olowalu to share with this group."  Kahekili is the focus of both fisheries management and watershed management efforts. White continued, "In the past seven years we have seen a surprising amount of early success reflected in herbivorous fish populations, like parrotfish (uhu), increasing, and the habitat showing signs of resilience." Olowalu is a unique reef in that it is the largest reef on Maui that comes up to the shoreline, with massive coral colonies estimated to be hundreds of years old.  Data from the US Geological Survey indicate that this reef is 'seeding' the reefs of West Maui, Molokai, and Lana'i, and has been coined the 'mother reef'.  Both reefs have a variety of human stressors, and both have suffered from recent bleaching events to different degrees. White said, "We had an engaging dialog about the many ways that we can help our reefs to be resilient to ensure their longevity.
The take home message is that we need to reduce the local stressors, the things we can control, in order to help reefs to be as healthy and resilient as they can possibly be, so that they can deal with the global stressors."
Both Senator Gabbard and Representative Yamane said we need to buy reefs time to adapt to the environmental changes that are coming, to ensure their longevity for future generations.
Senator Gabbard added, "We need to make sure other policy makers, our colleagues, are aware of the situation and that they understand what is happening here.  For me, to see this, not just to read about it, is priceless. I would love to get all lawmakers out here, as we are not doing enough to protect reefs as the foundation of our ocean. We need to put our money where our mouth is."
Representative Yamane was struck to see how runoff and land-based contaminants are killing reefs, thus diminishing fish and aquatic life populations. He said, "It saddens me that we have these places dying off in our ocean, so close to home.  We as a state need to take a more active role in protecting these coral colonies…I'd like to see a balance of not only building roads for cars, but let's also build reefs so our fish and aquatic life can thrive."
Five watersheds within West Maui have been designated by the US Coral Reef Task Force as priority watershed areas for reef stewardship, mauka to makai.  The West Maui Ridge to Reefs Initiative and West Maui Kumuwai Campaign are efforts aimed at reducing the impacts of land-based pollution to our nearshore reefs. 
Trilogy Excursions, a certified Sustainable Tour Operator by the Hawaiʻi Ecotourism Association, hosted this charter as one of the many ways it supports local sustainability initiatives. Riley Coon, operations manager, noted, "It's an honor to be the platform that brings together both scientists and conservationists with politicians and local business leaders, to give an opportunity for education on how to protect our reefs and be better stewards of our marine habitats. The impact of this experience upon many of our leaders who don't usually get the chance to do something like this was eye opening."
# # #
Media Contact:
Dan Dennison
Senior Communications Manager
(808) 587-0407