07/27/16 – New Trail Opens Celebrating Mauna Kea's High-Elevation Dry Forest; Visitors Can Experience a Native Ecosystem and its Inhabitants
Posted on Jul 27, 2016 in Forestry & Wildlife, News Releases, slider
DEPARTMENT OF LAND AND NATURAL RESOURCES
Joint News Release
DAVID Y. IGE
GOVERNOR

SUZANNE D. CASE
CHAIRPERSON
For Immediate News Release July 27, 2016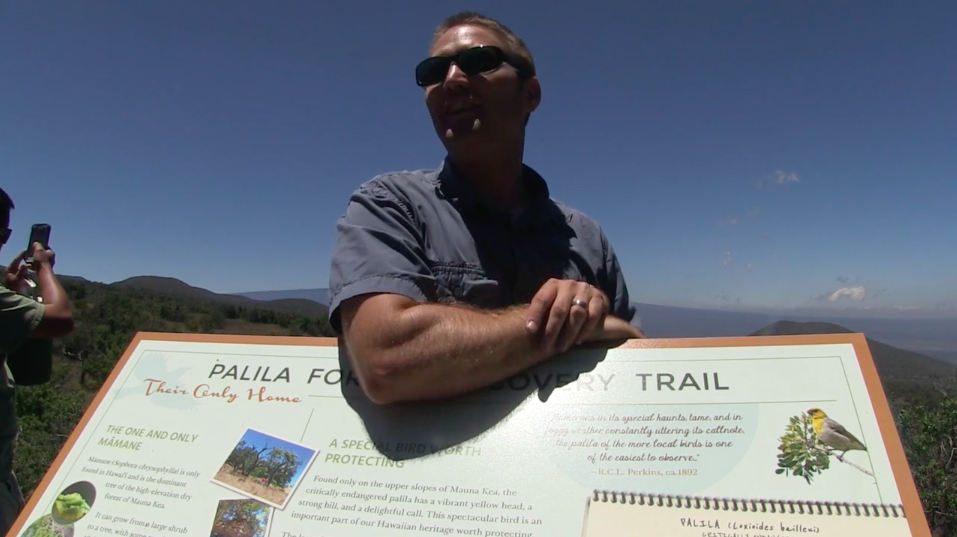 (Click on image to watch video)

New Trail Opens Celebrating Mauna Kea's High-Elevation Dry Forest
Visitors Can Experience a Native Ecosystem and its Inhabitants
(HILO) – The yellow, white-and-gray palila, a highly endangered Hawaiian honeycreeper, is one of the world's most isolated birds. It lives only in a small patch of māmane forest on the western slope of Mauna Kea volcano on Hawai'i Island. With the opening today of the new Palila Forest Discovery Trail, visitors will be now able to see palila and other native species that call this distinctive ecosystem home.
The Department of Land and Natural Resource's Division of Forestry and Wildlife (DOFAW)'s Mauna Kea Forest Restoration Project and American Bird Conservancy (ABC) teamed up to build the trail, thanks to the generous support of the Laura Jane Musser Fund Environmental Initiative Program and other community sponsors and volunteers.
The mile-long loop takes hikers through Mauna Kea's unique, high-elevation dry forest. "This new trail will bring folks closer to a remote and often unfamiliar area of Hawaiʻi," said Jackson Bauer, the trail's coordinator. "People will be able to see the critically endangered palila and learn about its māmane forest home."
Four informational kiosks provide historical, cultural, and ecological information about what makes this forest so special. In addition, 20 small identification signs with QR codes are distributed at key locations along the trail. Hikers can use their smartphones to learn even more about the plants, animals in the area, threats to them, and actions being taken to protect them. That information is also be available online.
The palila has been loved by Hawaiians since ancient times. The birds, and the rest of the natural world, influenced the development of Hawaii's unique culture. For instance, when Queen Dowager Emma of Hawai'i visited Mauna Kea in the early 1880s, a series of mele (songs or chants) commemorated the event, including one from 1882 that describes the melodic song of palila.
Palila used to be found across the state, but habitat loss and invasive species have decimated their numbers. Only about 2,000 of the birds remain, all found on Mauna Kea. "As with many of Hawai'i's unique species, not enough people are aware of the palila's precarious situation and the need for urgent action," said Chris Farmer, American Bird Conservancy's Hawai'i Program Director.
Farmer added, "We believe educating people about the importance of this species, and raising awareness about the threats we are managing today, will build local and national support for the actions necessary to preserve this bird for future generations, such as habitat restoration and non-native species control."
# # #
DLNR Media Contact:
Dan Dennison
Senior Communications Manager
(808) 587-0407
ABC Media Contact:
Chris Farmer
Hawai'i Program Manager
(808) 987-1779