DEPARTMENT OF LAND AND NATURAL RESOURCES
News Release
DAVID Y. IGE
GOVERNOR

SUZANNE D. CASE
CHAIRPERSON
For Immediate News Release November 10, 2016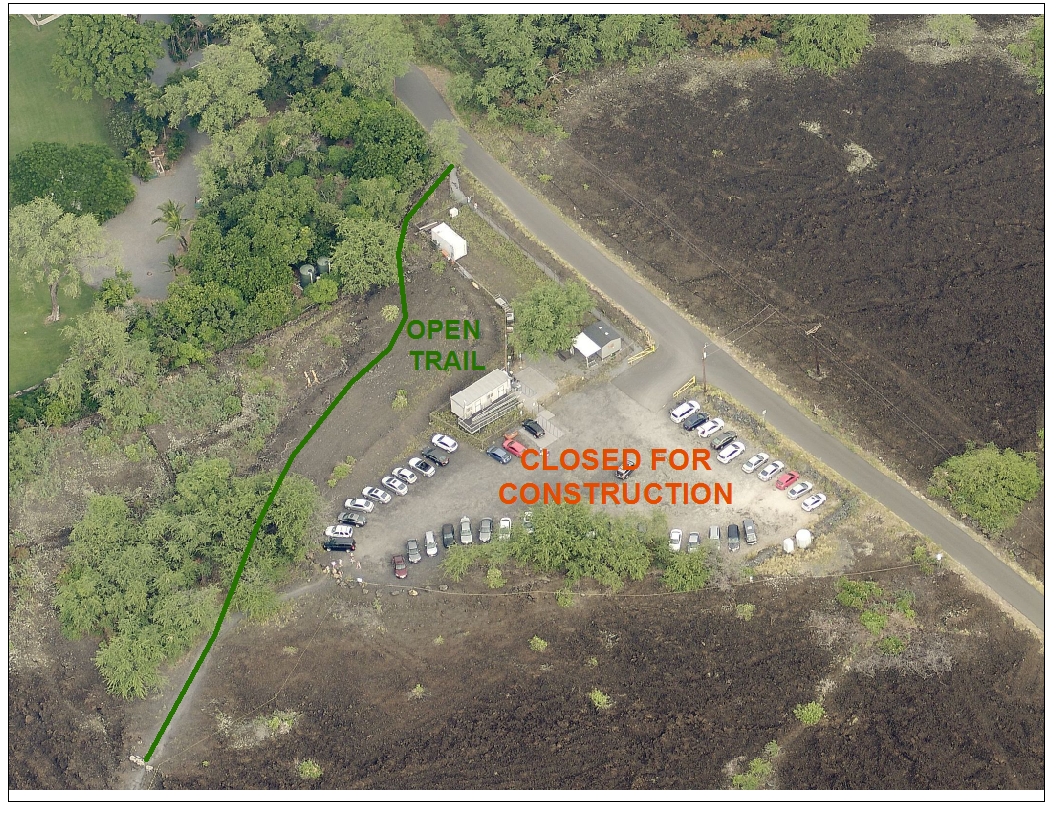 PARKING LOT WORK TO START AT 'AHIHI-KINA'U NATURAL AREA RESERVE
Expect limited parking, traffic delays for two months starting Nov. 14
KAHULUI – Visitors to the 'Ahihi-Kina'u Natural Area Reserve and Keone'oi'o (La Perouse Bay) area are advised that renovation of the Kanahena parking area is expected to create limited parking and traffic delays from Monday, November 14 to January 15, 2017. The project involves improving the parking area surface and drainage with concrete paving at the current location which is away from the ocean. The paved surface will help prevent pollutants from vehicles from entering the surrounding environment. 
"Even new cars drop a little oil and fluid where they are parked, and with the next rain or high tide, those contaminants go into the ocean and onto the reef people are coming to see. That's why we have closed parking along the road next to the ocean," said Jeff Bagshaw, reserve manager.
During construction, limited parking for just a handful of cars will be available along the road near the Ahihi-Kina'u Natural Area Reserve entry point, and at Keone'oi'o (La Perouse Bay) parking area. Parking for a maximum of 50 cars at these two locations is expected to be at capacity between the hours of 9 a.m. and 4 p.m. 
Reserve visitors are encouraged to arrive early or make other transportation arrangements.  Ocean entry points at Keone'oi'o, Kanahena Beach, and the Cove will remain open but will require slightly longer walks from parking areas using temporary, unimproved trails.  Closed-toe shoes with ankle support are strongly recommended. 
Heavy equipment and construction vehicles will be operating on narrow roads with traffic control. Motorists are advised that parking on the reserve road or shoulder, or stopping on the road to load and unload passengers inside the Natural Area Reserve, is prohibited, and subject to prompt citation and towing at owner's expense.  
For more information, contact Peter Landon at the Division of Forestry and Wildlife at (808) 873-3969 or view the full management plan for the reserve at:  https://dlnr.hawaii.gov/ecosystems/files/2013/07/Ahihi-Kinau-NAR-Management-Plan.pdf
# # #
Media Contact: 
Deborah Ward
DLNR Communications Specialist
(808) 587-0320