DEPARTMENT OF LAND AND NATURAL RESOURCES
News Release
DAVID Y. IGE
GOVERNOR

SUZANNE D. CASE
CHAIRPERSON
For Immediate News Release December 14, 2016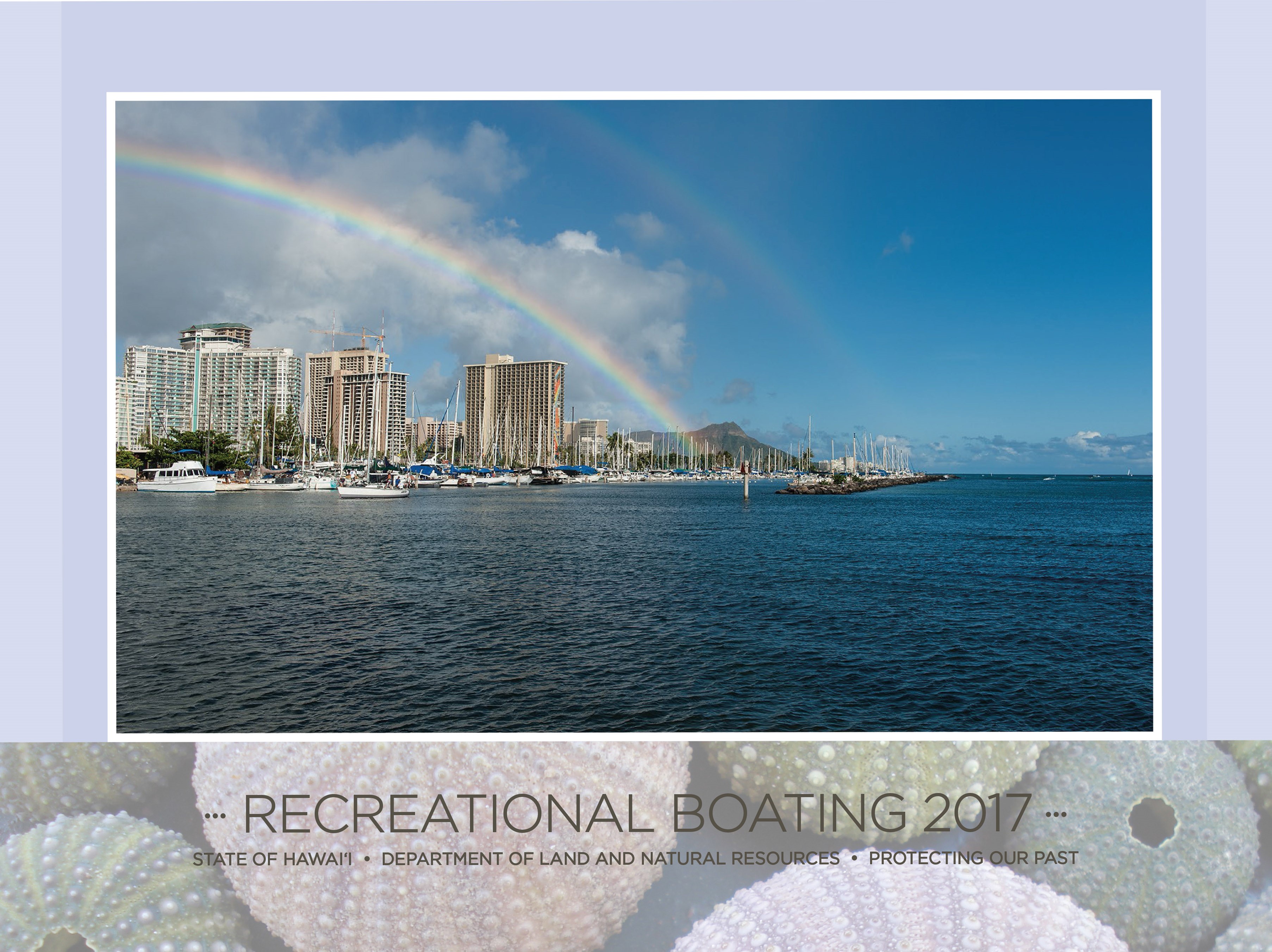 HISTORY OF RECREATIONAL BOATING IN HAWAI'I IS TOPIC
OF 2017 STATE HISTORIC PRESERVATION CALENDAR
HONOLULU —   The small boat harbors and boat ramps have played an important role in the recreational history of Hawai'i.  Although many of the harbors have been upgraded, repaired and expanded over time, many of the original features, including their breakwaters, basins, slips, and channels retain their historic character. 
A number of these boating recreational facilities, still in use today, are featured in the full-color 2017 calendar produced by the Department of Land and Natural Resources divisions of State Historic Preservation and Boating and Ocean Recreation, with the Hawai'i Heritage Center. The calendar is designed by Viki Nasu Design Group with photography by David Franzen.
"We are proud to honor these recreational boating facilities," said DLNR Chair Suzanne Case. "For more than 30 years the State Historic Preservation calendar has showcased the rich cultural and architectural history of Hawai'i. DLNR and the Hawai'i Heritage Center are deeply grateful for the continued support of the following corporate sponsors to share our outstanding treasures with the community," she said.
Alexander & Baldwin Foundation
Aukahi
Cultural Surveys Hawai'i, Inc.
Division of Boating & Ocean Recreation
Fung Associates, Inc.
Hawaiian Electric Company, Inc.
INPAC Realty Inc.
Larry and Beatrice Ching Foundation
La Tour Bakehouse
Wallace Theaters Management Corporation
Copies of the "Recreational Boating 2017 calendar, which also serves as a tide calendar, are available for purchase from the Hawai'i Heritage Center (1040 Smith St., Honolulu, or by mail at: P.O. Box 37520, Honolulu, HI 96837). They are also available at Book Ends in Kailua and Na Mea Hawai'i/Native Books at Ward Warehouse in Honolulu.
History of recreational boating facilities in Hawai'i:
Prior to World War II, the moorings for all recreational sailing vessels were in private ownership, with one exception, the Ala Wai Boat Harbor.  Constructed by the Federal Emergency Relief Administration it consisted of several docks and piers at the mouth of the Ala Wai Canal and upon its completion in 1935 was turned over to the Territorial Board of Harbor Commissioners to administer.  Opening in May 1936, by mid-1938 it had 95 boats docked there.  
After World War II recreational boating dramatically increased in popularity, as more and more families purchased boats thanks to the phenomenal rise in personal income and increase in leisure time over the course of the 1950s.  With prices ranging from $1,500 to $6,000, there were almost 6,000 small boats statewide by 1961, with approximately 90% of these used for recreation. 
The number of vessels moored at the Ala Wai Boat Harbor doubled between 1948 and 1950, following the military's return of the harbor to the Territory in 1947.  In response to such increased usage, major improvements were made, including the development of additional slips and the dredging of the current 200′ wide channel.  The latter gave easy access to the ocean, allowing boaters to avoid the mile long exit through the narrow, tricky Kewalo basin channel, "a graveyard for many a small craft."
The expansion and improvement of the Ala Wai Boat Harbor was not the only endeavor undertaken to try to address the growing demand.  In 1947 the legislature appropriated funds to construct a fishing wharf at Kāne'ohe Bay and develop a small boat harbor at Kīhei, where boaters as early as 1938 petitioned the Harbor Board for a protected mooring site.  Both projects were slow in developing, the former because fishermen could not agree on where to locate the proposed wharf, and the latter due to the Army Corps having difficulty obtaining adequate funding to do the dredging.  James W. Glover completed the windward O'ahu project at He'eia Kea in 1950, but it was not until 1953 that A. L. Ho completed the breakwater and dredging needed to place Mā'alaea small boat harbor into operation.  Further expansion of this Maui harbor ensued over the next ten years, and between 1963-68 He'eia Kea also increased in size to accommodate more than just fishing vessels.
In its annual report for 1950 the Harbor Board noted, "The development of small harbors for pleasure and fishing craft throughout the islands should be continued as funds can be spared for such development."  The 1951 Legislature responded by appropriating moneys for small boat harbors to be built at Pokai Bay and Hale'iwa on O'ahu, and on the Big Island a landing at South Point and facilities at Keauhou, whose landing was destroyed in the 1946 tsunami.  Moneys were also appropriated for the dredging of the Wailoa River in Hilo, a project which was considered as early as 1937.  A breakwater was also constructed at Lahaina so a small boat harbor could be developed there as well. 
In 1953, with the withdrawing of the Humu'ula from service, the era of inter-island steamships came to an end.  Airplanes had taken over the transport of passengers, and now barges towed by tug boats moved cargoes from one island to another.  As a result the old pier at Kailua-Kona was taken down and a new one was constructed for recreational and fishing boats.  Also moneys were appropriated to develop Kawaihae to handle inter-island barge shipments as well as accommodate pleasure and fishing boats.
In the following ten years other small boat facilities appeared, at such locations as Keauhou, Ke'ehi Lagoon, Kīkīaola, and Port Allen.  The development of Hale'iwa small boat harbor was slow, with a breakwater started in 1955, a launch ramp in 1963, and finally bulkhead walls and slips in 1968.  The latter project was undertaken in conjunction with the Army Corps of Engineers, who also partnered with the State in the construction of Manele Harbor on Lāna'i during the 1960s.     
The accommodation of small boating needs expanded and diversified in the early 1960s in response to the introduction of fiber glass-polyester resin boats.  Developed during the 1940s, these vessels gained in popularity during the late 1950s.  Being mass produced, they were more reasonably priced than special ordered wood boats, and they could be stored on a trailer out of the water.  These trailer craft made up 40 percent of Hawai'i's small boat population by 1961. 
As a result there was an increased emphasis on constructing boat ramps during the early 1960s, with a number developed by the State, not only at small boat harbors, but other remote locations such as Kahana, Pohoiki, and Ke'anae.  The Counties also maintained a number of boat ramps, such as Kōloa and Hanamā'ulu on Kaua'i, Waiākea, Laupāhoehoe, and Honaunau on the island of Hawai'i, and Kailua on O'ahu.
# # #
Media contact:
Deborah Ward
DLNR Communications Specialist
Phone: (808) 587-0320