DEPARTMENT OF LAND AND NATURAL RESOURCES
News Release
DAVID Y. IGE
GOVERNOR

SUZANNE D. CASE
CHAIRPERSON
For Immediate News Release February 6, 2017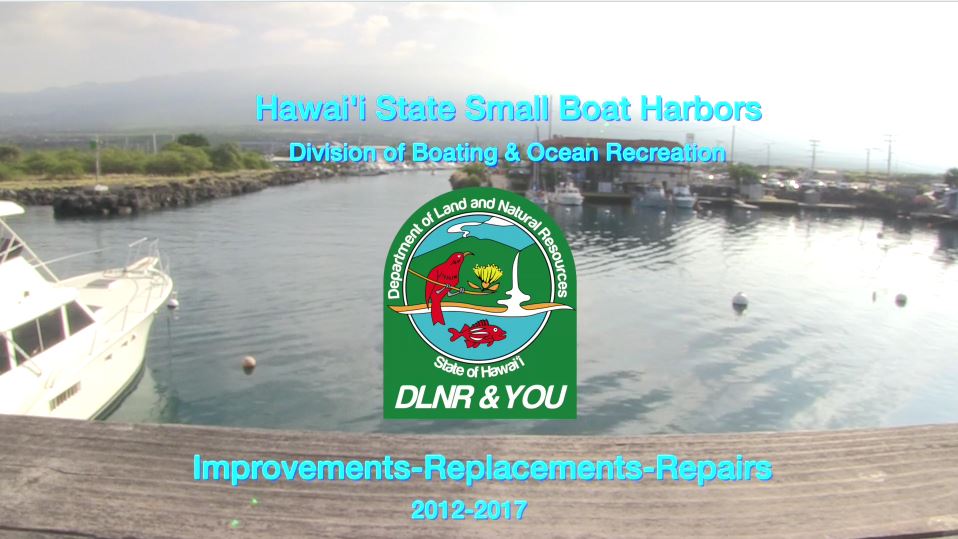 (click on image to watch video)
STATE SMALL BOAT HARBORS PROVIDE ENJOYMENT AND SAFETY FOR THOUSANDS OF PEOPLE
By Suzanne Case
Chair, Dept. of Land and Natural Resources
Hawai'i's small boat harbors, under the jurisdiction of the DLNR Division of Boating and Ocean Recreation (DOBOR), serve as the ocean gateways for thousands of kamaʿāina and visitors every year.  In addition to maintaining 2,000 berths statewide and registering some 12,000 boats, DOBOR and its small boat harbors are used for a large variety of purposes.  Boating, obviously, but also snorkeling, diving, touring, fishing and kayaking are among the frequent uses of our sixteen small boat harbors. All of these harbors and their ramps, piers, moorages, wash downs, comfort stations and parking lots require constant maintenance. While many boaters and commercial operators pay fees, any private boat owner can acquire an annual launch ramp decal for $50. These harbors also serve literally, as "safe harbors" during storms.  These facilities are constantly exposed to the corrosive effects of salt air and salt water.  This means, in addition to regular maintenance, the frequency in which you have to replace structures is greatly accelerated.
Over the past five years, your tax dollars have helped fund 3.7 million dollars of improvements and upgrades at Honokohau Small Boat Harbor, Hawai'i  island's largest. With additional funds requested from the State Legislature in fiscal year 18-19, the total value of these needed improvements and replacements will amount to 7.7 million dollars.  Some of the recently completed work has included: harbor-wide light replacement, new water lines, upgraded comfort stations, covered waiting areas, benches, concrete replacement, new wash down areas, paving, and striping…and the list continues. Currently, aging loading docks on both sides of the mauka boat ramp are being replaced, along with the cleats and fenders.  Isemoto Contracting Inc. is expected to complete this $590,000 upgrade by the end of March.  The mooring program at the Honokohau Small Boat Harbor has historically operated at a deficit and has been subsidized using revenue generated from other facilities.  In the first quarter of fiscal year 2017, Honokohau operated at a loss of approximately $83,000.
DOBOR manages two small boats harbors at Kawaihae.  Kawaihae South has a new pier, moorings, comfort station and a new paved access road.  A launch ramp is expected to be completed soon. At Kawaihae North, broken and deteriorating pier catwalks and railings are to be replaced with durable, composite boards.   At small boat harbors and boat ramps across the state, DOBOR is using the best available materials and best management practices to maintain our facilities, and to ensure the lifecycle of each feature or component is extended in every possible way.  
In addition to serving boaters and maintaining facilities for as many as 378 boats in harbors across Hawai'i Island, DOBOR's Big Island staff also maintains and replaces, when required,  public offshore moorings or those in other areas.
DOBOR's Hawai'i island staff perform an enormous range of duties and they are dedicated and responsive.   I'm proud of the pace, scope, and quality of improvements at state small boat harbors and boat ramps on Hawai'i island and across Hawai'i nei.  There's still much work to do. I can assure you, that with the Legislature's continued support, the modernization of Hawai'i's small boat facilities is creating a family of harbors of which we all can be proud.