DEPARTMENT OF LAND AND NATURAL RESOURCES
News Release
DAVID Y. IGE
GOVERNOR

SUZANNE D. CASE
CHAIRPERSON
For Immediate News Release March 3, 2017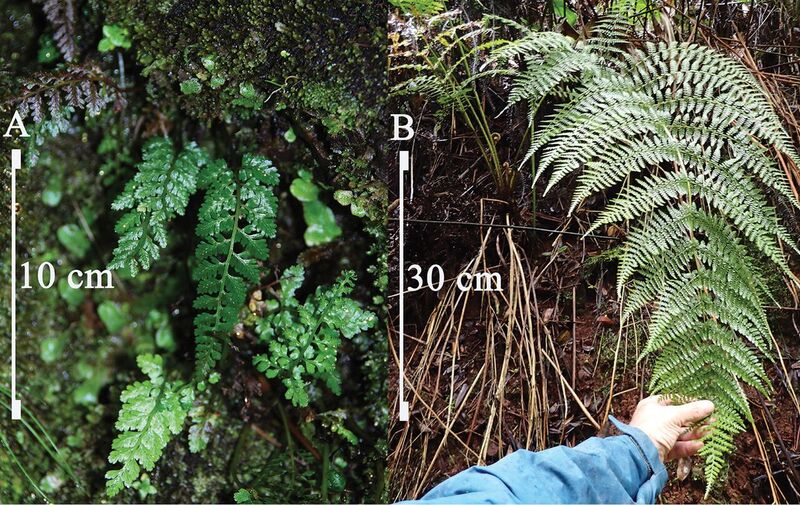 (click on image to visit new site)
NEW SPECIES OF FERN DISCOVERED IN UNIQUE MAUI STREAM HABITATS
KAHULUI — Botanists surveying a remote area on Maui found something they didn't expect – a species of fern previously unknown to science. Named after the mountain on which it is found, Athyrium haleakalae was recently announced and described in a paper by Kenneth Wood and Warren Wagner of the National Tropical Botanical Garden (NTBG) and the Smithsonian Institution, respectively.
Athyrium haleakalae now represents the sixth single-island endemic fern or lycophyte taxon found on Maui. It is uniquely adapted to survive on vertical walls of streams, especially near waterfalls and has the ability to withstand flooding torrents. Its small size, remote habitat and tendency to grow in such extreme areas may explain why it had been overlooked to date.
The new fern species was found during botanical surveys around large, remote waterfalls and rugged plunge pools by botanists of the NTBG, the Plant Extinction Prevention Program (PEPP), and Haleakalā National Park, all organizations dedicated to preserving biological diversity and stemming the tide of extinctions.  PEPP is a project of the Pacific Cooperative Studies Unit of the University of Hawai`i at Mānoa. Its mission is to protect Hawai'i's rarest native plants from extinction, and it is committed to reversing the trend toward extinction by managing wild plants, collecting seeds, and establishing new populations.
"This new discovery brings the total number of fern and fern-allies in the Hawaiian Islands to around 160 native species," notes Ken Wood of NTBG.  "In addition, over the last few decades over 40 new flowering plant species have been discovered and described in Hawai`i. Continued support for ongoing biotic research like this is so important, as It is difficult to conserve the diversity of life, unless you know what species still remain in our natural world, where they occur, and share this information with other active conservation organizations and the community." 
Several small colonies – only 300 known individuals found in a few isolated locations– are considered critically endangered because of threats to its limited habitat from invasive species.
But according to Lance De Silva, forester with the Department of Land and Natural Resources' Division of Forestry and Wildlife (DOFAW), most of the plants are found on State lands above a fence protecting the habitat from pigs and other invasive species. De Silva, the Maui Nui Forest Management Supervisor, says "This fence was constructed a few years ago with the help of the East Maui Watershed Partnership and contractors, to protect watershed forests that help supply Maui's fresh water."
Adds Fern Duvall, manager of DOFAW's Native Ecosystem Protection and Management Maui section: "The fence also helps to protect the very best remaining native Hawaiian ecosystems which preserve ancient animals, and plants like Athyrium haleakalae, known nowhere else. Governor Ige's Sustainable Hawai'i Initiative seeks to protect many more forests like this."
Although the land area of Hawai'i may be small, many inaccessible areas have yet to be explored and may potentially harbor other mysterious life forms waiting to be discovered.
According to Suzanne Case, Chairperson of the Department of Land and Natural Resources, "We may have lost species but there's still so much to protect in Hawai'i. By focusing our efforts on relatively intact native forests we're safeguarding the magnificent diversity of species and cultural resources within – including species both known and unknown to science. And for us, that's exciting. "
For more information on Athyrium haleakalae, please refer to the article at https://phytokeys.pensoft.net/articles.php?id=11637 .
Credit: Wood and Wagner

# # #
MEDIA CONTACTS:
Deborah Ward
Hawai'i Dept. of Land and Natural Resources
Communications Specialist
(808) 587-0320