03/07/17 – Winning Wildlife Artists Announced in the 2017-2018 Hawaii Wildlife Conservation Stamp Contest
Posted on Mar 9, 2017 in Forestry & Wildlife, News Releases
DEPARTMENT OF LAND AND NATURAL RESOURCES
News Release
DAVID Y. IGE
GOVERNOR

SUZANNE D. CASE
CHAIRPERSON
For Immediate News Release March 7, 2017
WINNING WILDLIFE ARTISTS ANNOUNCED IN THE 2017-2018
HAWAII WILDLIFE CONSERVATION STAMP CONTEST
HONOLULU —   The Department of Land and Natural Resources, Division of Forestry and Wildlife would like to thank all wildlife artists that submitted amazing art entries for the 2017-18 Hawaii Wildlife Conservation and Game Bird Stamp Art Contest.  A committee reviewed all submissions and two winners were chosen last month.
The winners are:
Game Bird Stamp Winner – David K. Hayes a wildlife artist from Kailua, Hawaii. David currently has a running art show at the Volcano Art Center titled "Life of the Land" showing until March 26, 2017. His winning entry is a painting in acrylic of a Ring-Neck Pheasant in Kohala, depicting a father with his son and daughter bird hunting with dogs.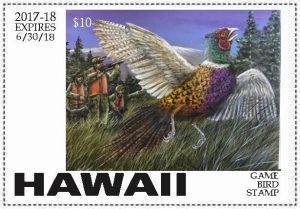 Conservation Stamp Winner – Carol Tredway, a professional wildlife artist from Holualoa, Hawaii. Her work is displayed at the Glyph Gallery in Holualoa. Carol's painting in acrylic depicts a father and daughter bow hunting near Puu Anahulu, with a ring-neck pheasant in the foreground and grazing sheep in the background.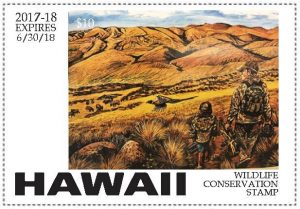 These two new Conservation and Game Birds stamps will be available for the new 2017-18 hunting season.
The conservation stamp is required on the Hawai'i State hunting license, and the game bird hunting stamp is required for those intending to hunt game birds.  Both stamps (differing slightly in text) will be available to wildlife stamp collectors by calling (808) 587-0166 or visit the Division of Forestry and Wildlife office located at 1151 Punchbowl Street, Room 325 Honolulu, HI 96813
Background
Funds from sales of the Hawai'i Wildlife Conservation Stamps go into the state wildlife revolving fund to support wildlife populations and habitat, and to manage hunting in the state.  Activities and projects supported by this fund have included surveys of game bird and mammal populations; land leasing for hunting; predator control; and maintenance of wildlife watering units.  In addition, planting of native shrubs and trees, controlled burns, removal of invasive plants, and other wildlife habitat improvement and restoration projects are supported by these funds.
Last year revenues from the Conservation Stamp and the Game Bird Stamp were used to cover some of the costs of maintaining hunting units and to add game bird and game mammal hunting opportunities where possible. Funding helped pay for facility development, game mammal and game bird surveys, management of hunts, signage, paying commissions to vendors for the sales of hunting licenses, supplement game bird populations in new areas, to implement food crop plantings for game birds, to mow grasses and weeds to allow hunting, and to control predators like mongooses, rats, and feral cats, while proceeds from the sales of conservation stamp will also provide the funds for the annual lease rental of the Lana'i Cooperative Game Management Area and several other hunting unit leases.
# # #
Media contact:
Deborah Ward
Communications Specialist
Dept. of Land and Natural Resources
Phone: (808) 587-0320