03/28/17 – Coast Guard Establishes Temporary Safety Zone in Vicinity of Active Kilauea Lava Flow into Pacific Ocean off Hawaii's Big Island
Posted on Mar 28, 2017 in Gov News, Media, News Releases, slider
DEPARTMENT OF LAND AND NATURAL RESOURCES
Joint News Release
DAVID Y. IGE
GOVERNOR

SUZANNE D. CASE
CHAIRPERSON
For Immediate News Release March 28, 2017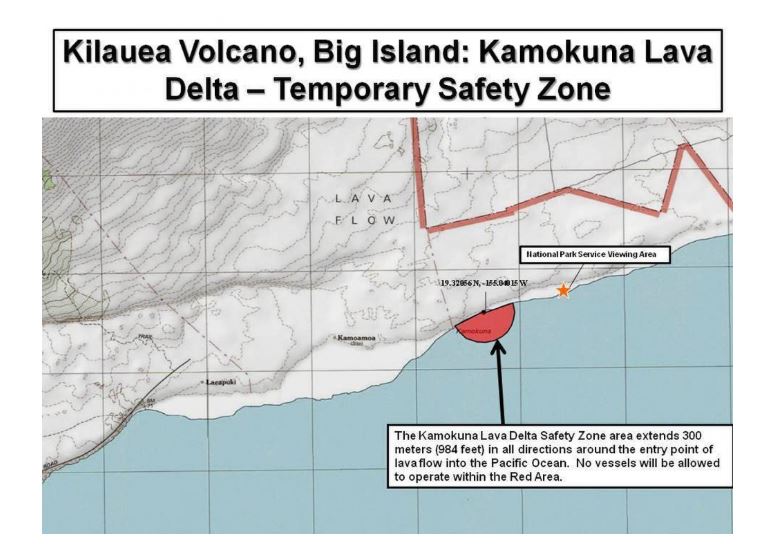 COAST GUARD ESTABLISHES TEMPORARY SAFETY ZONE IN VICINITY OF ACTIVE KILAUEA LAVA FLOW INTO PACIFIC OCEAN OFF HAWAII'S BIG ISLAND
HONOLULU — The Coast Guard is establishing a temporary safety zone for the navigable waters surrounding the Kilauea Volcano active lava flow entry into the Pacific Ocean on the southeast side of the Big Island, Hawai'i, Tuesday. 
The temporary safety zone will encompass all waters extending 300 meters (984 feet) in all directions around the entry of the lava flow into the ocean from noon March 28 to 8 a.m. Sept. 28.  Experts from the U.S. Geological Survey recommend 300 meters as the minimum safe distance to avoid hazards from the lava flow.
The Coast Guard has taken action to ensure public safety because of the danger the unstable sea cliff, volcanic shrapnel, toxic gases and potential bench collapses pose to vessel traffic and the public. As long as lava enters the ocean, further sea cliff degradation, hazardous conditions, delta construction and collapse are likely to occur.  These collapses occur with little to no warning and cannot be predicted. 
According to the HVO, large and dense fragments ejected during delta collapses can be thrown in all directions from the point of collapse, including out to sea.  Based on a review of nearly 30 years of delta collapse and eject a distance observations in HVO records, a radius of 300 meters was determined as a reasonable minimum high hazard zone around a point of ocean entry.  
A Broadcast Notice to Mariners has been issued via VHF-FM marine channel 16 about the safety zone. Entry of vessels or people into this zone is prohibited unless specifically authorized by the Coast Guard Captain of the Port Honolulu or his designated representative. 
To view documents in the Federal Register mentioned in this release, go to https://www.regulations.gov, type USCG-2017-0172 in the "SEARCH" box and click "SEARCH."  Click on Open Docket Folder on the line associated with this rule. It may take up to five days for documents to publish in the Federal Register, once published public comments may be submitted for a period of 60 days. 
The Coast Guard is also issuing a Notice of Proposed Rule Making to establish a permanent Safety Zone for this region. We solicit feedback from the public on this rule making process. You may submit comments identified by docket number USCG-2017-0234 using the Federal eRulemaking Portal at https://www.regulations.gov. 
Written Comments: Written public comments will be accepted on or before 11:59 p.m. June 3, 2017, via https://www.regulations.gov. The Coast Guard strongly prefers comments to be submitted electronically; however, written comments may also be submitted (e.g. postmarked) by the deadline, via mail to Commander (spw), U.S. Coast Guard Sector Honolulu, 433 Ala Moana Blvd., Honolulu, HI 96850.
Oral Comments: The Coast Guard will provide the public an opportunity to make oral comments by holding a public meeting on May 08, 2017, at 5 p.m. at the East Hawaii County Building (Hilo) Aupuni Center Conference Room located at 101 Pauahi St. #7, Hilo, Hawaii 96720.
# # #
Media Contacts:
Dan Dennison
Senior Communications Manager
Hawaii Dept. of Land & Natural Resources
(808) 587-0407
[email protected]
Lt. Scott Carr
U.S. Coast Guard
14th District Hawaii and the Pacific
(808) 535-3230