DEPARTMENT OF LAND AND NATURAL RESOURCES
News Release
DAVID Y. IGE
GOVERNOR

SUZANNE D. CASE
CHAIRPERSON
For Immediate News Release May 15, 2017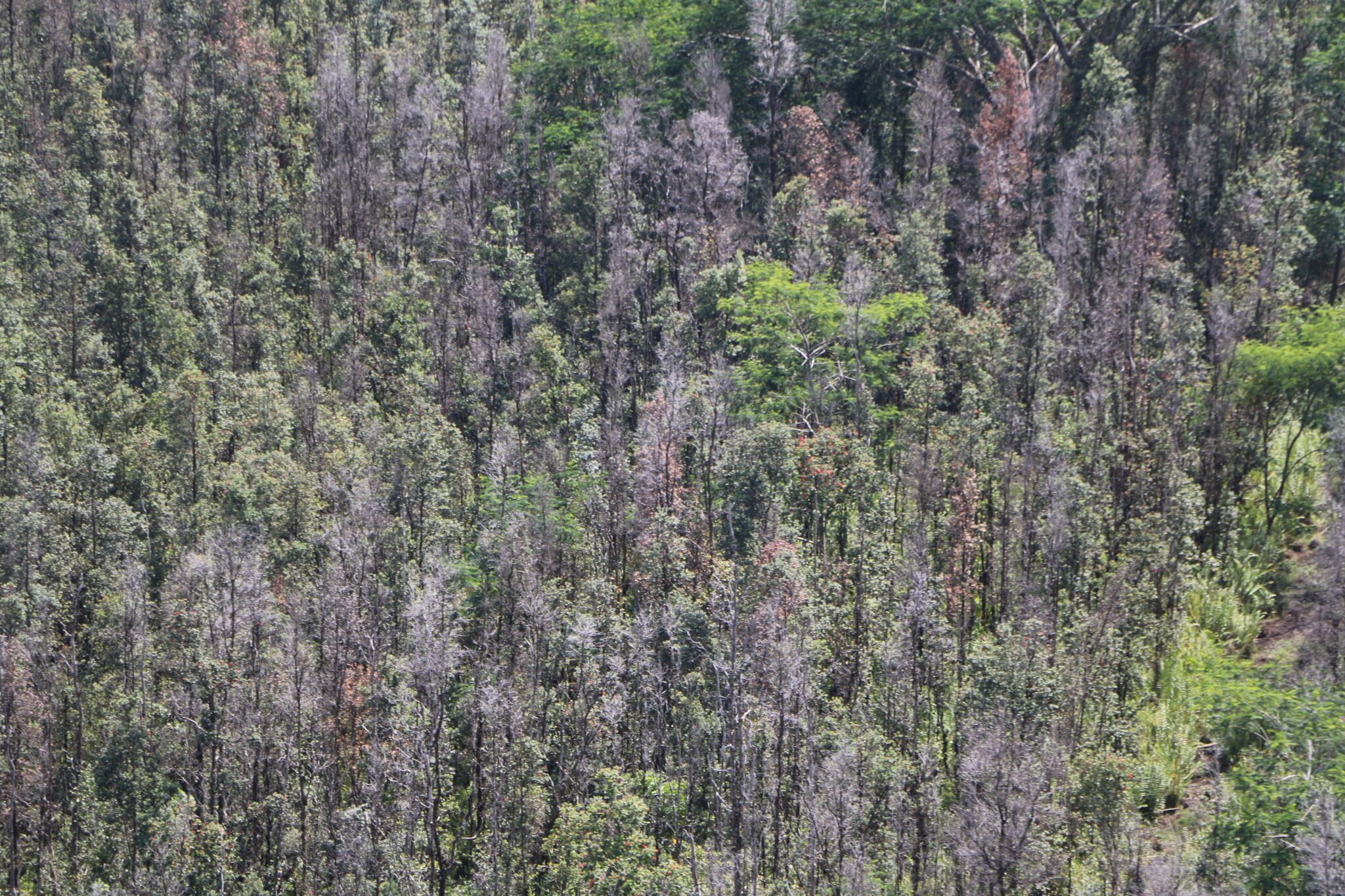 (click on image to watch video)
RAPID ʻŌHIʻA DEATH CONTINUES MARCHING ACROSS HAWAI'I ISLAND
No Evidence Fungus Has Spread to Other Islands
(HONOLULU) – The most recent aerial surveys of ohia forests on O'ahu, Maui, Kaua'i, Hawai'i, Moloka'i,and Lāna'i paint a good-news, bad-news picture. The good news is there are no confirmed cases of this fast-spreading fungal infection in ʻōhiʻa forests on any island other than the Big Island.  The bad news is, the area of mortality thought to be caused by ROD has increased 50% on Hawai'i island compared to DLNR's previous survey in 2016.
DLNR Division of Forestry and Wildlife (DOFAW) State Resource and Survey Forester Philipp LaHeala Walter explained, "Rapid ʻŌhiʻa Death continues to spread at an alarming speed. It appears the original outbreaks are increasing in size and the disease is moving north along the Hamakua coast of Hawai'i Island."  He added, "The aerial surveys we conducted across the state over the past couple of months, give us the first indications of the presence of this disease, but until we do ground surveys and sample the trees showing symptoms of Rapid ʻŌhiʻa Death, we can't positively confirm it, as there are numerous diseases that can damage or kill ʻōhiʻa."
Specially trained surveyors assessed over 82% (over 780,000 acres) of the state's ʻōhiʻa forest for the most recent helicopter surveys. On the Big Island they spotted an additional 26,000 acres of forest where ʻōhiʻa trees had brown leaves or were devoid of leaves. That's added to more than 48,000 acres identified in the July 2016 survey, giving Hawai'i island a potential Rapid ʻŌhiʻa Death infestation of some 75,000 acres.
Survey technology continues to become more sophisticated and survey teams on all islands are using standardized methodologies both from the air and on the ground in follow-up confirmation surveys.  The state legislature has provided $1.5 million dollars for the next two fiscal years for the continuation of surveys and other Rapid ʻŌhiʻa Death initiatives to try and identify its cause and stop its spread. DOFAW Protection Forester Rob Hauff said, "The quarantine imposed by the State Dept. of Agriculture, on the movement of ʻōhiʻa wood and plant materials between islands, is helping prevent the spread of this fungal disease off of Hawai'i Island. We continue to encourage everyone to become aware of the quarantine rules and to practice the appropriate protocols when working or playing in any of Hawai'i's forests."
###
Media Contact:
Dan Dennison
Senior Communications Manager
Hawaii Dept. of Land & Natural Resources
Communications Office
(808) 587-0407