DEPARTMENT OF LAND AND NATURAL RESOURCES
News Release
DAVID Y. IGE
GOVERNOR

SUZANNE D. CASE
CHAIRPERSON
For Immediate News Release July 24, 2017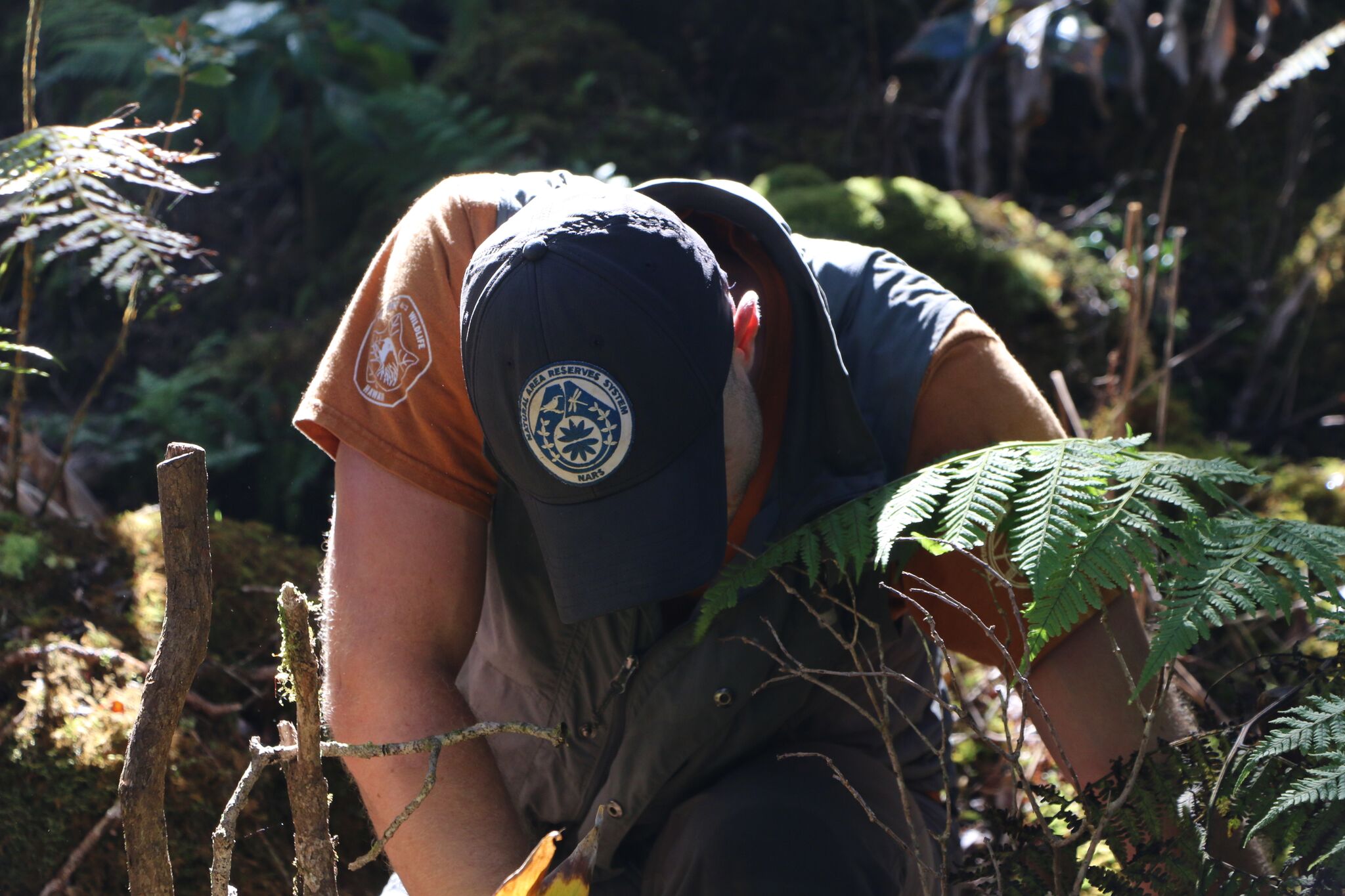 (click on photo to view video)
EXTENSIVE TRAPPING OF RATS AND WILD CATS IMPROVES SURVIVAL CHANCES OF ENDANGERED SEABIRDS
(Hono O Na Pali Natural Area Reserve, Kaua'i) – This Natural Area Reserve (NAR) is prime breeding and nesting area for the critically endangered Hawaiian Petrel and Newell's Shearwater.
A recent analysis of long-term radar studies on Kaua'i revealed massive declines in populations of endangered seabirds here.  The study showed that between 1993 and 2013, populations of the 'A'o (Newell's Shearwater) declined by 94% and Ua'u (Hawaiian Petrel) by 78%. In addition to the threats from introduced predators, Kaua'i's endangered seabirds are under threat from a whole suite of issues, including powerline collisions, light attraction and invasive plants – as well as threats at sea which could include overfishing, by-catch and the effects of climate change.
At the beginning of each week, teams of predator control specialists, helicopter into a remote field camp here, where they'll spend 3-4 days checking their nearly 400 predator traps and setting new ones.  The terrain is as difficult as it is stunning. With near vertical drop-offs, thick and impenetrable forest and usually slick and muddy conditions this is not work for the faint-of-heart.
From a perch overlooking the rugged Napali Coast, near the Pohakea field camp, Kyle Pias details what teams from the DLNR Division of Forestry and Wildlife, Natural Area Reserve program accomplish each day. He said, "We have very narrow trails along the ridgelines so it's a lot of effort to get out here and set traps.  We use a variety of them to eliminate the primary threats to the endangered seabirds: the rats and cats in this environment are truly feral, wild animals.  The more tools we can have out on the ground, removing them, the better."
Although the setting is exotic, most of the traps used here are commonplace. The bread and butter of the cat trapping effort are live cage traps of the style that can be purchased in most hardware stores. Pias baits the trap with dry cat food soaked in pungent shellfish oil. He camouflages the interior with leaves and forest duff and then carefully sets the trigger. Trapping for the shy, savvy cats that inhabit these wilderness areas requires great care and attention to detail.
A wobbly trap or a bit of exposed wire on the floor could mean the difference between removing a seabird killer cat or allowing it to continue its destruction.
The placement and status of all types of traps are carefully recorded, as are the numbers and types of predators caught or killed in them.  Pias explained, "The effectiveness and status of each trap is noted in a database which creates models that allows us to adjust our methods, as needed. We're not doing this seat-of-the-pants or blindly as this is a scientific-driven effort."
Recently, KESRP began experimenting with electronic noise-makers that emit a variety of loud noises, from the screech of a hawk to a blaring siren.  The noise makers are motion triggered and aim to scare predators away from areas that cannot otherwise be protected with traps. They represent yet another tool aimed at reducing the number of seabirds lost to predation.
The predator control program is currently exploring ways of using new cellular, radio, and satellite technologies to remotely monitor the trapping effort. Doing so would allow for greater efficiency, wider coverage, and lessened human impacts to the pristine habitats where the seabirds build their colonies.
To see what is occurring when staff are not on site, motion-triggered game cameras capture animals moving through an area and show when a rat or cat attacks a nesting bird, its eggs or chicks. This allows for traps to be more effectively set in response to a predator's presence. In one recent instance, a cat was detected on camera moving through a seabird colony. On closer inspection, an injured Hawaiian Petrel that had been partially dug out of its burrow was located. The bird had deep lacerations in its wings and was brought to Save our Shearwaters for rehabilitation. Predator control teams immediately set traps in the areas where the cat had been seen on camera, and the cat was captured and removed the very next morning.
Not all birds targeted by cats are so lucky. Cameras have recorded the terrible and indiscriminate destruction the predators inflict; it is not uncommon for a cat to return night after night until it has killed the entire family. The loss of just one bird can have tremendous impacts on fast declining populations, and the loss of a breeding pair and their chicks is devastating.
In addition to the NAR predator control team, the Kaua'i Endangered Seabird Recovery Project (KESPR) also fields similar teams. Dr. Andre Raine, the researcher in charge of KESRP said, "The control of invasive predators, such as cats, rats and pigs, in Hono o Na Pali NAR is vital to the long-term persistence of endangered seabird populations in the area."
Raine concluded, "This reserve represents a key refuge for these imperiled birds, and predator control is one of the most important management tools we have in these remote colonies. Everything we do is geared towards improving the chances of both of these species and preventing their extinction."
# # #
Media Contacts:

Dan Dennison
Senior Communications Manager
Communications Office
Dept. of Land and Natural Resources
Phone: (808) 587-0407