DEPARTMENT OF LAND AND NATURAL RESOURCES
News Release
DAVID Y. IGE
GOVERNOR

SUZANNE D. CASE
CHAIRPERSON
For Immediate News Release August 2, 2017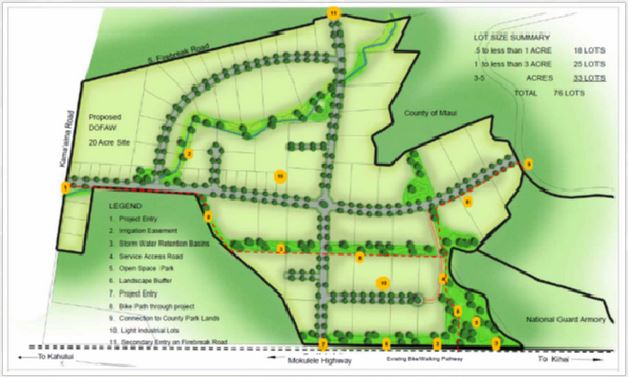 PUBLIC INFORMATION MEETING SCHEDULED ON PROPOSED LIGHT INDUSTRIAL/COMMERCIAL BUSINESS PARK AT PULEHUNUI
KAHULUI —  The Department of Land and Natural Resources (DLNR) is seeking community input on a proposed light industrial and commercial business park at Pulehunui in central Maui.  A public meeting will be held on Wednesday, August 16 from 5:30 to 7 p.m. at Kihei Community Center at 303 E. Lipoa St. in Kihei to provide more information on the proposed project and invite feedback from the community.
The 280-acre DLNR Industrial and Business Park is located along Mokulele Highway adjacent to the Hawai'i National Guard Armory and the County Raceway Park. It is in the vicinity of the former Naval Air Station Pu'unēnē and Maui Humane Society.  The area was previously under a revocable permit to Hawaiian Commercial & Sugar Co.
The proposed project will include small, medium, and large lots envisioned to be utilized for light industrial, commercial, nonprofit, and public/quasi-public uses, along with necessary infrastructure.
The lease revenue generated at this location will support management of public lands, and support for DLNR divisions, including the Commission on Water Resource Management, Division of Forestry and Wildlife, Division of State Parks, Office of Conservation and Coastal Lands, Engineering Division, and Land Division.
The DLNR Industrial and Business Park is located within the urban growth boundary of the Maui Island Plan.  A state land use district boundary amendment, county community plan amendment, and change of zoning will be required for the project.  An environmental impact statement (EIS) is being prepared to assess the potential impacts and mitigation measures for the DLNR Industrial and Business Park.  An EIS Preparation Notice was published on March 8, 2017 and is available for download here:
https://oeqc.doh.hawaii.gov/Shared%20Documents/EA_and_EIS_Online_Library/Maui/2010s/2017-03-08-MA-5B-EISPN-DLNR-Business-Park.pdf.
For more information regarding the project or meeting, please visit https://dlnr.hawaii.gov/ld/proposed-dlnr-industrial-and-business-park-at-pulehunui-maui/
or contact [email protected]
# # #
Media Contacts:

Deborah Ward
Communications Specialist
Communications Office
Dept. of Land and Natural Resources
Phone: (808) 587-0320