DEPARTMENT OF LAND AND NATURAL RESOURCES
News Release
DAVID Y. IGE
GOVERNOR

SUZANNE D. CASE
CHAIRPERSON
For Immediate News Release September 22, 2017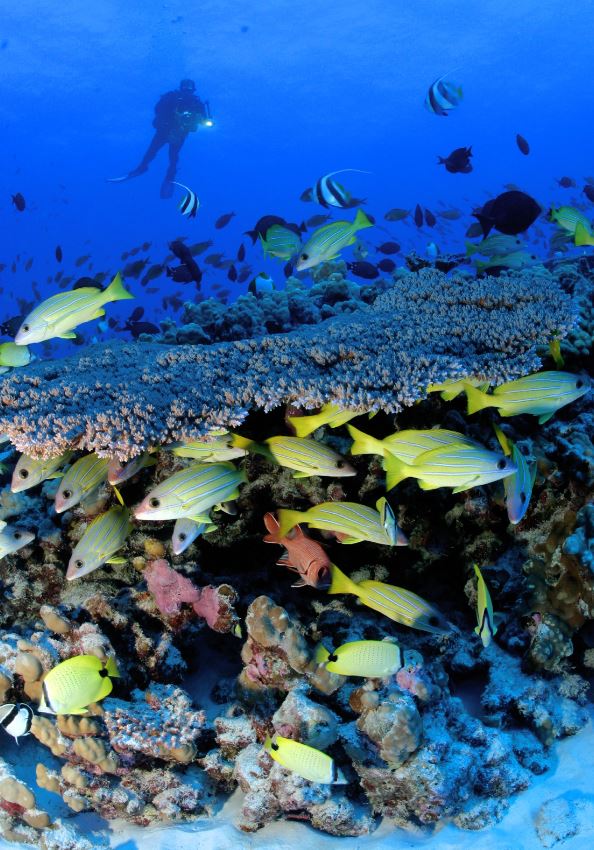 PUBLIC HEARINGS SCHEDULED ON PROPOSAL TO INCREASE COMMERCIAL MARINE LICENSE FEES
HONOLULU — The Department of Land and Natural Resources Division of Aquatic Resources (DAR) has scheduled statewide public hearings on proposed administrative rule amendments that would increase the annual commercial marine license fees from the current $50/year to $100/year initially, then to $150/year on January 1, 2018. This date may be delayed until later in the year, depending on when the rules are approved. The proposed rules also would establish a reporting deadline for dealers who buy marine life directly from commercial fishers.
Bruce Anderson, DAR administrator said, "Commercial license fees haven't increased in nearly 20 years.  We're updating the fee schedule to reflect current and future needs.  Increased revenues from these fees will offset losses in revenues from non-resident fees for on-going operational expenses and to add new on-line reporting and licensing options to our website to better serve the fishing public."
The hearings will be held at the following times and locations:
Thursday, September 28, 2017
MOLOKA'I – Mitchell Pau'ole Center Conference Room, 90 Ainoa Street, Kaunakakai, 5:30 to 8:30 p.m.
Friday, September 29, 2017
O'AHU – Stevenson Middle School Cafeteria, 1202 Prospect Street, Honolulu, 6 to 9 p.m..
LANA'I – Lana'i High/Elementary School Cafeteria, 555 Fraser Avenue, Lana'i City, 5:30 to 8:30 p.m.
Tuesday, October 3, 2017
HILO – Hawai'i County Aupuni Center Conference Room, 101 Pauahi Street, Suite 101, Hilo, 5:30 to 8:30 p.m.
KONA – Honokohau Harbor Big Game Fishing Clubhouse, Kailua-Kona, 5:30 to 8:30 p.m.
Wednesday, October 4, 2017
MAUI – Maui Waena School Cafeteria, 795 Onehe'e Street, Kahului, 6 to 8:30 p.m.
Thursday, October 5, 2017
KAUA'I – Chiefess Kamakahelei Middle School Cafeteria, Lihue, 4431 Nuhou Street, 6 to 9 p.m.
Tuesday, October 10, 2017
KAUA'I – Kapa'a Elementary School, 4886 Kawaihau Road, Kapa'a, 6 to 9 p.m.
All interested persons are urged to attend the public hearing to present relevant information and individual opinion for the DLNR to consider. Persons unable to attend or wishing to present additional comments, may mail written testimony by Friday, October 13, 2017 to the Division of Aquatic Resources (DAR), 1151 Punchbowl Street, Room 330, Honolulu, HI 96813.
Anyone with a hearing impairment who desires to attend the public hearing may request assistance of a sign language interpreter. The request may be made in writing (to the DAR address in the preceding paragraph), or by calling 587-0100 (voice or TDD) in Honolulu. The request will need to be received at least seven days before the hearing is scheduled to start. Additional information or a copy of the proposed rules will be mailed at no charge upon receipt of verbal or written request to the DAR address.
To view the draft rule, go to the Division of Aquatic Resources website at https://dlnr.hawaii.gov/dar/files/2017/08/HAR_13-74dr.pdf
Media contact:
Deborah Ward
Communications Specialist
Dept. of Land and Natural Resources
(808)-587-0320
[email protected]