DEPARTMENT OF LAND AND NATURAL RESOURCES
News Release
DAVID Y. IGE
GOVERNOR

SUZANNE D. CASE
CHAIRPERSON
For Immediate News Release September 27, 2017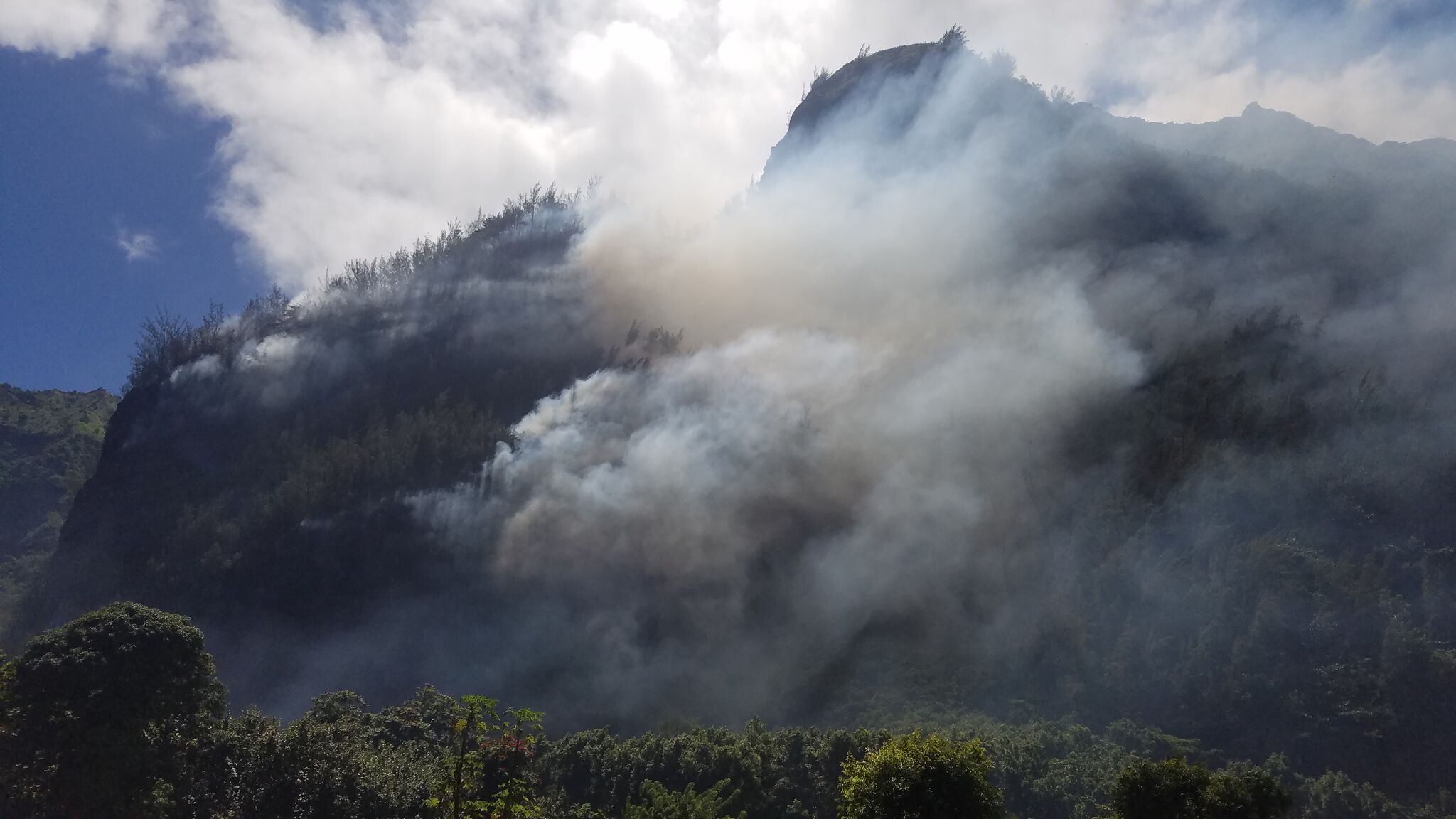 HĀʻENA STATE PARK & ACCESS TO KALALAU TRAIL STILL CLOSED
*** UPDATE *** 9/28/17 – HAENA STATE PARK AND THE KALALAU TRAIL ARE OPEN  TODAY.  A WILDFIRE NEAR THE NAPALI COAST TRAILHEAD HAS BEEN CONTAINED.  FIREFIGHERS ARE CONTINUING TO MONITOR THE FIRE FOR FLARE-UPS.  VISITORS SHOULD BE AWARE THAT PARKING AREAS MAY BE AFFECTED, AND SMOKE REMAINS IN THE PARK AREA.
Cause of Kaua'i Fire Thought to be Accidental
(HONOLULU) – Firefighters from the DLNR Division of Forestry and Wildlife (DOFAW) remain on the scene of an approximately 100 acre wildland fire burning on Makana puʿu between Hāʿena State Park and Limahuli Gardens on Kaua'i's north shore. The fire, first reported early Tuesday morning, is burning mostly along steep cliffs, making ground approaches for firefighters difficult, but 14 DOFAW firefighters are working hot spots. They're being supported by two engines and three DLNR Division of Conservation and Resources (DOCARE) officers who are keeping people out of the area. Two helicopters, including the Kaua'i Fire Department's Air One, continue making water drops this morning.
It's believed the fire may have been started by an accidental escape from the ceremonial use of fire on Makana.  DOFAW personnel and staff from the DLNR Division of State Parks are continuing to investigate the cause.
Hāʿena State Park is still closed, as is access to the popular Kalalau Trail in the Nā Pali Coast State Wilderness Park. Yesterday, two DOFAW staff members and a State Parks interpretive ranger were stationed at the trailhead and along the trail to turn hikers and campers back toward Hanakāpīʿai Stream. It's now known how many people left their vehicles at Kee Beach and walked out of the area.
State Park's records show that today, 26 people with camping permits were scheduled to leave Kalalau, with 28 people arriving to hike in to camp.  Managers are in the process of determining a safe route to allow campers to transit past the area where rock falls occur and is now increased due to steep and destabilized slopes in the wake of the fire. Fire managers are expected to make an evaluation around noon as to whether it is safe to reopen the road and trail.
More information will be released as it becomes available.
Media contact:
Dan Dennison
Senior Communications Manager
Dept. of Land of Natural Resources
(808) 587-0407
[email protected]