10/05/17 – Early Morning Monk Seal Visit to Hanauma Bay Highlights Safe Viewing Recommendations
Posted on Oct 5, 2017 in Aquatic Resources, News Releases
DEPARTMENT OF LAND AND NATURAL RESOURCES
News Release
DAVID Y. IGE
GOVERNOR

SUZANNE D. CASE
CHAIRPERSON
For Immediate News Release October 5, 2017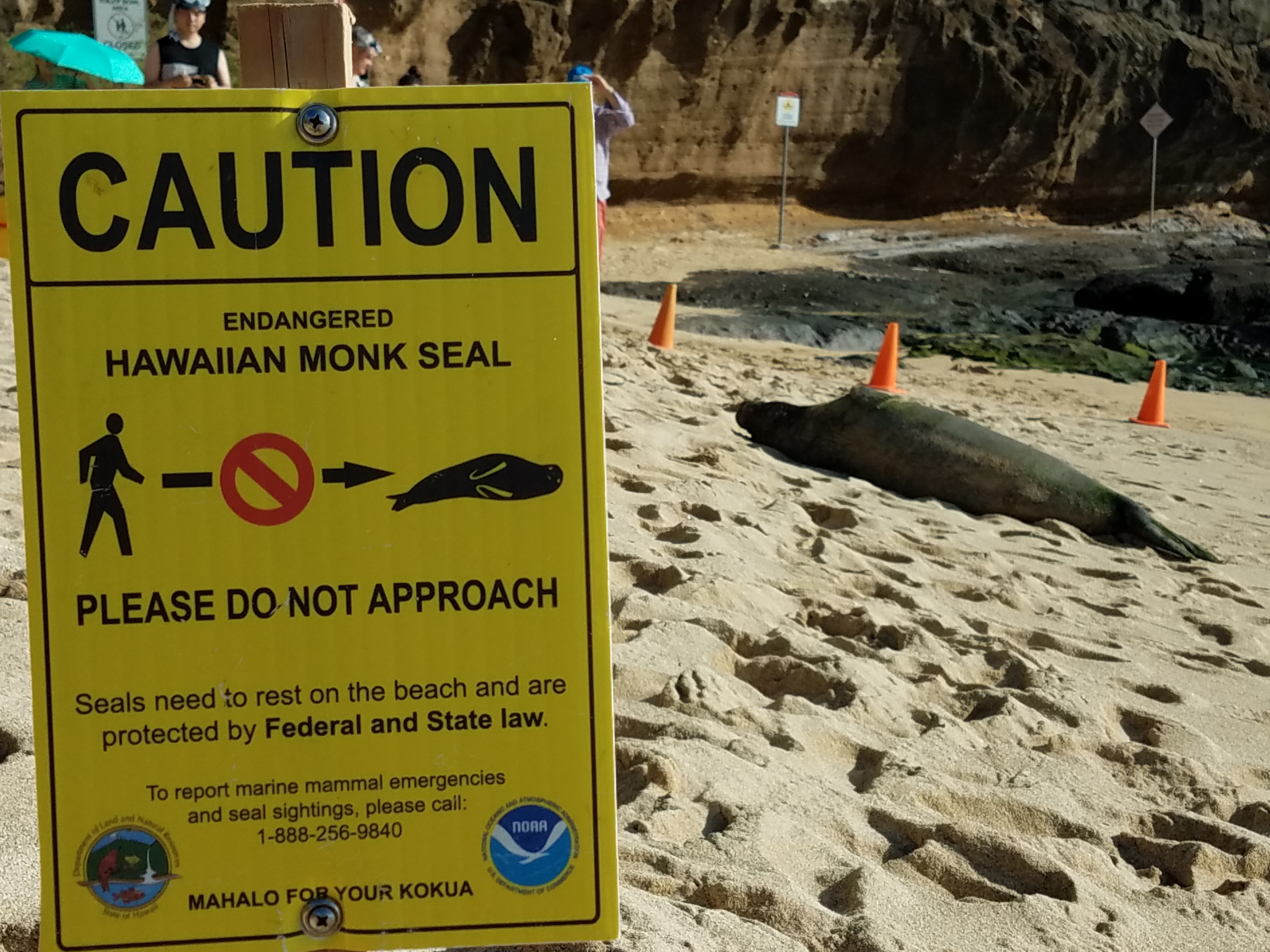 EARLY MORNING MONK SEAL VISIT TO HANAUMA BAY HIGHLIGHTS SAFE VIEWING RECOMMENDATIONS
(HONOLULU) – Early morning visitors to the Hanauma Bay Nature Preserve in East Oahu were delighted to see a Hawaiian monk seal resting on the beach.  At first, it was thought the seal might be "Rocky," the female who pupped a seal on Kaimana Beach over the summer, prompting worldwide media attention for mom and her precocious pup.  Since Rocky has never been tagged, volunteers and staff from Hawai'i Marine Animal Response (HMAR) now say they can't be sure of this seals identity.
Seals "haul-out" at Hanauma Bay regularly, but typically up onto the rocky tidal shelves on either side of the popular snorkeling destination. Swimmers report the seal was swimming parallel to the beach prior to it hauling out on the sand on the left side of the beach at about 6:50 a.m.  DLNR Chair Suzanne Case and DLNR Division of Aquatic Resources Administrator Dr. Bruce Anderson happened to be at the bay for a tour and helped set up cones around the resting seal to keep curious people and photographers back.  HMAR staff and volunteers arrived a little later and set up caution signs.  Shortly after nine the seal went back into the water and was last seen swimming back toward the open ocean.
Its visit this morning again highlights the safe viewing recommendations from the National Oceanic and Atmospheric Administration (NOAA), DLNR, HMAR and other partners. Basically, people are asked to keep a safe distance from seals resting or sleeping on the beach.  Harassing endangered Hawaiian monk seals in any way violates both federal and state marine mammal protection laws.
###
Media contact:
Dan Dennison
Senior Communications Manager
Dept. of Land of Natural Resources
(808) 587-0407
[email protected]