DEPARTMENT OF LAND AND NATURAL RESOURCES
News Release
DAVID Y. IGE
GOVERNOR

SUZANNE D. CASE 
CHAIRPERSON
For Immediate News Release November 8, 2017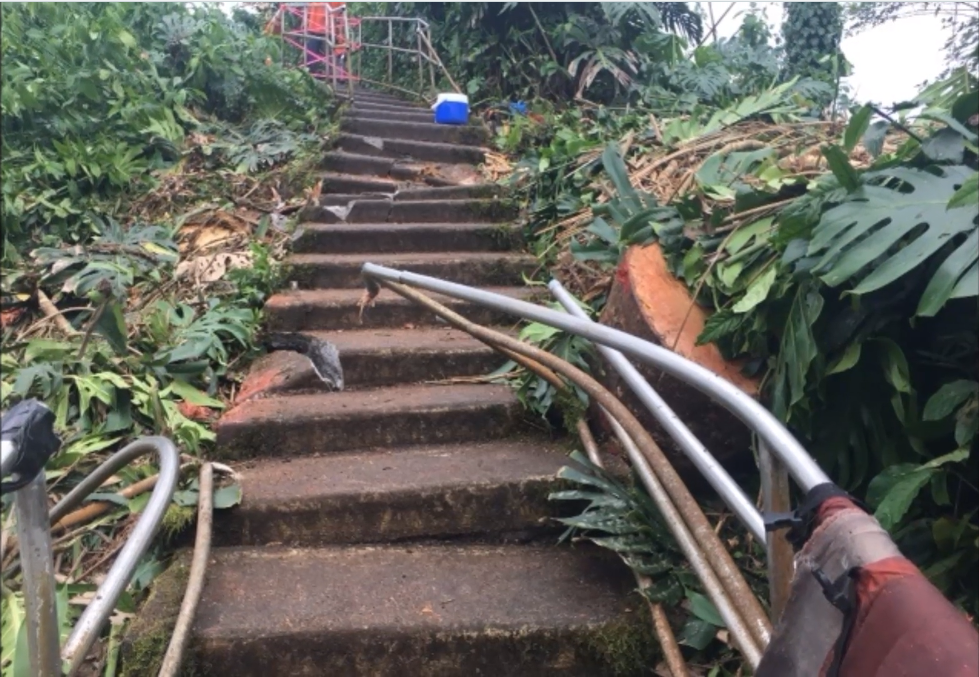 (click on image to watch video) 
AKAKA FALLS STATE PARK TRAIL REOPENS
Repairs are completed ahead of schedule
HILO, HAWAII — The Department of Land and Natural Resources (DLNR) Division of State Parks has completed repair work to the 0.4-mile loop trail at Akaka Falls State Park necessitated due to accidental damage caused by earlier removal of invasive albizia trees in February this year.
Site Engineering completed the repairs to the Akaka Falls walkway as of October 30 and Division of State Parks opened the entire trail as October 31.  Repairs had been expected to take until December, so the park is re-opening earlier than expected. 
The work quality appears to be good and the path of the walkway has been adjusted where the stairs are located for improved safety.  Project cost is $297,400.  
Repairs were completed on the longer trail section that is to the right of the loop trail starting point that was closed after the damage. Workers removed and repaired damaged concrete walkways and steps, and replaced railings
The entire park was closed from October 16 – 20 for work on the shorter, left side of the trail to the Akaka Falls lookout. 
The park offers a pleasant family walk through lush tropical vegetation to scenic vista points overlooking the cascading Kahuna Falls and the free-falling 'Akaka Falls, which plunges 442 feet into a stream-eroded gorge. It requires some physical exertion and will take about 1/2 hour for the full loop.
The paved route, which includes multiple steps in places (not wheelchair accessible), makes an easy to follow loop offering stunning viewpoints of the two waterfalls. To view 'Akaka Falls only, take the path to the left (south) from the first junction. The waterfall view is just a short walk down the path.
# # #
Media Contact:
Deborah Ward
DLNR Communications office
Phone: (808) 587-0320