DEPARTMENT OF LAND AND NATURAL RESOURCES
News Release
DAVID Y. IGE
GOVERNOR

SUZANNE D. CASE
CHAIRPERSON
For Immediate News Release December 27, 2017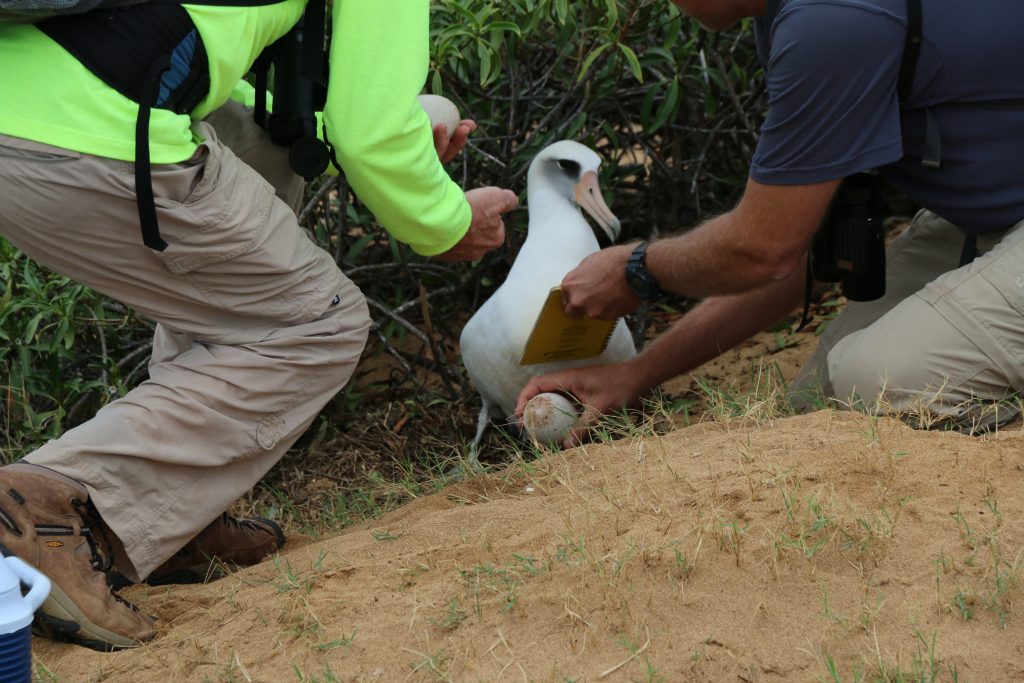 (Click on image to watch video)
KA'ENA POINT ALBATROSS COLONY GETS EGGS FOR CHRISTMAS
Fertile Eggs From Kaua'i Now Being Raised by Surrogate Parents on O'ahu
(HONOLULU) – Anyone who knows anything about Laysan Albatross knows they are among the most dedicated parents in the animal kingdom. During nesting season, as one parent sits atop an egg, the other one searches for food for their soon-to-hatch chick.  This is no easy task. Albatross prefer cold-water fish and amazingly as one parent stays home, the other flies from Hawai'i to Alaska and back over the course of about ten days, returning with bellies full of food.
At the 12/27/1 Natural Area Reserve, which hosts O'ahu's primary breeding and nesting colony of these magnificent birds, 21 sets of parents are now sharing familial responsibilities, by trying to hatch-out adopted eggs. A certain number of eggs the birds lay are infertile, yet the parents will be with them for their entire 60-day plus gestation period. Enter helping hands.
Team members from Pacific Rim Conservation (PRC) worked alongside representatives from the U.S. Navy's Pacific Missile Range Facility (PMRF) on Kaua'i to check eggs for the presence of live embryos. Since PMRF operates an active air strip and since albatross and aircraft don't mix well, the Navy would like to see the PMRF colony relocated.  By "translocating" eggs to more appropriate nesting areas, eventually the colony will presumably be fully ensconced elsewhere. This year in particular, the Ka'ena Point colony needed a boost, as its breeding capacity was severely diminished by the senseless vandalism of two years ago.
So, with what can be considered an early Christmas present, the Navy team flew the 21 eggs from Kaua'i to O'ahu to the team at PRC who then carried them by hand and by four-wheel-drive vehicle to Ka'ena Point. Earlier they'd noted which parents were sitting on top of infertile eggs. Nest-by-nest, the team retrieves the infertile eggs and immediately replaces them with a fertile one from PMRF. At several nests, they "candled" eggs to ensure they were no longer viable.  Under a black hood a team member uses a light to peer through the egg's thin membrane to detect any movement inside.
Dr. Eric Vanderwerf, Director of Science with PRC, commented, "This is really a win-win situation for the albatross here and for the Navy.  The Navy's long-term goal is to reduce the number of albatross where they're an air strike hazard. And the Ka'ena Point colony suffered a setback a couple of years ago because of the human vandalism.  So, this will give a little boost to this colony and get it back on the path where it would have been headed anyway."  The team would like to see the creation of additional foster nest locations on Kaua'i so eggs removed from PMRF can remain on the island.
While this island-to-island egg swap was not the first, it is the largest single one.  Michelle Paduani, PMRF's Installation Environmental Program Director estimates 600 Laysan Albatross eggs have been relocated from the missile range over the past dozen years; many to private properties on Kaua'i where land owners are happy to host the birds and their offspring. "We translocated 48 eggs last year," she says and reiterated that the Navy's long-term goal is to have all the albatross eventually relocated.
The "new" eggs at Ka'ena Point are expected to hatch beginning in early February and the young chicks will fledge about five months after that continuing the fascinating circle of life of this iconic seabird.
# # #
Media Contact:
Dan Dennison
Senior Communications Manager
(808) 587-0407