12/29/17 – Whale Carcass On Reef At Marine Corps Base Hawai'i To Be Removed; Possible Regrounding of Carcass From Haleiwa
Posted on Dec 29, 2017 in Aquatic Resources, News Releases, slider
DEPARTMENT OF LAND AND NATURAL RESOURCES
News Release
DAVID Y. IGE
GOVERNOR

SUZANNE D. CASE
CHAIRPERSON
For Immediate News Release December 29, 2017

WHALE CARCASS ON REEF AT MARINE CORPS BASE HAWAI'I TO BE REMOVED
Possible Regrounding of Carcass from Haleiwa
Public Safety Watch
(HONOLULU) – The carcass of a badly decomposed Humpback whale washed onto a near-shore reef at Marine Corps Base Hawai'i (MCBH) late yesterday. There's a good possibility this is the same carcass that was first seen off the beach at Haleiwa earlier this week – it was towed eight miles offshore by a private dive company but ocean currents may have brought it back to shore at Kaneohe.
At first light on Saturday a local salvage company, Cates International, will begin work to remove the carcass from the reef and bring it to shore.  After Hawaiian protocol the carcass will be in the custody of researchers from the University of Hawai'i.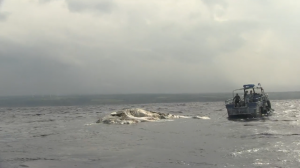 The decision to remove the carcass was made after collaboration between DLNR, NOAA, MCBH, UH and Cates International and was based on concerns for public safety.  While experts say the condition of the carcass makes it less of an attraction for sharks, they are known to feed on whale carcasses and then remain within a few miles of the area.
People are advised to stay out of the water near the Marine Corps Base Hawaii and to be on the lookout for sharks within and near Kaneohe Bay throughout the weekend.
If this is the same carcass spotted and towed earlier this week it is the first carcass of this year's Humpback whale season to wash into near-shore waters. Late last fall and early winter a half dozen carcasses washed close to shore or onto beaches.  The causes of deaths of those whales, and the latest couldn't be determined because of the conditions of the carcasses.
# # #
Media Contact:
Dan Dennison
Senior Communications Manager
(808) 587-0407