DEPARTMENT OF LAND AND NATURAL RESOURCES
News Release
DAVID Y. IGE
GOVERNOR

SUZANNE D. CASE
CHAIRPERSON
For Immediate News Release January 12, 2018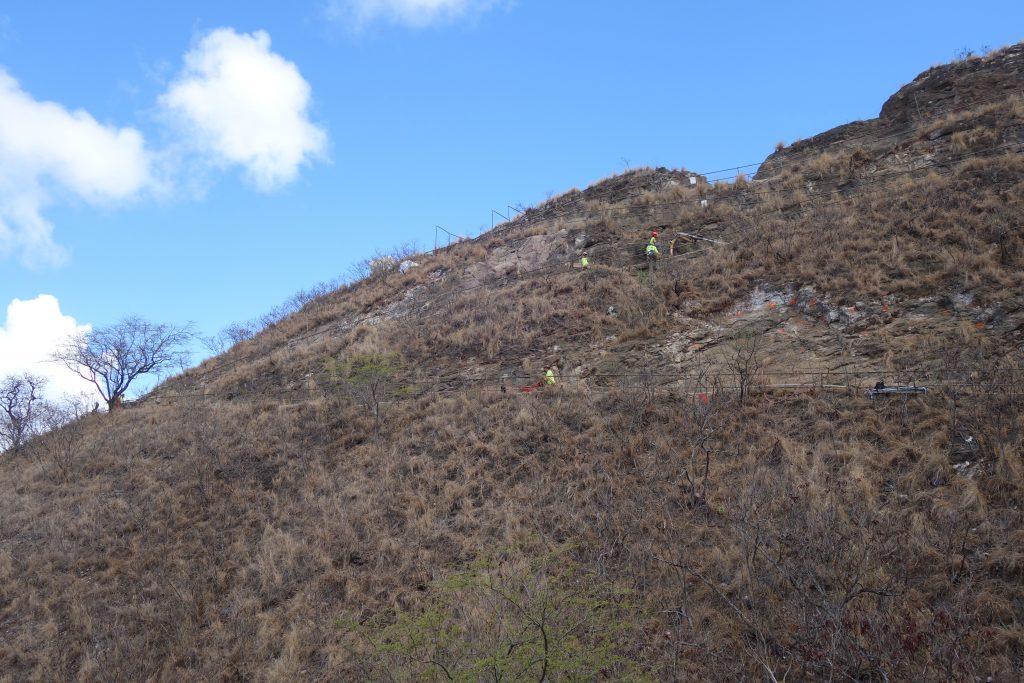 TRAIL WORK COMPLETED AT DIAMOND HEAD STATE MONUMENT
HONOLULU — The DLNR Division of State Parks today completed improvements to a section of the lower hiking trail at the Diamond Head State Monument summit trail.  The work was completed a week ahead of schedule. This completes a multi-phase rockfall mitigation and trail improvement work that began last year at the park.   
The popular Diamond Head summit hiking trail will resume normal park hours starting tomorrow, Saturday January 13, 2018.  Diamond Head State Monument is open daily 6 a.m. to 6 p.m., every day of the year including holidays. Last entrance to hike the trail is at 4:30 p.m. The gates are locked at 6  p.m. daily and all visitors must be out of the park by this time.
During this project, the lower section of the summit trail was stabilized and hardened with sculpted concrete, like the work completed previously in other sections of the summit trail.
Curt Cottrell, State Parks administrator, said, "The Diamond Head Summit Trail hike is one of the must-do hiking experiences for Hawai'i visitors and residents alike. Over one million people annually hike the steep, hot trail to the summit of Diamond Head for its magnificent views, making it one of the most visited State Parks. However, the soft, crumbly rock (volcanic tuff) that makes up Diamond Head, leaves this landmark susceptible to deterioration due to the natural effects of erosion, as well as the numbers of people utilizing the trail. This trail stabilization work will ensure a safe hiking experience for park visitors."
Prometheus Construction was contracted by the Department of Land and Natural Resources (DLNR) to mitigate rockfall hazards on the exterior makai slopes of Diamond Head and along the interior summit hiking trail, and that work was completed in mid-December, in time for the holidays.  Work was completed on time, and below the total projected cost of $1.72 million 
The cost savings from the original work was used to repair the lower section of the summit trail, from the end of the concrete walkway to the historic generator building.  This section of the trail was part of a previous soil remediation project in 1996.  However, the trail had seriously eroded, creating a "riverbed" during the seasonal rains and Kona storms, which exacerbated the damage to the trail, hence the need to stabilize and harden the heavily trod path.
Media Contact:
Deborah Ward
DLNR Communications Specialist
Phone: (808) 587-0320