04/10/18 – Ka'ena Point Road Closed Due To Wet Weather; State periodically closing the park due to illegal off-roading activity
Posted on Apr 10, 2018 in News Releases, slider, State Parks
DEPARTMENT OF LAND AND NATURAL RESOURCES
News Release
DAVID Y. IGE
GOVERNOR

SUZANNE D. CASE
CHAIRPERSON
For Immediate News Release April 10, 2018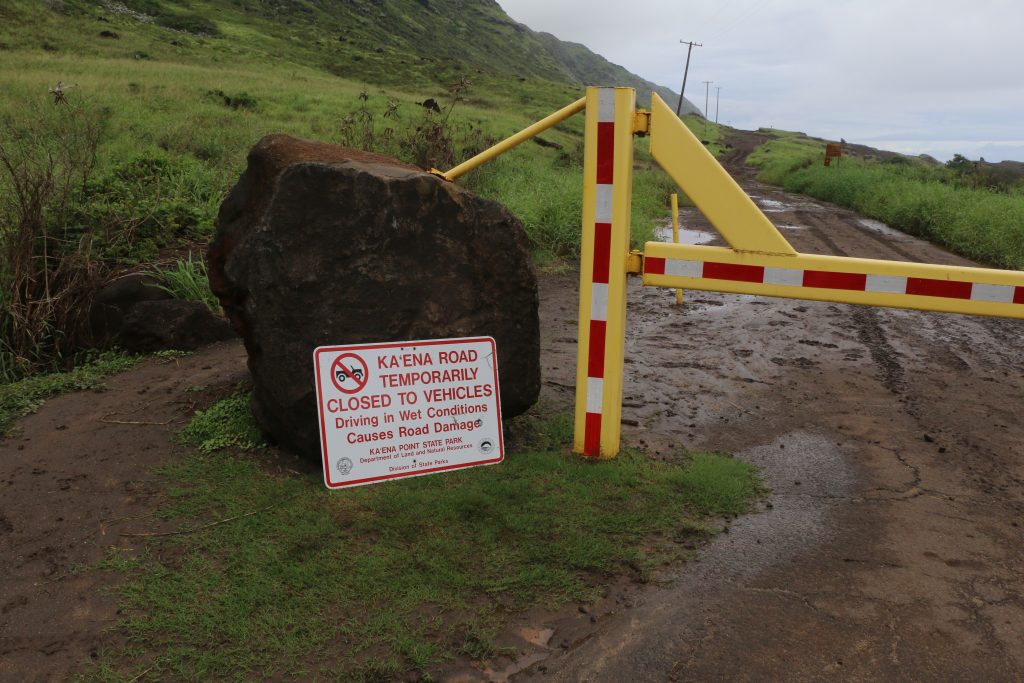 KA'ENA POINT ROAD CLOSED DUE TO WET WEATHER
State Periodically Closing the Park Due to Illegal Off-Roading Activity
(HONOLULU) – Since President's Day weekend the road system at Ka'ena State Park has been mostly closed to try and prevent additional resource damage caused by off-road vehicles. The two-mile-long unpaved road is popular with fishermen who use it to access the north shore waters and over the years it's also been popular with off-road enthusiasts.  "Unfortunately," explained Curt Cottrell, administrator of the DLNR Division of State Parks, "After we clearly marked and designated the only roads in the park where driving is permissible we're still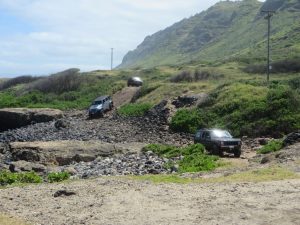 experiencing some drivers wanting to go off-road – meaning they are not staying on designated routes which were specifically designated to prevent the common practice known as mud-bogging."
Mud-bogging is when drivers of four-wheel drive vehicles attempt to cross deep pools of muddy water or drive over saturated ground, which creates huge scars, causes erosion and the flow of sediment into near-shore waters.  The activity damages both land and ocean.  It's believed the road's closure since President's Day (except for a short-opening of less than six hours) is the first-time park administrators have made this move.  Since the introduction of a system which only allows drivers with permitted vehicles to enter the park through a locked gate, more than 7000 people have received permits. This has helped State Parks, the DLNR Division of Forestry and Wildlife (DOFAW-which manages the Ka'ena Point Natural Area Reserve (NAR) at the end of the road) and the DLNR Division of Conservation and Resources Enforcement (DOCARE) get a better handle on who is in the park at any given time and whether they have the required vehicle permit.
"Unfortunately," explained Curt Cottrell, administrator of the DLNR Division of State Parks, "After staff and volunteers have put in great effort to mark and designate specific unimproved roads in the park where driving is allowed for access to fishing spots and to the NAR at the point itself, there are permit holders who habitually ignore the instructions and engage in "mud-bogging" and other abusive recreational driving habits."  
Jamie Raduenzel is the Ka'ena Point Outreach and Education Specialist for both State Parks and DOFAW. She's spoken to many regular park users who support the temporary closure and renewed efforts to try and curb mud-bogging.  On a recent tour along designated park roads she points to numerous places where beefy four-wheel drive vehicle tires have created two-foot deep craters which quickly fill with water which often flows directly into the ocean.  The muddy water is full of sediment which can literally choke the life out of coral reefs and then have negative impacts on other marine creatures. Even on designated roads, after heavy rains like we've experienced this winter, Raduenzel points out, "These areas just need a break from all of the abuse.  Natural vegetation which helps prevent erosion gets torn up and mud holes get deeper and deeper. There are numerous instances where vehicles have been buried so deep in the mud they've had to be towed out."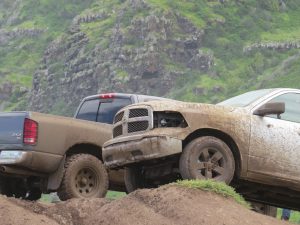 State law gives law gives DLNR the authority to deny, cancel, or terminate permits of any driver who violates permit conditions, which includes damaging natural resources. It also prohibits drivers from straying off designated trails and roads that are managed for motorized use. Drivers convicted of driving where they shouldn't or of causing damage can have their vehicles confiscated and/or be required to restore any damage they cause. While it's a temporary inconvenience, Raduenzel said the anglers she's talked too not only support the current closure but also support the DLNR divisions efforts to shut-down mud-bogging and illegal off-road activity. Even after the park reopens it's expected detour signs will continue to direct drivers around some of the deepest and most persistent mud holes.
Both State Parks and DOFAW sponsor groups and individuals who volunteer to do resource restoration projects at Ka'ena Point. "It sports among the most wild and most productive coastal waters on O'ahu, is home to Laysan albatross, Hawaiian monk seals and other rare or endangered plants and animals,"  remarked DLNR Chair Suzanne Case. "State Parks, DOFAW and DOCARE are committed to maintaining and preserving Ka'ena Point as a multiple use area for fishers, hikers, bird and wildlife watchers, nature lovers and bicyclists…and for responsible four-wheel drive vehicle use, as long as it happens on the routes that are clearly designated by signs.  We're adopting a zero-tolerance attitude toward anyone caught violating the rules and we do plan to close the road when necessary to prevent further damage and to allow the ecosystem to hopefully, in time, repair itself," Case concluded.
Media Contact:
Dan Dennison
Senior Communications Manager
(808) 587-0407