04/27/18 – Wildfire Summit Brings Together Experts, Managers and Firefighters; Theme is collaboration across the pacific for mauka to makai fire protection
Posted on Apr 27, 2018 in Forestry & Wildlife, News Releases, slider
DEPARTMENT OF LAND AND NATURAL RESOURCES
News Release
DAVID Y. IGE
GOVERNOR

SUZANNE D. CASE
CHAIRPERSON
For Immediate News Release April 27, 2018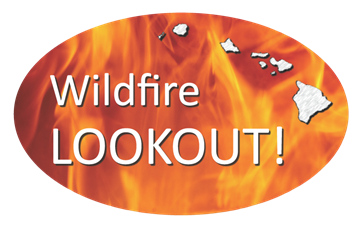 WILDFIRE SUMMIT BRINGS TOGETHER EXPERTS, MANAGERS AND FIREFIGHTERS
Theme is Collaboration Across the Pacific For Mauka to Makai Fire Protection
(Kailua-Kona, Hawai'i) – The men and women charged with the responsibility of preventing, fighting and managing wildfires around the State of Hawai'i gather on Hawai'i Island next week for the yearly Hawai'i Wildfire Summit organized by the Hawai'i Wildfire Management Organization (HWMO). The week begins with two days of professional training from the National Fire Protection Association which focuses on "Assessing Structure Ignition Potential from Wildfire."
The summit begins on Wednesday, May 2 at the Mauna Lani Bay Hotel & Bungalows. HWMO Executive Director Elizabeth Pickett explained, "The Hawaiʻi Wildfire Summit is a unique opportunity to learn, share, and collaborate with others who deal with wildfire in their work, and communities across Hawaiʻi and the Pacific living in fire-prone areas. This year's theme is: "Collaborating Across Hawai'i and the Pacific for Summit to Sea Wildfire Protection." Presentations and workshops that one would otherwise have to attend on the mainland U.S. will also be a highlight of the event, offering a local option to connect to national-level programs, research, and trainings."
Over the course of two days fire experts and managers from around the Pacific and around the country will lead sessions on wildfire in Hawai'i and the Pacific; fire weather and climate; managing natural resources in the face of wildfire; and collaboration strategies to improve effectiveness.  In addition there are Hawai'i-specific sessions where participants will learn about and discuss wildfire issues that impact the Aloha State specifically.
Numerous natural resource and fire managers from the DLNR Division of Forestry and Wildlife will lead breakout sessions.  DOFAW Administrator David Smith said, "Collaboration and multi-partner efforts are necessary for maximum effectiveness in hazard reduction, suppression, and post-fire recovery. The wildfire summit gives everyone involved in wildfire prevention, suppression and management an opportunity to collaborate and add to their toolboxes based on best practices from around the country and from around the Pacific Rim."
The Hawai'i Wildfire Summit wraps up on Friday, May 4 with an all-day-long field workshop titled, "Assessing and Addressing Wildfire from Mauka to Makai."  It will provide
on-site learning opportunities and discussions from summit to sea, covering upland forest protection, watershed management planning in fire-prone areas, post-fire erosion, coastal flooding, and impacts on nearshore resources. Local watershed sites and their recent fires will be used as the context and catalyst for discussion.
News media coverage of the summit is welcome and video and photos will be distributed at the conclusion of the event.
Media Contact:
Dan Dennison
Senior Communications Manager
(808) 587-0407