DEPARTMENT OF LAND AND NATURAL RESOURCES

News Release
DAVID Y. IGE
GOVERNOR

SUZANNE D. CASE
CHAIRPERSON
For Immediate News Release July 5, 2018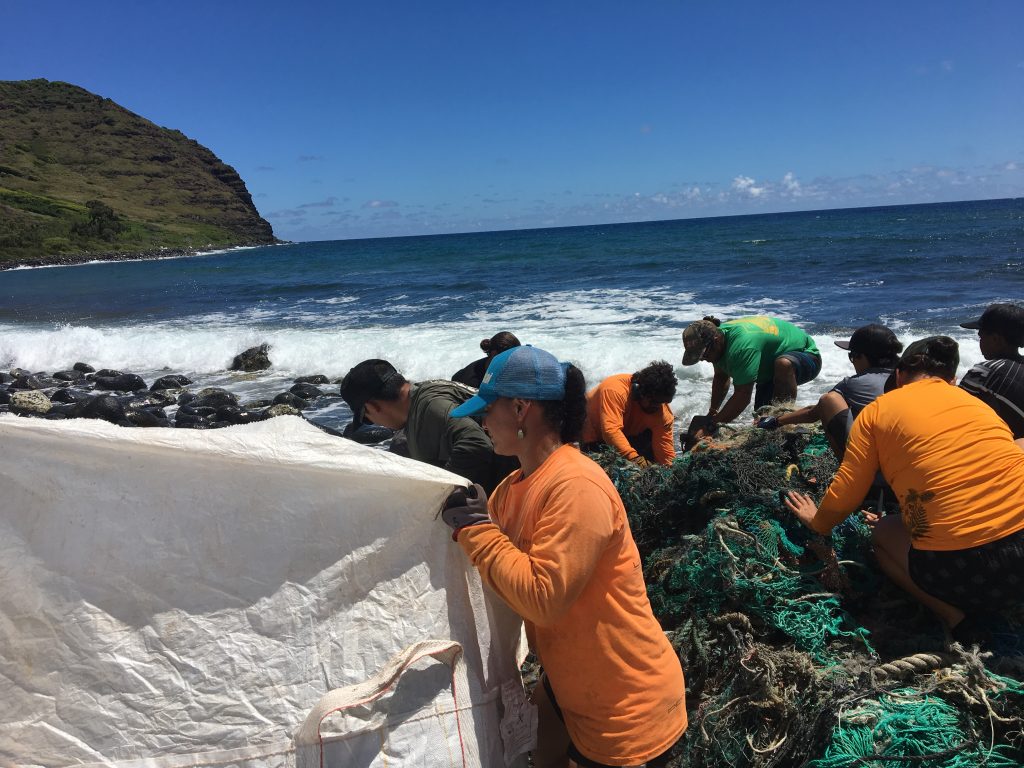 REMOVAL OF LARGE NET MASS
AT HALAWA MOLOKA'I TAKES TEAMWORK
(Halawa, Moloka'i) — It took a community effort over several weeks to successfully clean up various kinds of marine debris from the beautiful beaches at the east end of Moloka'i. More than 60 big bags full of trash were collected during a team effort between Moloka'i volunteers, a school class, staff from a local ranch, and help from several agencies. The biggest challenge was a net mass that was described as the size of a large SUV in one gigantic doughnut-like ball, about 25-30 yards across.
It took participants an estimated 10 hours of athletic work on a rocky shoreline to cut the net pile into smaller pieces and place them into bags. By June 21, the net was completely cut up and bagged.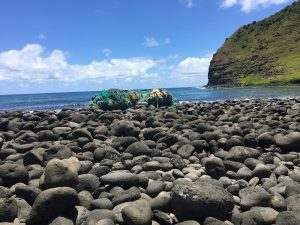 The marine debris was removed from Halawa beach the week of June 25-29, in helicopter sling loads, flown to Pu'u o Hoku Ranch for staging, then removed by truck for recycling or other processing.  Other debris that was dispersed throughout the area was also removed. These efforts were possible thanks to a collaboration by the DLNR Divisions of Forestry and Wildlife (DOFAW) and Boating and Ocean Recreation (DOBOR), Maui County, Pu'u o Hoku Ranch, Sustainable Coastlines, Windward Aviation, The Nature Conservancy and Pono Pacific.
The net was particularly problematic because of its large size, remote location, and the sensitive nature of nearby cultural sites that could be disturbed if the mass were dragged or transported across the shoreline. 
Maui DOFAW offered to assist because its staff are trained in remote area helicopter operations, and have recently done these in Waianapanapa and on the north shore of Molokai. DOFAW also has a dump truck and personnel on Moloka'i. 
DOBOR was able to commit the $8,000 estimated cost for the helicopter removal of the net bags.  Pu'u o Hoku provided six people to help in addition to using ranch land as a staging area.  Maui County committed a second dump truck to haul and offered to help with arrangements at the landfill as needed.
DOFAW staff member James Espaniola was tasked with putting together a plan for the removal. He contacted the cleanup organization Sustainable Coastlines, which is able to receive, ship, and process the debris so it doesn't just go into the landfill. 
A crew of DOFAW staff, along with The Nature Conservancy and Pu'u o Hoku staff assisting, organized a large number of concerned Moloka'i volunteers to help cut up the net and put chunks into bags. The bags were sling loaded into one truck. Then they also cleaned up debris along a larger area of the coastline and loaded the second truck with that material.  The result of all the helping hands and coordination was a removal of the net mass plus a coastal cleanup that was needed in the area. 
The net bags are staged on the ranch and will be removed during August along with materials to be collected in another beach cleanup that Sustainable Coastlines is planning at Mo'omomi that month.
# # #
MEDIA CONTACT
Deborah Ward
Communications Specialist
Hawaii Dept. of Land & Natural Resources
Communications Office
[email protected]
[email protected]
(808) 587-0396 (Communications Office)
(808) 587-0320 (Direct Line)