DEPARTMENT OF LAND AND NATURAL RESOURCES
News Release
DAVID Y. IGE
GOVERNOR

SUZANNE D. CASE
CHAIRPERSON
For Immediate News Release July 11, 2018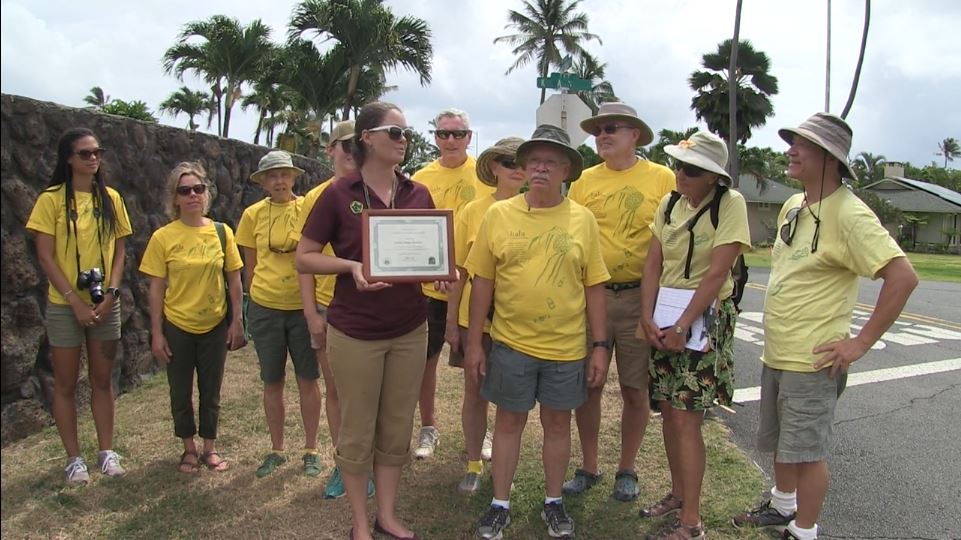 (click on image to watch video)
CITIZEN FORESTERS RECOGNIZED BY DLNR FOR EFFORTS IN KAILUA
Last of 5,700 Trees Now Measured and Mapped
(Honolulu) – Today the DLNR Division of Forestry and Wildlife's (DOFAW) Kaulunani Urban and Community Forestry Program reached a major milestone. For the last two years a group of volunteers in Kailua have been gathering information on individual trees in Kailua. They measure and map each tree and their data provides valuable information about urban trees that helps resource experts better manage these important community assets.  In recognition of the first team of Citizen Foresters, DLNR/DOFAW presented them with a DLNR & YOU Citizen Conservationist award.
The work began when DOFAW, through its Kaulunani Program and in partnership with Smart Trees Pacific contracted a study of Honolulu's urban tree canopy and any changes it's experiencing.  Using a combination of high-resolution satellite imagery and Light Detection and Ranging data (LiDAR) the data showed an alarming decrease in urban O'ahu's tree canopy.  DOFAW Administrator David Smith said, "The study showed that we lost nearly 5% of our urban tree canopy or more than 76,000 trees over the four years of data collection. Our first citizen foresters in Kailua have been instrumental in equipping us with the kind of data that will hopefully help us reverse this downward trend."
A group of 18-20 interested individuals got training at three different sessions and ultimately the Kailua group included a core team of about ten people. Tom Foye, the group's Team Leader commented, "This was a wonderful opportunity to show our love for the trees that are so important not only for the ecosystem services they provide (clean air, watershed protection, etc.) but if you think about it, healthy trees in our forests and in our populated areas provide the verdant greenery that make Hawai'i, Hawai'i."  Foye accepted the citizen conservationist award on behalf of the Kailua citizen foresters.
Kaulunani is a USDA Forest Service federally funded urban forestry program.  DOFAW manages it through its partnership with the non-profit Smart Trees Pacific.  Other organizations and individuals that contributed to the program and training include the City and County of Honolulu Urban Forestry Division, the Honolulu Office of Climate Change, Sustainability and Resiliency, The Outdoor Circle, Aloha Arborist Association, master gardeners, landscape architects, environmental educators and tree advocates.
Based on the work of this first team of citizen foresters, it's estimated the monetary benefit of the trees surveyed in Kailua totals about $150,000. The Citizen Foresters program has now expanded to Honolulu and volunteers can be found mapping trees from Manoa to Waikiki. Plans are already in the works for a third round of citizen forester training and the next location for survey's is still under consideration.
# # #
Media Contact:
Dan Dennison
Senior Communications Manager
Hawaii Dept. of Land and Natural Resources
1151 Punchbowl Street, Room 131
Honolulu, HI  96813
[email protected]
[email protected]
(808) 587-0396 (Communications Office)
(808) 587-0407 (Direct Line)
(808) 295-8749 (Cell)