DEPARTMENT OF LAND AND NATURAL RESOURCES
News Release
DAVID Y. IGE
GOVERNOR

SUZANNE D. CASE
CHAIRPERSON
For Immediate News Release July 17, 2018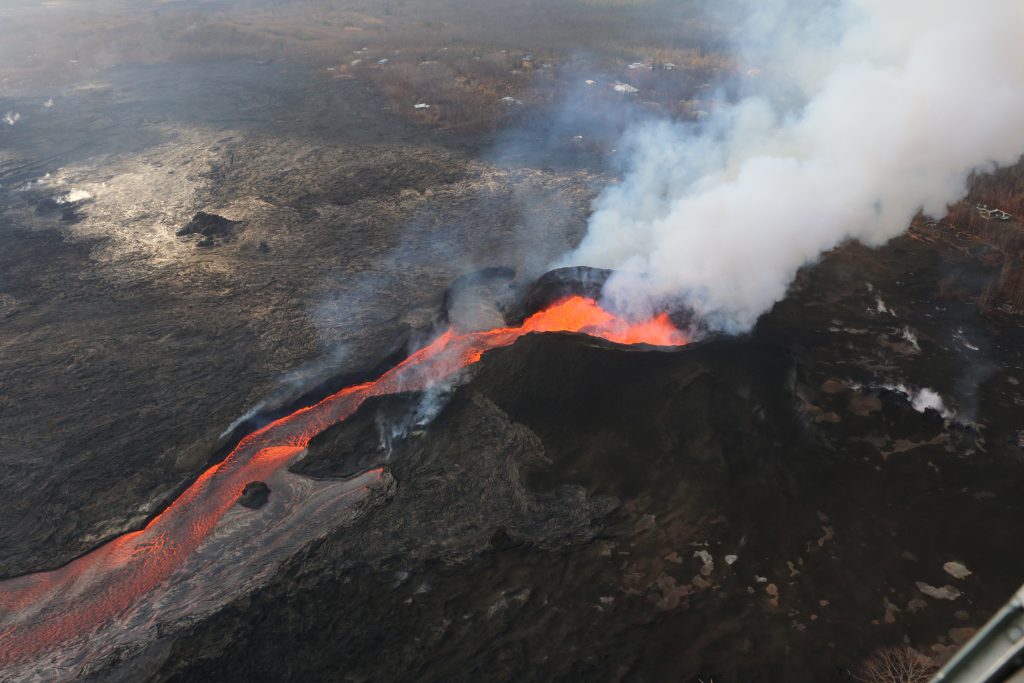 (Click on image to watch video)
LAND AND OCEAN MANAGERS CONTINUE TO KEEP CLOSE WATCH
ON EAST RIFT ZONE ERUPTION
(Hilo) – The flow from fissure #8 is slowly creeping to the State of Hawai'i's Pohoiki Boat Ramp adjacent to Hawai'i County's Issac Hale Park.  During an assessment of eruption impacts today, steam and volcanic gasses from the nearby ocean entry wafted over the tall trees in the park's now empty parking lot.  Stephen Schmelz, Hawai'i Island Branch Manager for the DLNR Division of Boating and Ocean Recreation (DOBOR) estimates the lava, if it maintains its current course and speed, could overtake Pohoiki and Issac Hale Park within the next few days.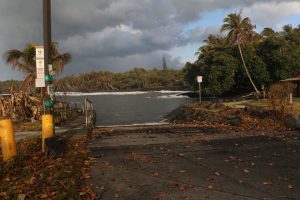 "It would be a significant loss for the people of lower Puna and the Pahoa areas, as Pohoiki is not only popular as a launch ramp for small boats, it is used by a variety of ocean recreational users."  DOBOR leadership has had very preliminary discussions about new ramp options should the flow overtake Pohoiki.  Any plans would hinge on road access being restored and available funding. Schmelz added, "We are extremely mindful of the importance of Pohoiki for local people and as with everything related to Kīlauea's current eruption we need to be patient and see what develops in the future.  As one of our colleagues noted recently, Pele is very much in control."
Concerned citizens posting on social media have indicated that turtles are trapped in the Pohoiki area.  Both today and during an earlier flight by the Hawai'i County Fire Department no turtles were seen.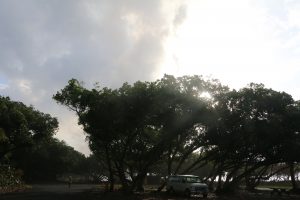 Joining the aerial assessment of the East Rift Zone today was the Hawai'i Island Branch Manager for the DLNR Division of Forestry and Wildlife (DOFAW), Steve Bergfeld.  Previously he'd flown over the Malama Ki Forest Reserve, just to the south of Pohoiki.  He indicates not much has changed since his previous assessment.  About half of the reserve burned when lava inundated it in the early weeks of the current event. No new land has been lost recently. Trees in the reserve have been defoliated but Bergfeld commented, "Much of the vegetation is defoliated and stressed from the eruption.  We are hopeful that the flora and fauna will recover because they have evolved over time with volcanic activity."
DLNR is releasing new video and photographs, taken today, of the East Rift Zone Eruption including images of Pohoiki, the Malama Ki Forest Reserve, the current ocean entry, fissure 8's spatter cone and lava channel.
# # #
Media Contact:
Dan Dennison
Senior Communications Manager
Hawaii Dept. of Land and Natural Resources
1151 Punchbowl Street, Room 131
Honolulu, HI  96813
[email protected]
[email protected]
(808) 587-0396 (Communications Office)
(808) 587-0407 (Direct Line)
(808) 295-8749 (Cell)